Build a knowledge hub that lives up to its name.
⁠
⁠
⁠
"We had invested in a world-class team, but didn't have a fast and easy way to preserve all the great thinking that went into our decision-making. All of this valuable, relevant information was siloed away."
Kerry Wang, CEO of Searchlight
⏫ Low-commitment onboarding
Other products considered
"Google Drive didn't have a searchable UI, and there was no homepage directory or index for content."
"We used Notion for 1.5 years and then performance issues made it difficult for us to continue using it as a source of truth."
Create a documentation-focused culture through Coda docs.
"When people have a question, they should be able to find the answer in 5 minutes. That's the target we were aiming for.
To have a documentation-focused culture means that a company's learnings are written down and accessible to anyone who needs them. To do that, and make sure content could be found quickly, our hub had to make information easy to log, easy to find, and encourage collaboration."
⁠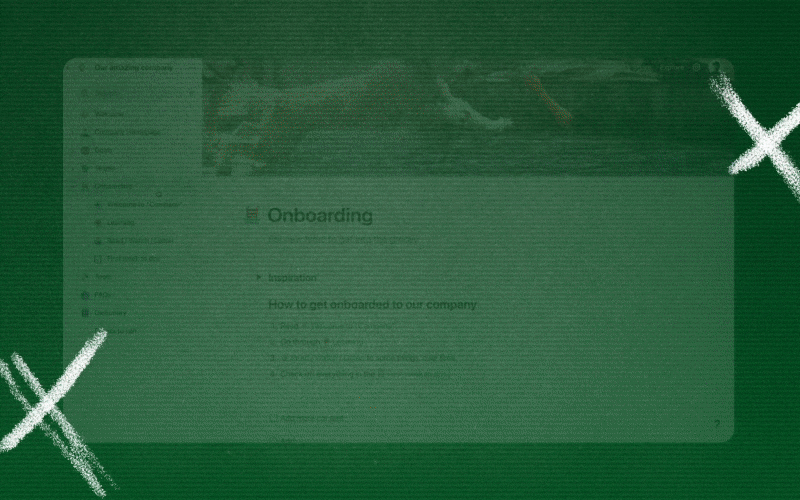 ⁠
⁠
Coda docs at work for Searchlight:
⁠
⁠
⁠
⁠
⁠
⁠
⁠
⁠
⁠
⁠
⁠
⁠
"Immediately everyone was on Coda. It took one week for us to look to the hub as our source of truth.
We saw more alignment around KPIs along with a better meeting culture and active collaboration. Everyone immediately becomes a Coda user and collaborator and now we see a spread of people becoming doc makers.
I know with Coda the performance is going to be there, it's going to scale with us, and people enjoy using it. If they enjoy using it, it reinforces the culture I want us to have.
⁠
⁠
⁠
We have a whole company now that looks at documentation as a strategy for better decision-making. So they're actively preserving all the valuable information generated every day."
You can learn more about Searchlight on
.
🤝
Curious about what Coda can do for your business?
🛠️ Want to build your own company knowledge hub?