The simplest way to self-publish.
Coda lets you turn any doc into a sleek, shareable website with a customizable URL and a user-friendly top nav. And because it's a doc, you can easily edit and evolve your site whenever you feel like it. And hosting is free.
Create a personal website for free
From resumes to family recipes to hundred-page thinkpieces to a game of tic-tac-toe, published docs can take any form you want. Create a toolkit of templates. Open-source your team docs so others can put it into practice. Or, if nothing else, take a page from the classic
.
Examples of docs published on Coda
0
An interactive resource guide
Make your idea click. Literally.
Blog posts are 2D. Coda docs are 3D. With building blocks like tables and buttons, you can give your idea dimension. Invite people to engage with interactive charts, word clouds, and voting tables. You can even let them edit your doc and crowdsource ideas.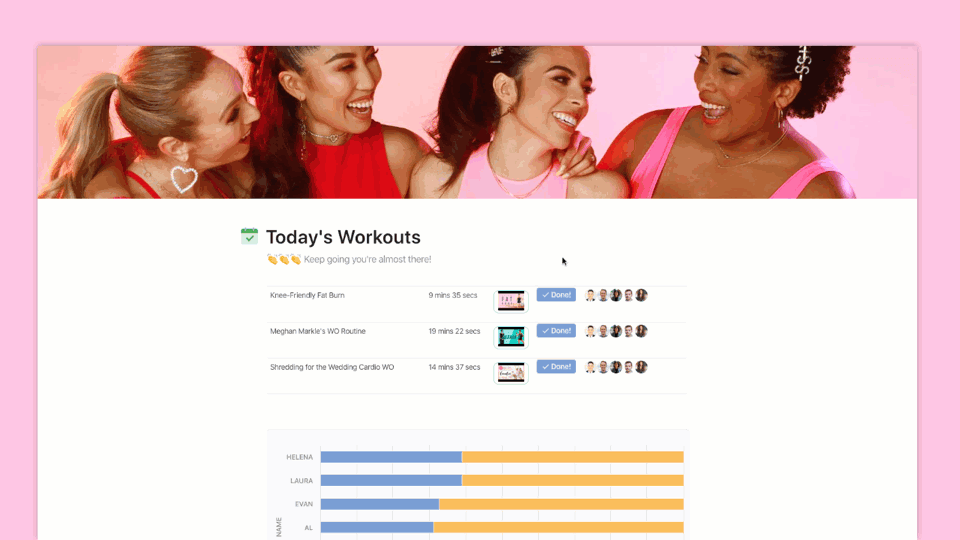 This Blogilates doc from Cassey Ho encourages her fans to log their workouts in a giant leaderboard.
Create an interactive voting website
We'll help your doc get discovered.
Find your audience. If you turn on
search engine discoverability
, we'll index every page of your doc and use your subtitle as meta-data. We'll also include your doc on your
maker profile
and in
our Doc Gallery
. If your doc gets a lot of views and likes, we'll feature it on the homepage as a
trending doc
and include it in our monthly
Docket
to extend its reach even further.
Stats to see what resonates.
Track views, copies, and likes for each of your published docs. Or connect to the Google Analytics Pack for deeper reporting on sessions. Then watch your ideas spread.
Want a little more inspiration? Explore docs from great teams.
An Inside Look at How Figma Ships Product
Robinhood's air traffic control
Ready, set...maybe read this first.
Here are some useful resources to help you put your best interface forward. If you're stumped on how to translate your ideas into Coda, let us know. We're happy to help.
Frequently Asked Questions
How do I publish on Coda?
Does it cost money to publish?
Can I make money publishing on Coda?
Who owns my content?