⁠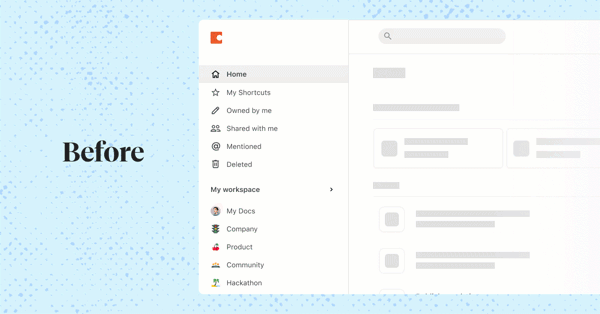 ⁠
⁠
The productivity killer you never see coming is informational noise. We headed upstairs with a flashlight to get a better look at the Doc List and ended up finding much more efficient ways to display your workspaces, folders, and docs.
⁠
⁠
⁠
Coda's $1 Million Maker Fund.
Want to build the Packs or docs that have been missing from your life? We've got a million reasons why you should. With our Maker Fund, we're inviting you to stretch the limits of Coda's potential, and create solutions that will change the game.
to get started.
⁠
⁠
⁠
It's okay to play favorites.
Voting for the 4th annual Product School Proddy Awards ends on November 10th. If Coda is your choice for best documentation product, we'd very much appreciate if you could document that with a
.
🔌
Our move to open-source the Coda Pack SDK is now in Beta! Learn more and get on the waitlist to make the custom building blocks of your dreams.
✅
Want to get a first look at Coda's new editor features? We're rolling out access with our initial Beta cohort.
🍿
Last month's Block Party was packed with big news and exciting discussion. Now you can head to Youtube to see all the video content from the event.
Level-up your Coda skills with the help of Maria & Rocky's upcoming webinars. Browse our
, or RSVP to one of these sessions:
⁠
⁠
⁠
⁠
⁠
⁠
A simple walk has the power to clear away the buildup from hours of screen-staring. Coda designers Helena & Carlo developed
to bring along on even the most random of strolls.