Cick
Copy Doc
at the top right of the screen to make a local copy on your own Coda profile.
Use the buttons alongside to select the
Character Sets
you'd like to support. 👉
Choosing the
Custom Setup
option means that you'll be able to change these later on if needed.
If you only need to support English language users, you can keep the default character sets selected.
Click
👁‍🗨
to see the characters in each set.
Click this button to cache your selection:
Using the left sidebar on the left, grab the
folder and drag it into the
folder.
⁠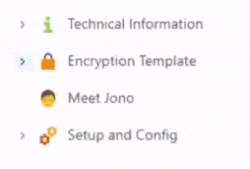 ⁠
⁠
Right-click on
, and select the
Copy To Doc
option.
Select the doc
you want to add this template to, or select
New Doc
if you're starting from scratch.
Make sure you
enable "
Include subpages", and please
select the first option
under "Rows to include".
⁠
⁠
⁠
Coda will open that doc in a new tab in your browser.
See you on the other side!
😄