Right!
Let's finish the setup
To finish up the setup, we just need to install the Crypto Pack, publish a form, and delete a few items which are no longer needed. I'll take you through these step-by-step, so no prior experience in any of these areas of Coda Doc Making is necessary.
I got you!
At the top right of the screen, click on
Insert
, and select
Packs
.
Search for "
Crypto
", and when you find it then
click on it
(it's a yellow icon with a black piggy bank)
.
A popup window will open. Click the big blue
Add To Doc
button.
Publish the
"Submit Secret" Form
If you hover anywhere over the form that's on that page, you'll see a few links appear at the top right of the form. Click the first link,
Publish Form
.
Click the
Create Link
button that appears in the sidebar.
After a few moments, the form will be published and Coda will generate a unique link for you. Once it's finished, click the blue
Copy link
button.
Paste the link
below, then click
Save Link
.
Click this button to clear the
table of all sample rows
(you're not going to be able to decrypt them without my passwords, anyway!
😋
)
.
Congrats! You're all done :) The template's ready to use, so head over to
and get started loading your first item.
You're welcome to
delete this page
, because it's no longer needed.
If you do, then you'll notice a
"Deleted Reference" error
at the top of the
page.
You can safely
highlight this error
with your mouse and
press
Delete
on your keyboard to get rid of it - it's no longer needed.
⁠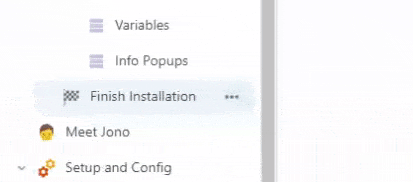 ⁠
⁠
⁠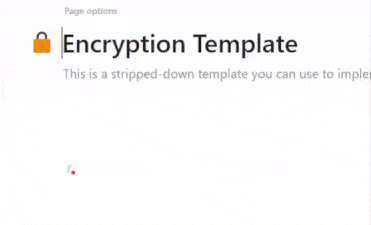 ⁠
⁠
⁠
⁠
⁠
A final message from Jono...
Thanks for taking the time to look at this template, and I hope you find it helpful. If you've got any questions, need some assistance, or find any bugs, please feel free to reach out to me in the Community, or over email. If you've got a project you need a hand with, let me know.
Jono, this needs to be a Pack!
I've applied to the Coda Maker Fund to fund the development of a pack that will make working with encryption and permissions really easy. The goal is that you'll be able to securely
encrypt multiple columns
within
any of your tables
really easily (it'll just be a "type" of column). You'll then be able to
setup groups of users
, giving them the permission to view certain columns (or even restricted rows within those encrypted columns). I'd like the permissions thing to be quite flexible, because I think for any real-world use it would need to be.
For these authorized users, the contents of those encrypted columns will
automatically be visible without any action on their part
and
without needing a unique password
for each and every row. This means they'll also be able to
perform calculations on secured data
, which I think is a really intriguing concept. All of this, while still incorporating NSA-grade encryption, never storing decrypted content to the doc, and without the weird and wonderful workarounds I've had to use in this template doc that you've just copied!
It'll be a lot of work, but I think I can do it, and I'd really like to give it a try. If that sounds like something you'd find helpful, let Coda know in my post in the Community forums, or by sending them an email. Don't feel obligated at all, but I just thought I'd ask :)