Every good project starts with a brief. Before you build a feature or ship a product, it's important to make sure everyone understands
why
you're doing the project. The project brief acts as an anchor for the team and defines the problem, proposed solution, audience, metrics, and risks of the project.
However, once the project starts and specific tasks are assigned in Jira, the brief can quickly be forgotten. If the brief is written in one tool while progress is tracked in another, teams can lose sight of their original goals and scope creep can quickly set in.
This Coda doc gives project managers a superpower: a
that combines a write-up + real-time Jira progress.
Now the entire team can bookmark a single page to stay aligned on the context and progress of a project.
Write your
and measure real-time Jira progress, all on the same page.
How do I sync my Jira issues?
Click
in the
table header (below).
In the sidebar, click Account → Set up another account.
Authenticate with your Jira account.
Select a project name to limit the sync to only that project (optional). You can also add additional criteria to filter your issues by assignee, label, or a custom JQL query.
Click
Sync now
and your team's Jira issues should sync into the
table.
⁠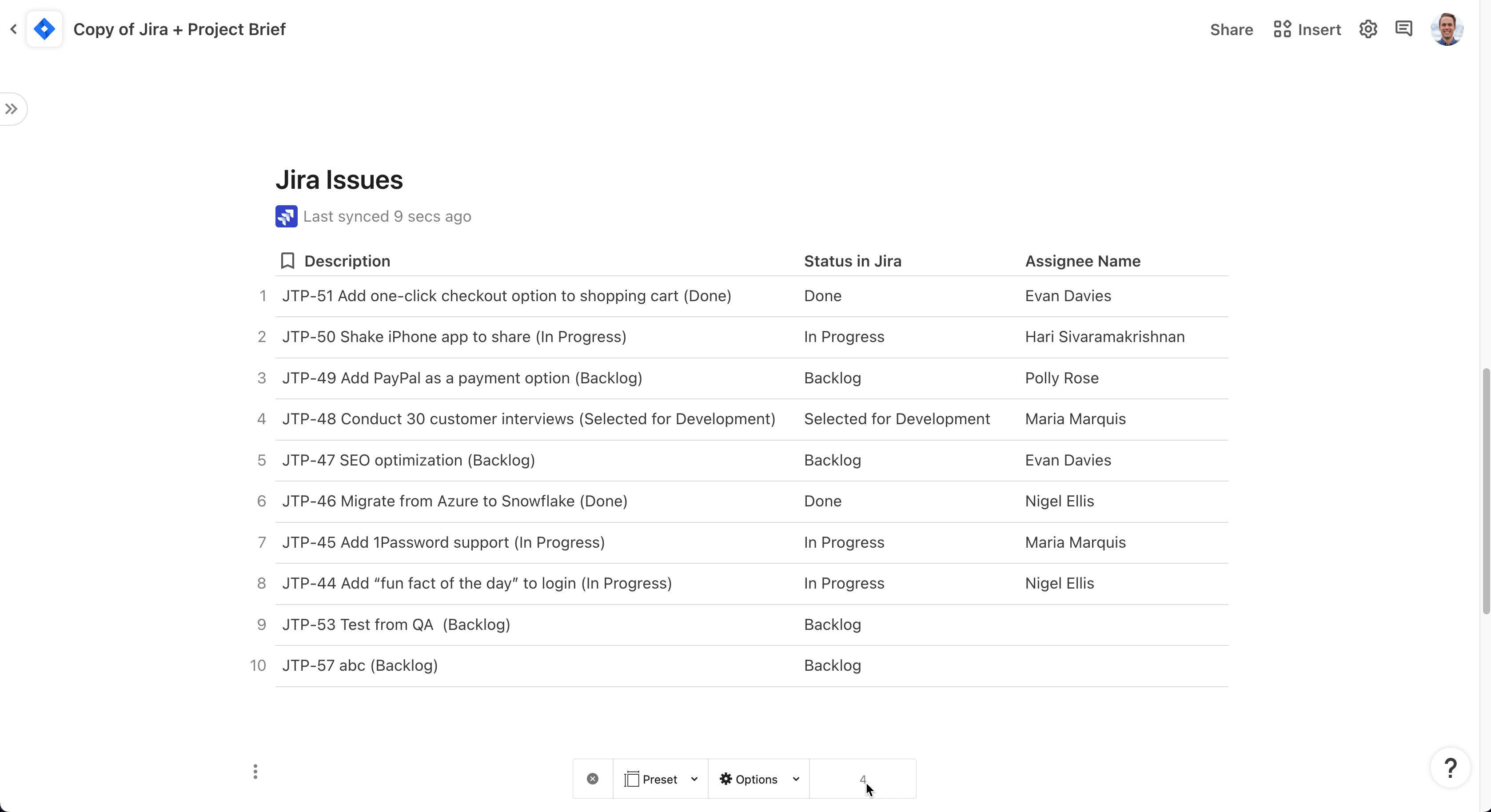 ⁠
⁠
Feeling stuck? The Coda team can help! Chat with an expert by clicking the question mark icon in the bottom right of the screen.
Initiative Custom Label Field
Customer Press Release Custom Short Text
Impact Score Custom Number
⁠
A few of the 25,000+ teams that 🏃‍♀️ on Coda.
⁠
⁠
⁠
Coda is an all-in-one doc for your team's unique processes — the rituals that help you succeed. Teams that use Coda get rid of hundreds of documents, spreadsheets, and even bespoke apps, to work quickly and clearly in one place. This template is a Coda doc. Click around to explore.
Find out how to Coda-fy your rituals.