The sections below show the verbal identity of the Mecha Mecha brand identity system. A verbal identity is a customized communication strategy that guides a brand to communicate clearly and consistently. It works in tandem with the visual identity to represent your brand. On this page you will find:
Brand Name & Descriptor
which outlines how to use and spell out the brand name in writing as well as other external or formal engagements.
Brand Narrative
which contains the narrative for the brand as well as our brand's personality. These remain consistent across all brand touchpoints.
Brand Voice
is a tactical approach to messaging. Our tone translates our personality for the various mediums and audiences who engage our brand.
Key Verbal Element Usage
is a guide for how to apply the brand in different copy scenarios, from in-store applications to community engagement.
"Pre-fix used to emphasize an adjective. Double it for impact" (me-ch-ya)
E.g. Mecha mecha oishii! Super y
ummy!
A Japanese slang word used to express excitement and emphasis. Mecha can be added infinitely to express how much you like or feel something. Mecha mecha mecha oishii –
this is super super super yummy!
"Mecha Mecha" also translates to absurd or something messy - playing well to our theme of surrealism.
Because of the flexibility of the word, Mecha Mecha can be integrated into the brand's written content (see Verbal Elements below) or repeated as a pattern to establish brand recall.
In terms of brand expansion and hierarchy, Mecha Mecha functions as the "mother-brand" name
- connecting all concepts to the brand's philosophy. Mecha can be paired with a corresponding food descriptor to different concepts or branches from each other (e.g. Mecha Mecha Sushi, Mecha Mecha Ramen, Mecha Mecha Sweets).
Full Concept Name:
Mecha Mecha Katsu
For this concept, we'll be using
Katsu
as the official descriptor.
Since we're building awareness for
katsu
, the word should be included as part of the concept's full name when presenting the brand to the public or press. The word is also present in the brand's main logo lock-up and patterns to build recall.
For a long-form descriptor, we can use "
Katsu Specialty Shop"
for a more casual and youthful tone that opens the possibility for retail (e.g. sauces, dishware, clothing, and other merchandise.)
Should the need arise to describe
katsu
to an unfamiliar market, we suggest sensory words that paint a picture of how it is to bite into
katsu
. For example
Crispy, Golden Goodness
or
Crispy, Juicy, Crunch
Mecha Mecha is a world full of surprises.
A place without rules: where exploration is encouraged,
all doors are open, and every button asks to be pressed.
A wonderland of flavors, Mecha Mecha takes you on an adventure
to find your unique flavor ending. With limitless combinations and
a menu that's unafraid to play, Mecha Mecha transports our tastebuds
to a realm where food sparkles and every bite is a celebration.
Super flavors. Super fun.
In this world, everything is
mecha mecha good.
⁠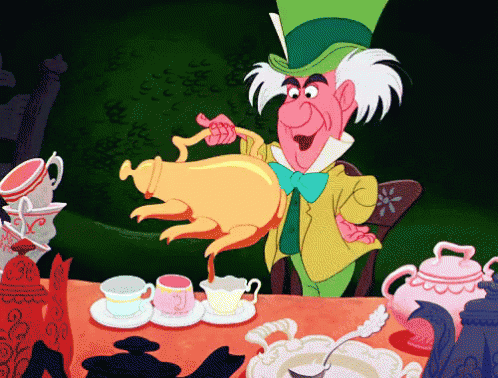 ⁠
⁠
"Your Tour Guide through Wonderland"
Mecha Mecha acts as a guide
(think: the Mad Hatter in Alice in Wonderland)
that pulls you in and brings you through an eating journey. The brand
encourages you to play
and asks you to savor each aspect of the food - from smell to sound to crunch.
Our tone is inviting and indulgent. It treats diners like
welcomed friends,
always asking if they want a little more and reminding them to feel at home.
In terms of verbal expression, Mecha Mecha calls our diners into action - asking them to
EAT, CRUNCH, BITE, POUR, GRIND
, and interact with not just the food but also the space.
Stay casual and straightforward. No need to add fluff or complicated instructions.
Invite people to play! Write in an active tone that prompts action and loosens people up
Welcome people with the copy - show inclusivity and warmth for every type of diner (from friends to families to solo eaters).
Be real and transparent - be more open to sharing about what goes on behind the scenes: from sourcing food to the kitchen's sustainable practices. Build people's trust in Mecha Mecha's quality practices and staff.
Writing for Awareness and Information
In building awareness of the brand and katsu as a dish, repetition is a key element of our verbal identity.
Utilizing Mecha Mecha as a prefix to any adjective creates an ownable way of introducing both the brand and the dish.
Example: Mecha Mecha Tasty, Mecha Mecha Crispy, Mecha Mecha Good, Mecha Mecha Juicy, Mecha Mecha Fresh, Mecha Mecha Katsu
Use descriptive adjectives (e.g. crispy, juicy, crunchy, golden) to keep the education enticing and engaging. Create a picture of what it would feel like to bite into a katsu. In doing this, we can also leverage diners' familiarity with other fried food (such as schnitzel) and create comparisons to their taste and mouthfeel.
Writing for the In-Store Experience
Mecha Mecha's in-store experience should feel like a guided food trip - as if the space has come alive and is talking to you. The space should encourage interaction, utilizing active prompts on walls and objects that allow people to play, explore, and move around.
Example: Watch Me as a glass decal marking the frying area, Squeeze Me on sauce bottles, Twist & Grind on sesame containers, Take a Bite on placemats
Writing for Community Engagement
Mecha Mecha acts like a host, treating diners like welcomed friends entering a playful new world.
When writing copy for social media, the brand should stay casual and light (like you're speaking with a friend) - without the need for excessively long captions or complicated explanations. Utilize emojis when needed 👌
As a brand, Mecha Mecha is bold - teasing diners with an irreverent and playful. Statements (for signages or merchandise) are simple but big and loud - capturing people's attention.
Example: Juicy On The Inside as the Welcoming Sign, Stay Crunchy on a shirt, Dig In on take-out packaging