Most project managers agree that having a strategy is vital to the successful completion of any project. A strategic plan can create a sense of direction, increase operational efficiency, and make managers more proactive.
However, a strategic plan is just that — a plan. It doesn't guarantee that the desired performance is achieved any more than having a map determines that a traveler reaches their desired destination.
But there is something that can determine whether or not you'll reach your desired project destination: building and completing an implementation plan successfully. While implementation planning might not seem as exciting as strategic planning, it's a fundamental practice that is crucial to the success of your business.
In this doc, you'll discover everything you need to know about building a project implementation plan.
What is a project implementation plan?
A project implementation plan shows the steps a team must take to achieve an objective and complete a project. It combines different actions, processes, and strategies to bring a project to life.
The plan breaks down the project scope into concrete, easy-to-understand steps, and assigns responsibilities to specific teams and individuals. It defines how you allocate resources, creates a definitive timeline for each task to be accomplished, and helps you observe progress throughout the project's lifetime. The implementation plan also enables project managers to direct, manage each activity concerning the project, and keep track of their teams' performance.
Benefits of implementation planning
If the project is the "what," the implementation plan is the "how." Without an implementation plan, it's nearly impossible to know how you'll achieve your project goals and objectives. Here are a few other specific benefits:
1. Get buy-in from stakeholders.
A good implementation strategy leaves no questions as to how you'll do project execution. Therefore, it makes it easier to ensure buy-in from project stakeholders and key decision-makers involved in the project. And when upper management is on board, it is much easier and smoother to achieve the strategic goals of the projects, since resources are swiftly allocated whenever you need them.
2. Better cooperation.
Many projects involve collaborations between individuals and even several teams working on the same project timeline. An implementation plan outlines scheduled workflows everyone can follow, thus making cooperation smoother and synergistic.
3. Improves communication.
Creating an implementation plan forces you to think through each proposed step and find how best to communicate the plan to project team members, senior executives, and other stakeholders. It also improves communication as everyone can see the overarching goal, ask questions, and receive the help they need to achieve the goal.
4. It keeps everyone on track.
A good plan leaves no doubt about the steps everyone needs to follow as each task is completed and throughout the project's life cycle.
5. Optimizes time spent on a project.
There are different ways to complete a project, but an implementation plan should reveal the optimized path to project success.
7 components of a project implementation plan
There are vital components common to nearly all implementation plans. These are:
1. Define goals/objectives
The main goal of an implementation plan is to document actions you'll take to achieve your project goals. Therefore, it makes no sense to start the planning process without knowing your goals and objectives — unless you want to empty your company's coffers.
Some questions to ponder are:
What do we hope to accomplish?
Why are these goals important?
How do the objectives align with the organization's vision and mission?
Strategy planning meetings with stakeholders are also excellent sources that help in determining project objectives.
2. Schedule milestones
Planning out specific actions is excellent, but scheduling these actions is even better. Scheduling milestones and dependencies ensure projects go on efficiently and relatively smoothly.
3. Allocate resources
All actions scheduled require resources — workforce, time, tools, money, etc — so you must ensure that each person has access to what they need to do the job assigned to them. A lack of resources will dampen employee morale and engagement.
Therefore, gather all the information required to know whether there are enough resources and decide how to acquire missing resources.
4. Assign project team roles
Identifying key players in a project is one of the crucial components to consider as you create an implementation plan. While you might not define who will carry out each specific task, you should have a general overview of each team member's roles.
5. Determine metrics
How will you know whether your implementation plan is successful if you don't know how to measure success?
Thus determine quantitative or qualitative data you'll use to measure results. You also will need to outline how you'll collect these metrics.
6. Build a contingency plan
Since even best-laid plans can go askew, you have to account for potential risks and make a plan for contingencies. Consider factors you can't control that can affect the timeline or success of the project and create strategies that can help you navigate these factors. With contingency plans, you'll find your footing despite challenges that might arise.
7. Success evaluation
Lastly, you need to know how often you'll evaluate your progress using the metrics for success.
How to build an effective project implementation plan
The steps undertaken to create an implementation plan vary depending on the type of project. However, the seven steps outlined below are the general building blocks of every successful implementation plan.
When creating the document, ensure you're detailed and precise so that all team members viewing the document will understand it.
Step 1: Research & discovery
First, identify all you need to execute the plan successfully. These include resources, timelines, and stakeholders.
To have the critical information you'll need, interview key players like partners, potential team members, customers, and other stakeholders.
Also, this first step is where you list out the goals/objectives you want to achieve. Remember, the implementation plan gives life to your strategic plan, so everything in the implementation plan must be aligned with your strategic plan.
Coda's
can be very useful in this stage. You can use it to define what to solve for, brainstorm to generate ideas, and streamline feedback and questions.
⁠
⁠
⁠
Step 2: Risk assessment
This next step is an extension of the research & discovery phase. Here you map out risks that might hamper the execution phase of the project lifecycle. These risks vary from paid time off to natural disasters to resource constraints and loss of personnel.
The risks your project will face varies depending on the type of project, so here are some tips for identifying potential problems:
Brainstorm with the team.
It's impossible for you to know every single issue your team(s) will face. Brainstorming sessions with team members gather different perspectives for risk identification and solution.
Use case studies to your advantage.
Personal experience is a good teacher, but so is learning from the experiences of others. Therefore, study those who've carried out similar projects and understand how they overcame the challenges they faced.
Coda provides a
that you can share with your team. This tool will help you to identify risks and prepare for them.
⁠
⁠
⁠
Step 3: Determine individual tasks
Each step in your plan must include a list of tasks assigned to each team member. Assigning individual tasks helps you know each team member's strengths and weaknesses and lets you monitor their progress.
Note that assigning responsibilities is different from assigning individual tasks. For responsibilities, one team member will be the champion overseeing the rest of the team and keeping track of their work.
A
can be a valuable tool for delineating responsibilities and individual tasks. Instead of having ambiguous responsibilities, this template identifies an action plan for each team member.
⁠
⁠
⁠
Step 4: Resource allocation
Resource allocation is probably everyone's least favorite thing to do, but it's vital to the plan's success. The key to nailing resource allocation is to make everything easy to measure and track.
As with risk assessment, you can get an idea of the resources you need to allocate by using similar case studies as a baseline.
The
helps the project manager make efficient use of limited resources to complete the project.
⁠
⁠
⁠
Step 5: Define key performance indicators (KPIs)
Choose key performance indicators that align with the project goals/objectives.
You also need to determine when you'll evaluate the KPIs you've set. Again, the
will help you to monitor short-term goals.
⁠
⁠
⁠
Step 6: Have a project implementation schedule
Once all building blocks of the plan are in place, the next thing to do is create an implementation schedule. This schedule is divided into three: beginning, middle, and end.
The beginning includes actions like delegating responsibilities, tasks, and due dates, the middle consists of progress tracking, while the end consists of success evaluation and quality control.
A
is an invaluable resource to help you keep track of project milestones and keep the whole team on the same page.
⁠
⁠
⁠
Step 7: Monitor progress
Regular analysis and progress meetings assist you in analyzing your growth. By monitoring your progress, you can adjust processes before crises occur and adapt before processes become solid.
⁠
is an easy way to track the status and progress of your project.
⁠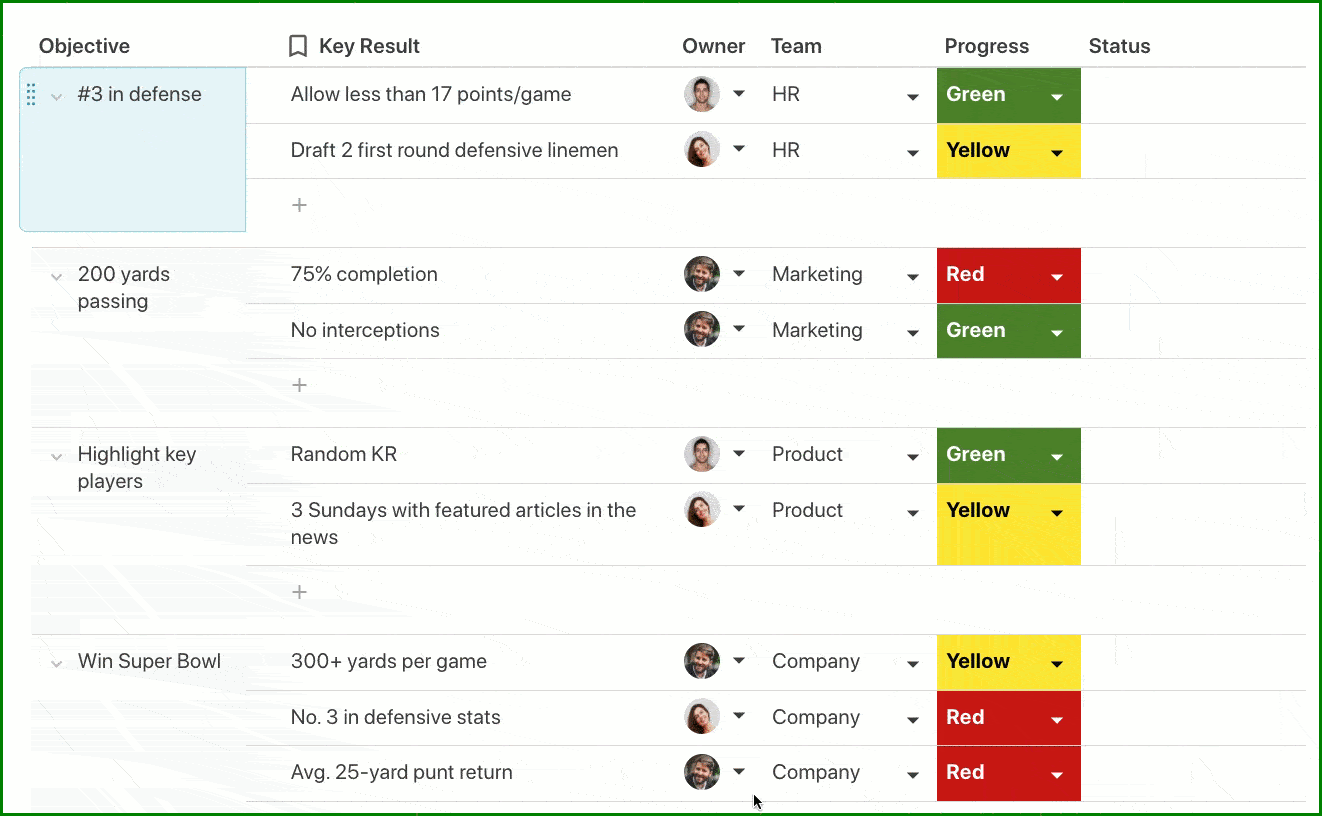 ⁠
⁠
How to write a project implementation plan
Here is an ordered tutorial for writing individual components in an implementation plan. While the tutorial gives a brief overview of what each section should contain, your actual plan should be detailed and include all the essential data and information to make the steps actionable.
Introduction
First, introduce readers to the vision and purpose of the project. You might include how the project aligns with the overall mission and values of the organization.
The introduction might be where you set the scope of your project. This scope should define deadlines, project outcomes, and goals everyone should work toward.
Management overview
Here you'll disclose how to handle implementation. It'll reveal the names, roles, and responsibilities of the project's key stakeholders. It should also identify the strategy director, who may or may not be the person leading implementation.
Tasks
In this section, you'll describe the specific actions and tasks in the plan. If a task has already started, you'll do well to include its status in this section.
Implementation schedule
At this stage, list the task order and duration of phases.
Resource management
Describe the resources needed for successful implementation. These resources might range from money to software tools, human resources, services, etc.
Documentation
At this stage, add any documents that bolster your plan. For example, you can include a history of successful past projects, a copy of the strategic plan, or a confirmation of resources.
Define metrics
In this section, define the metrics by which you'll measure the success of the project. Also, indicate the frequency of evaluation.
Acceptance criteria
Here you'll describe how you'll know when management has bought in on your implementation plan.
Glossary
As with a regular glossary, you'll define any key terms used in the plan.
References
Indicate here your source of information and/or list stakeholders that support your plan.
Project approval
This final section contains space for official sign off from management.
Conclusion
Creating an implementation plan can be scary, but this article has shown why it's vital to have a plan and draw one up.
Remember, there isn't a one-size-fits-all plan since each project has its unique challenges, deliverables, and needs. For example, you might not include all the components we've listed above, or you might even include more.
You can get started with creating a great implementation plan by using Coda's robust templates and management tools. I highly recommend exploring
for inspiration.
Project implementation plan FAQs
What is the purpose of a project implementation plan?
Creates an actionable roadmap for all stages of a project's life cycle
Documents the timeline for completion of a project
Organizes resources in one place
Outlines roles and responsibilities of all team members
Make communication crystal clear
Provides stakeholders with confidence that the current project is achievable
Is a project implementation plan necessary for every project?
Yes. Without it, even the best-laid strategic plan might not succeed. An implementation plan provides your implementation team with all you need to have successful projects consistently.
What are the basic principles of a project implementation process?
The basic principles of an implementation process are:
Set clear goals and objectives
Assign roles and responsibilities
Implementation scheduling