Free OKR Tracking and Team Goals Template
Easily do OKR tracking and team goals with this free template in Coda
⁠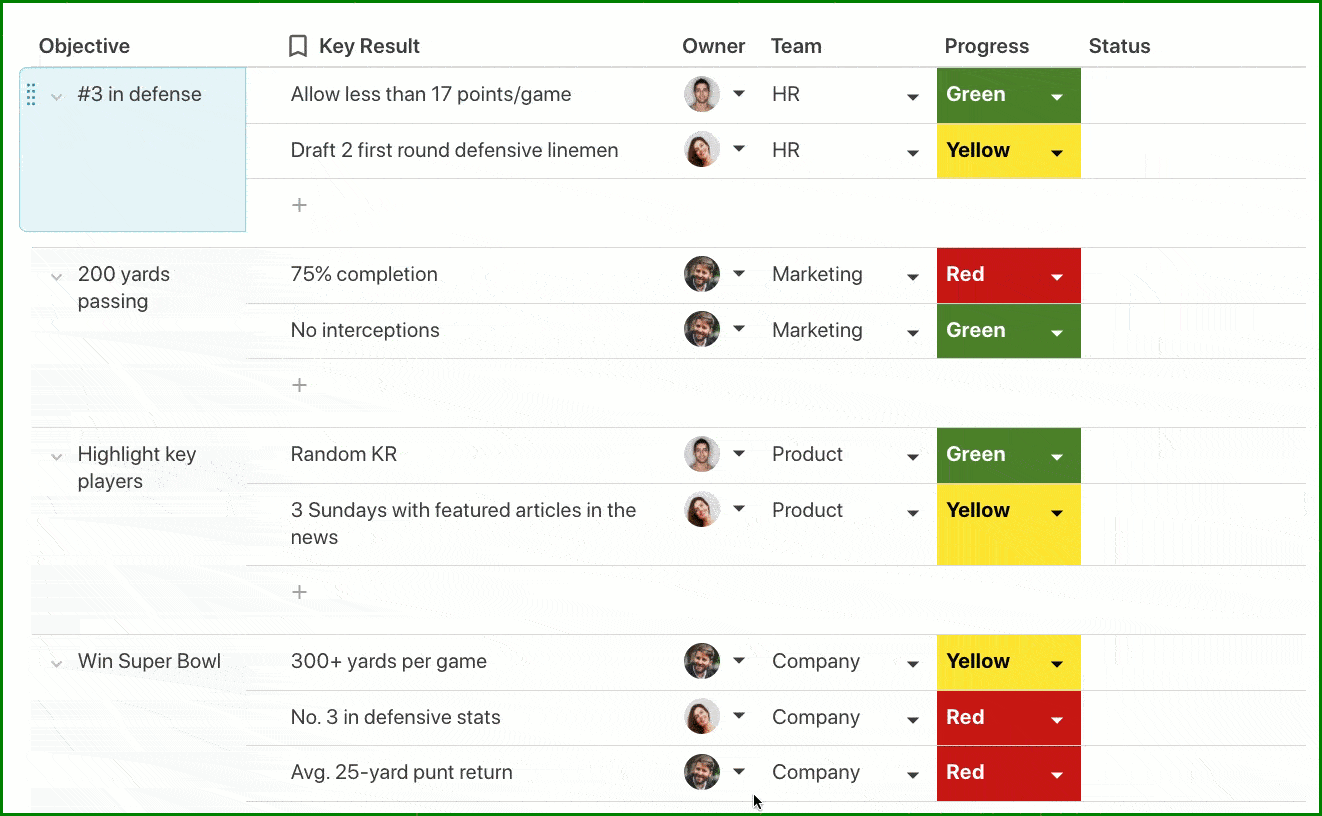 ⁠
⁠
Use this free OKR tracking template for your team
Make a copy of this
to track the status and progress of OKRs. Coda provides a variety of free resources and templates on how to run OKRs for your company. Go to the
and browse through some of these resources to learn about OKRs and find templates to get started with OKRs today.
No more messy OKRs in a doc or spreadsheet
How to set your OKRs in 5 steps
1️⃣ Create a
on Coda and create your team's OKR Coda doc
2️⃣ Share the Coda doc with your teammates via e-mail
3️⃣ Ask your teammates to start adding their OKRs to the Coda doc in real-time
4️⃣ Have your team update their progress and status of OKRs every week or month
5️⃣ Discuss your team's OKRs during weekly meetings and present this OKR Coda doc
A simple system for tracking OKRs
With this online and collaborative OKR tracking template, everyone on your team has visibility into the OKRs. High-performing teams need a simple OKR system to know what their team and personal goals are. By tracking everyone's OKRs in one place, you can see how your colleagues are progressing to their OKRs. The goals of a simple OKR system are to allow colleagues to make updates easily and reporting on the status of OKRs. Check out other
for tracking your team's OKRs.
Customize your OKRs
If your team wants to track OKRs at the company level, you can add additional columns to the table in this template to indicate specific groups or divisions. This will drive more transparency, visibility, and results across the entire organization. Teams who utilize this OKR tracking template enjoy the flexibility of Coda's tables because they can structure the OKR template however they want. Just getting started with OKRs? Use this simple template and customize your OKRs as you become more experienced with setting OKRs.
Difference between OKRs and KPIs
A lot of teams confuse OKRs and KPIs. The main difference between OKRs and KPIs relate to
reporting
and
time frame
. KPIs are meant to measure the health of the business so they are used primarily for reporting on business results. Additionally, KPIs tend to more long-term oriented. OKRs, on the other hand, are primarily used for setting
specific
and
measurable
goals and tend to be short-term (monthly or quarterly).
There are definitely overlaps between OKRs and KPIs. With this template, you may include some of your KPIs in your team's OKRs depending on your job function or industry. Similar to KPIs, you should review your team's OKRs regularly to ensure you are measuring the right metrics.
What others say about Coda
With Coda, everything we do is finally in one place and can be just as unique as we are.
—
Landon Durnan, Engineering Manager at Square
Trusted by 25,000+ teams
Browse OKR Templates
A few of the 25,000+ teams that 🏃‍♀️ on Coda.
⁠
⁠
⁠
Coda is an all-in-one doc for your team's unique processes — the rituals that help you succeed. Teams that use Coda get rid of hundreds of documents, spreadsheets, and even bespoke apps, to work quickly and clearly in one place. This template is a Coda doc. Click around to explore.
Find out how to Coda-fy your rituals.