When building out a product roadmap doc, you might find you want to pull information from this doc into another. Enter Cross-doc! 🎉
Cross-doc allows you to pull in tables from other Coda docs so that you can annotate, review, or reference them.
In particular, we love to use Cross-doc for pulling a team roadmap into multiple project trackers. This helps curb information overload by ensuring only the relevant information is included and displayed to your team.
Getting started with Cross-doc
If you have a table from this doc you'd like to pull into a new doc, start by clicking the
Insert
link in the top right of your
new
doc.
The first time you use Cross-doc in a doc, you'll need to install it as a
:
Click the
Insert
link in the upper righthand corner
Search for
Cross-doc
in the packs module
⁠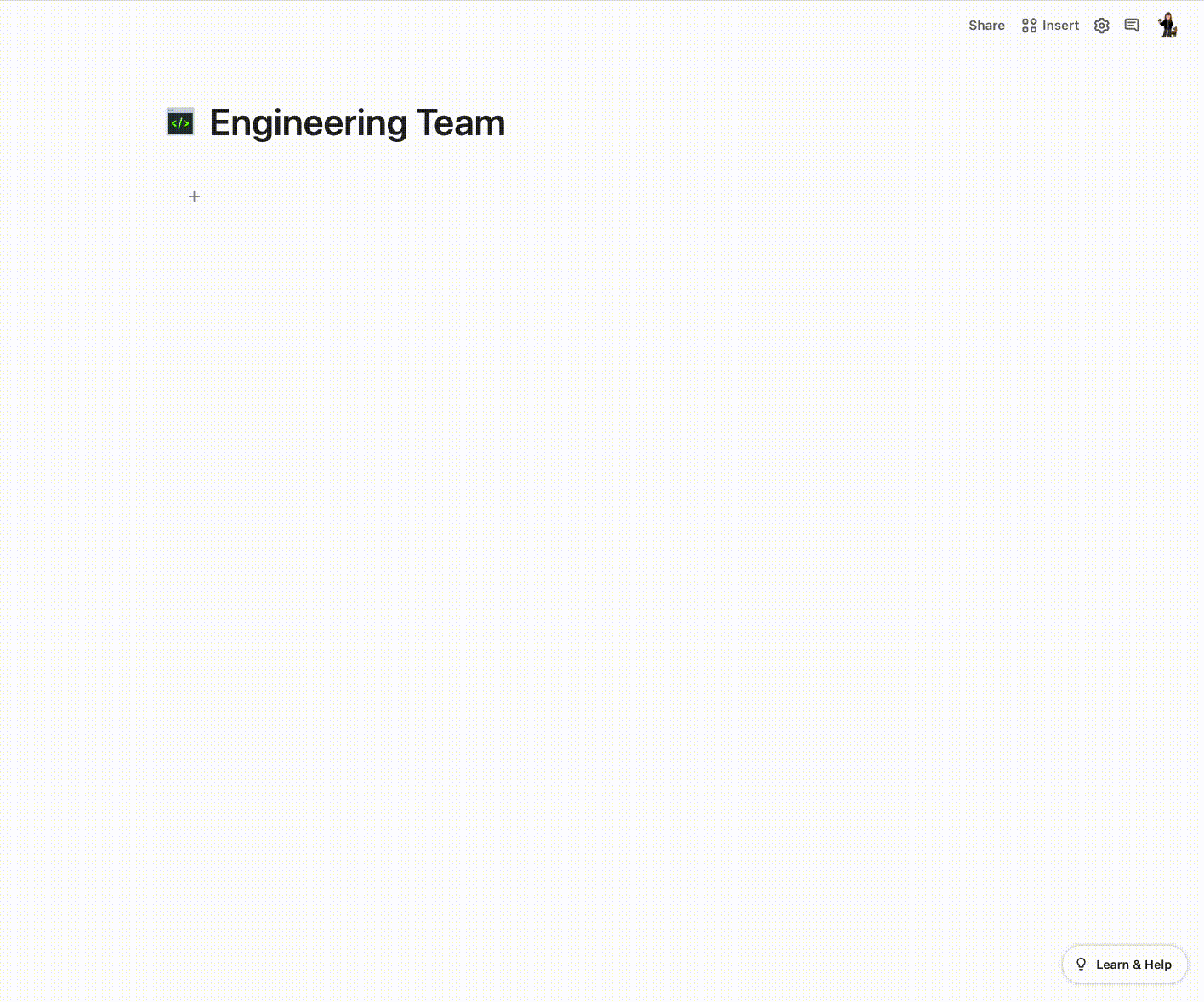 ⁠
⁠
Once you've installed the Cross-doc pack, you can select the
"Create a Product Roadmap like a Pro" doc
, then select the table from this doc that you'd like to pull into your new doc:
Select this document from your available list of docs. Use the search bar to narrow down results.
Select the table in this doc that you'd like to pull into your new doc. Here we're pulling in the
table from
⁠
Drag and drop it to the location in your new doc where you'd like it to appear.
⁠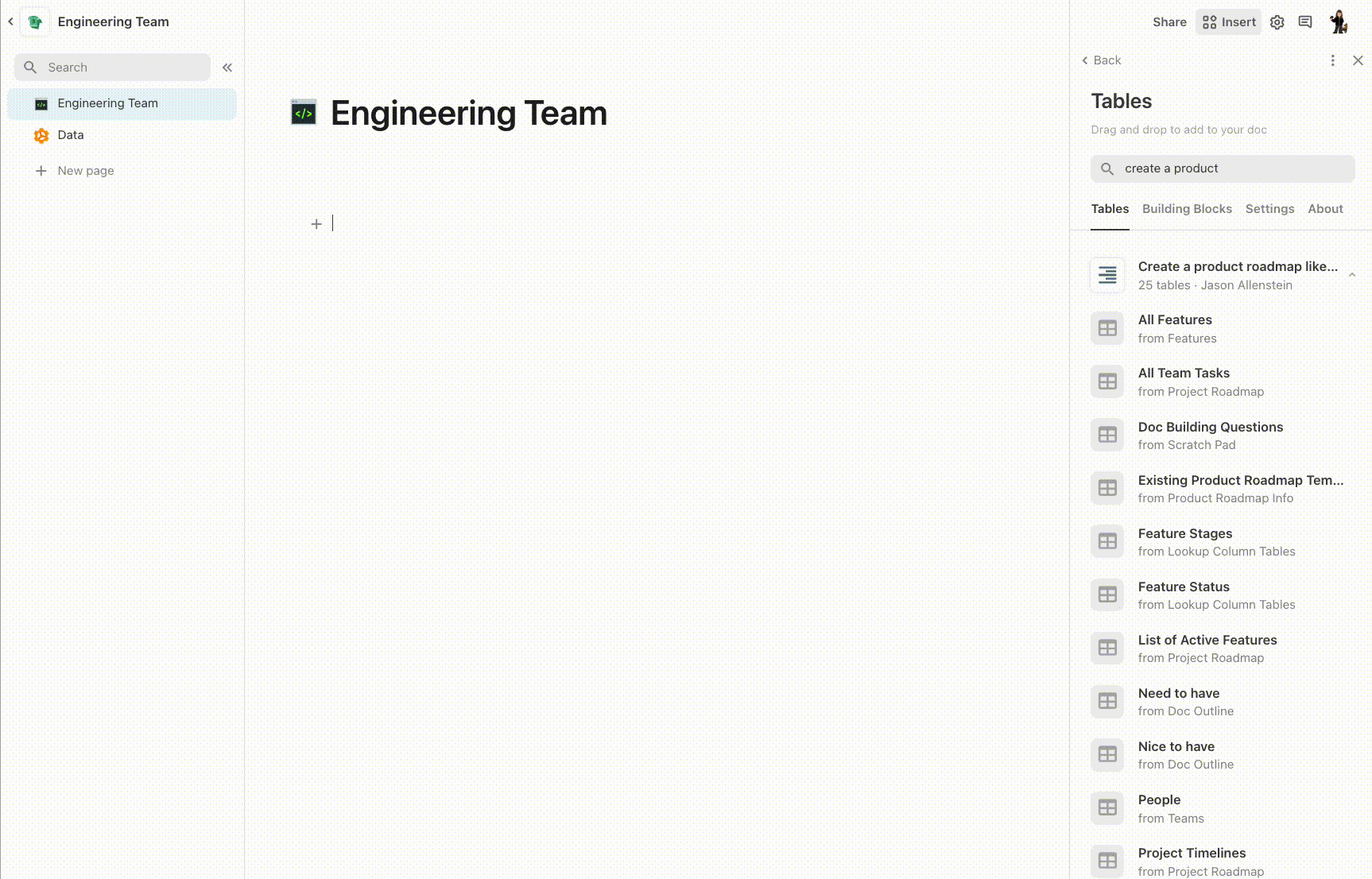 ⁠
⁠
Remember to pull in tables used as lookup columns (in the original doc)
into your new doc.
In this example, we need to pull in the
table, and the
table in order for all columns in the Team Tasks table to function correctly.
Pro Tip:
Store them in a Data or Admin section of your doc to keep things looking clean!
⁠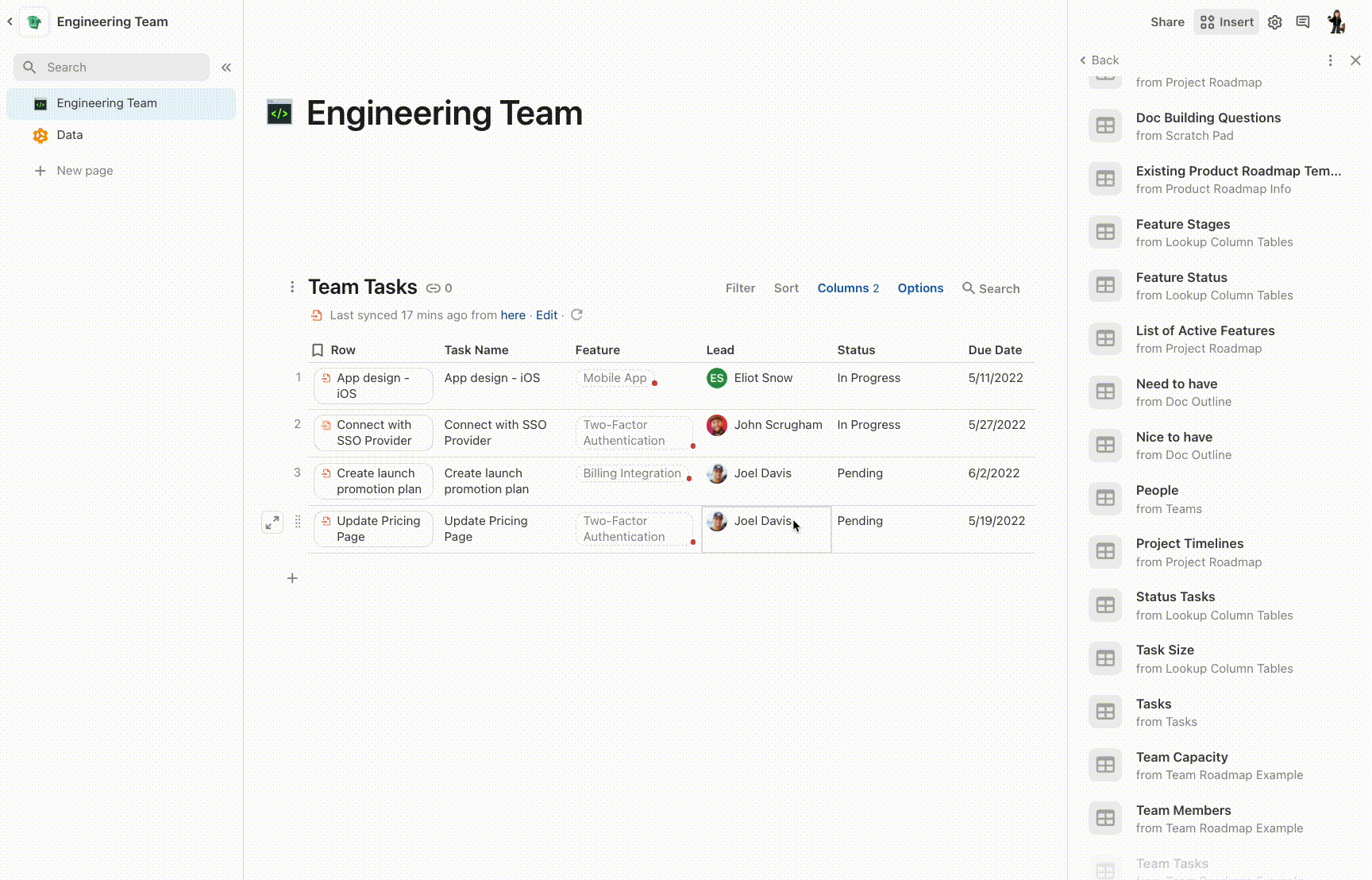 ⁠
⁠
You can view and adjust your cross-doc table's settings by hovering over the table and clicking
Options
>
Cross-doc Table
>
Settings
.
From there, you can select your refresh schedule and the number of rows you'd like to sync. You can also click
Sync now
to do an immediate sync.
⁠
⁠
⁠
A deeper look at Cross-doc:
Check out these awesome resources for a more in-depth look at Cross-doc functionality.
If you get stuck, remember that you can always reach out to us for support!
⁠
⁠
⁠
⁠
Cross-doc | Coda Essentials video:
short introduction to Coda Cross-doc
Cross-doc | Coda Formula Fitness Crowdcast:
Longer, more in-depth video on Cross-doc that walks through an example setup.