Flatiron School is a data science, software engineering, and design bootcamp spread across 12 campuses with thousands of enrolled students in their online and in-person classes. It was founded on the premise that higher education is broken, and is not serving the needs of today's workforce. The school has grown from its humble beginning in 2012 into one of the major disruptors of the higher education space.
⁠
⁠
⁠
Yu Chen (left) & Mick Niepoth (right), senior product managers at Flatiron School
As the company's growth accelerated last year, two product managersーMick Niepoth and Yu Chenーrealized they needed a better way to coordinate projects, tasks, and processes within their teams. This is their story about how they built their own tools to solve their unique challenges.
To go straight to their Mick and Yu's templates, go to
or watch Mick and Yu present their docs at a Coda meetup below:
Existing tools and processes
⁠
⁠
⁠
In 2018 alone, Flatiron School's Product & Engineering team nearly tripled in size. Mick and Yu, two Product Managers on the team, started to see their existing processes fall apart. Tools that used to work when tracking across 2 engineering squads no longer worked when there are 6 squads. The team used to track tasks in Jira, Monday, and Trello, aggregate status in Google Docs and Sheets, then communicate through Slack and email. As the number of teams grew and collaboration got more complex, communication and project tracking really started to suffer. There wasn't a way to know what's going on across the entire team, different squads would sometimes butt heads on the same features, and PMs spent a lot of time chasing down task statuses.
Something needed to change — Mick and Yu needed a central place to store data relating to their teams and where data would not be duplicated across teams. If a team is working on Project A and updating the status for that project, updates should cascade to other teams who are also working on Project A. The minute you have to write Project A in two places means more places for error to pop up.
I felt frustrated that I was spending more and more time jumping across tools just figuring out what everyone's working on, and less time doing actual work. Something needed to change. — Yu
While Flatiron School gave the product team the freedom to explore new tools and even had licenses to some powerful product management tools, all of the tools lacked certain features that would solve Mick and Yu's use cases. There are nuances to their processes, and the tools they were currently using did not mold and adapt to these custom processes. They needed something more flexible but also simple enough to use across the teams.
Setting team goals
The team started adopting Coda for their workflows organically. Mick and Avi Flombaum, one of the co-founders of Flatiron School, started using Coda when the platform was still in beta. In order to verify that Coda would be useful for the product team, Mick started experimenting with tracking projects and OKRs (Objectives & Key Results) in Coda, and quickly saw the power of Coda's tables, views, and filtering abilities.
Communicating project updates internally also used to take an hour or so each week of manual copying/pasting data into an e-mail. Everything from updates, deadlines, and metrics had to be reported out so all stakeholders knew what the status of projects were. Using the
, the same data that was stored in their projects tables could be automatically sent via e-mail with very little manual work.
⁠
⁠
⁠
Automated project status e-mail with Coda's Gmail Pack
I used to spend a lot of time collecting all projects and data every week. Now, it just sends automatically. It's been a great way to keep everyone up-to-date on what we're working on. — Mick
Team health tracking
Once Mick started sending weekly email updates from his Coda doc through a Gmail automation, Yu saw and loved the idea, and started experimenting with Coda for managing her squad's tasks and updates. She started with a different approach with seeing how Coda might work for her team. Personal well-being has always been a top priority for her team, so she created a doc that allows the team to track their stress levels and work-life balance on a weekly basis. Yu calls this doc her "
" doc and that's exactly what it doesーit gives her a quick pulse on how her team is feeling any given week.
⁠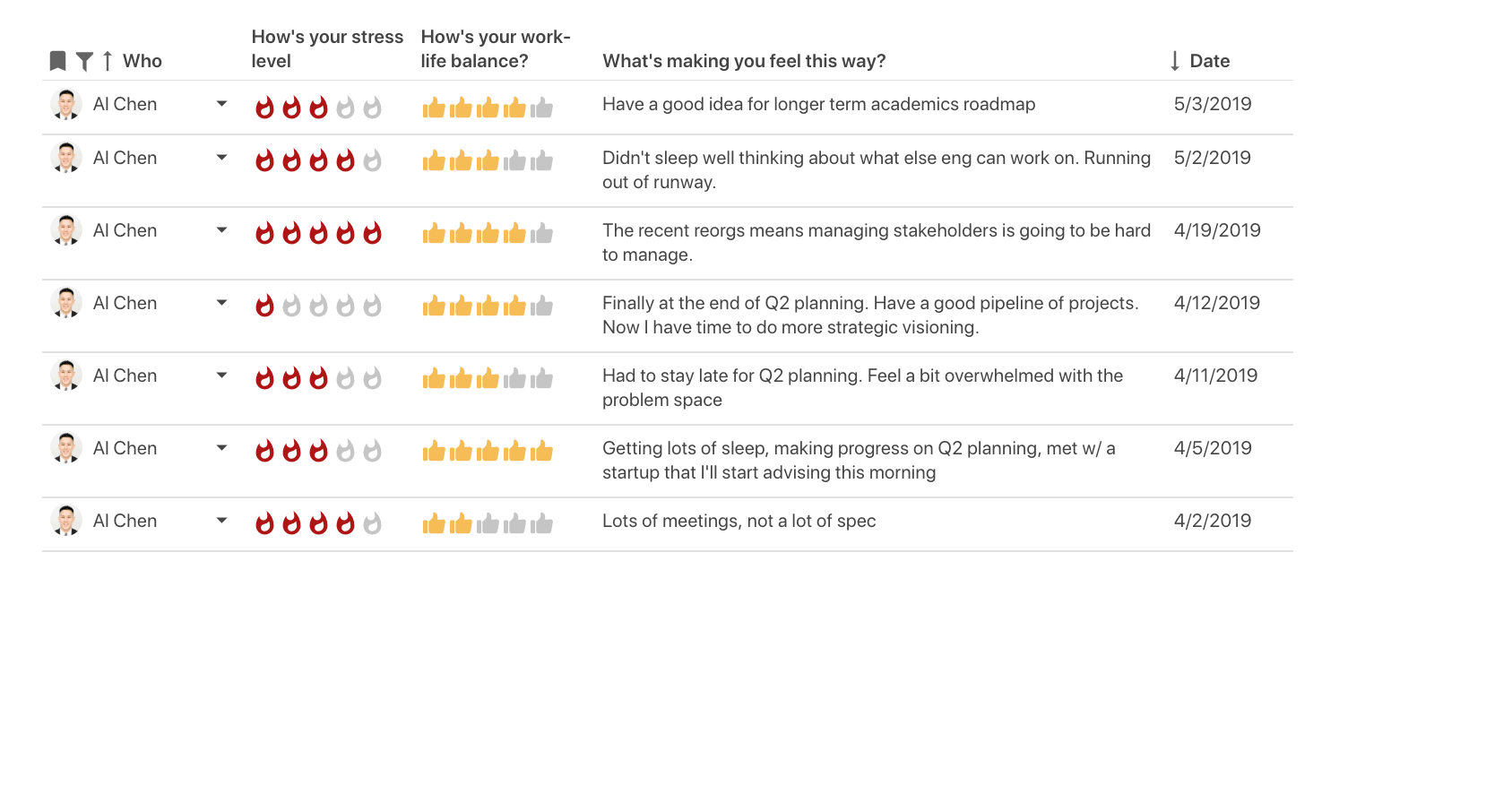 ⁠
⁠
Yu's Team Pulse Check Coda doc
As you rate your stress and work-life balance levels from 1–5 every week, a chart shows that trend over time. Yu could see how spikes in her stress levels were correlated with busy product launches her team was working on. Since views of your data can be filtered, you can also check off this box to show all of your team's stress and work-life balance levels to get the high-level pulse check on your team:
⁠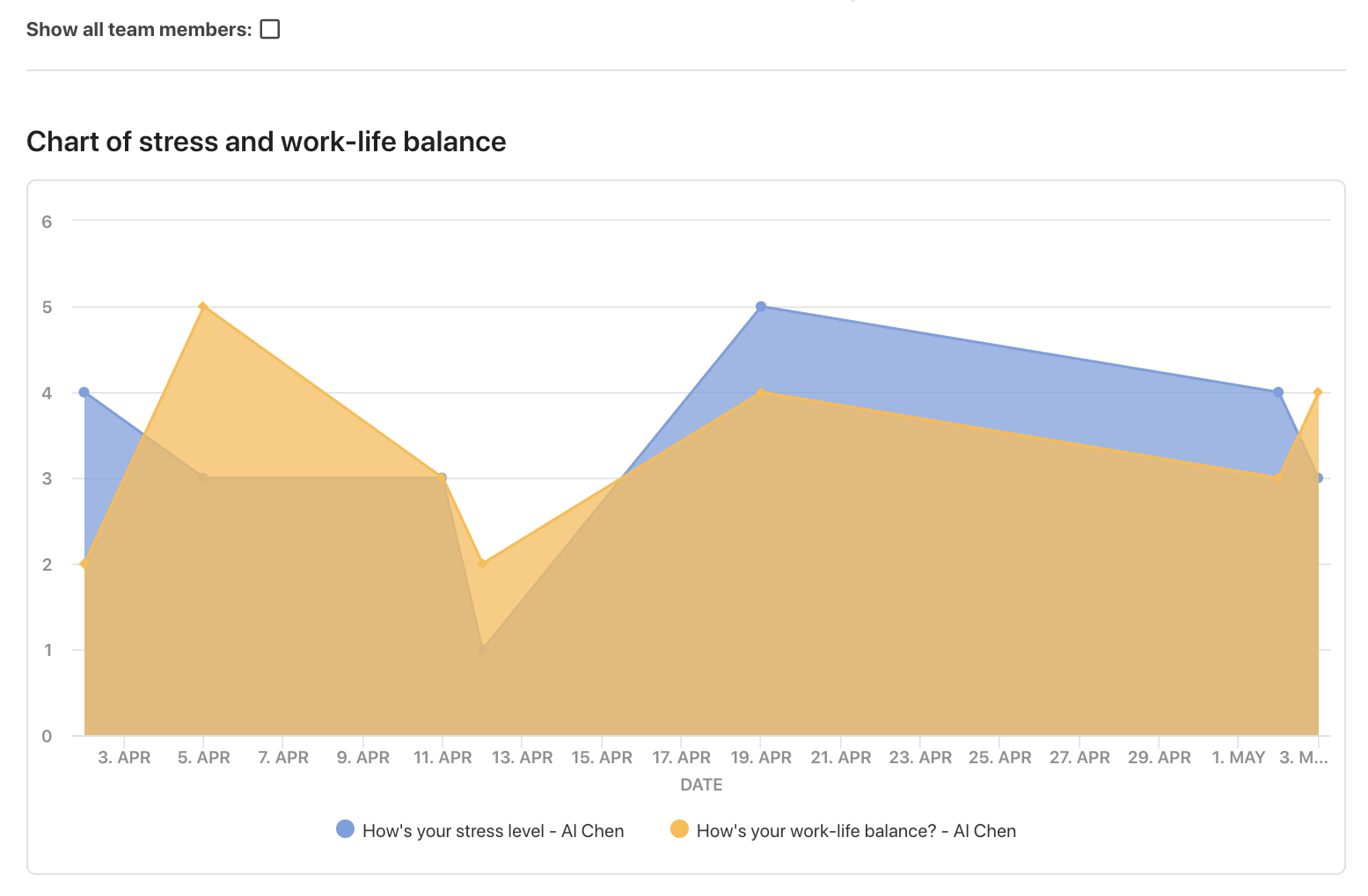 ⁠
⁠
View team pulse checks over time
After the team passionately discussed tips on staying sane during a weekly meeting, I decided to whip up a pulse-check in Coda. It only took 10min to build, and it's worked surprisingly well! We often discuss our weekly progress during social hour, and there's some very obvious patterns. — Yu
Tracking projects for all levels at Flatiron School
Seeing how Coda can be customized from monitoring OKR progress to team stress levels, Mick and Yu decided to use Coda for a mission critical project. At a high-level, what Mick and Yu needed was a way to track projects at:
The team level
(individual tasks)
Product leadership & management level
(Kanban board)
Stakeholder level
(Gantt chart)
Since a table of data in Coda can be viewed as a
,
, or
and
have data flow back to the main table if you make any changes in these views, Mick and Yu's doc answered a lot of questions various teams had
all in one doc
. Depending on the team and the data they needed to see, Mick and Yu could create views of their project data that only mattered for that specific audience at a meeting:
⁠
⁠
⁠
Gantt chart view for stakeholders to track project health
To
, Mick and Yu also maintain a team-wide doc that tracks significant launches from the various teams. If you go to the template and click on the
Celebrate
button, you'll be met with a little surprise :). They've seen that a great way to keep their teams engaged and motivated is to clearly track the progress they've made, celebrate milestones, and continue to revisit the impact from those milestones. This "Product Launches" doc also helps increase collaboration, and keeps the team engaged on Flatiron School's overarching mission and vision, by celebrating launches broadly across teams.
⁠
⁠
⁠
Celebrating the team's product launches
Automating a product manager's job
One of the most interesting implementation of Coda internally at Flatiron School is how Mick automated much of his job throughーyou guessed itー
. Keeping him and his team accountable on tasks they need to doーwhether it be a P0 bug or new feature launchーultimately translates into happier students at Flatiron School. Instead of spending precious meeting time chasing tasks down, Mick keeps his team engaged with his Coda doc by automating e-mails to his teammates showing what their outstanding tasks are:
⁠
⁠
⁠
An automated reminder to Mick's product team on tasks that are past due (using the Gmail Pack)
Mick's "
" doc increased response times and productivity on his team since he didn't have to worry about sending these updates manually. Once his team received an e-mail or Slack update, they knew they needed to take action on a task. As individual team members made their updates, all these changes bubble back up to the high-level project that is related to those tasks. This means product leadership could get a bird's-eye view of the project as work is being completed and updated in a "bottoms-up" fashion.
It's notoriously difficult to get software adopted across multiple departments. The reminder email has been the 'gateway drug' that let all teams to use Coda in some way. — Mick
The Road Ahead
Mick and Yu have used all sorts of tools during their careers as product managers. It is highly likely that new tools will crop up to solve a specific problem in their product management processes, and those tools will come and go as the needs of their business change. In terms of adapting to new business scenarios and needs, Coda provides Mick and Yu a
quick
way to build their own tools that serves a specific need. For fast-growing companies like Flatiron School, being able to keep up with the speed of your team is important for any product manager, and it all starts with a Coda doc that grows with your team.