Harness the combined power of IMDb, The Movie DB, Rotten Tomatoes, Metacritic and JustWatch!
📑
Detailed info
for movies, shows, and people
⭐️
Ratings
from Metacritic, RottenTomatoes and IMDb
📺
Streaming services
in your country that have the movie or show available to stream, buy or rent
📸
Horizonal poster
images to fit your Coda cards & layouts
✅
No API key
needed - just install & go (you can help fund this feature
)
Add the Pack to a document from the
Insert
tab →
Packs
→ Search for "
IMDB +
"
Install the Pack from its
⁠
Movie & Series Column Formats
Choose
Packs
→
IMDb+
→
Movie
(or
Series
or
Person
) as the column type for a column. Enter movie / TV show titles into that column, and watch them populate with additional details like poster image, runtime, year, etc.
💡Tip: If you're getting the wrong result, try adding the year
You can view all the info by hovering on the movie name. You can add any of these data points as a column with the
Add Column
buttons.
⁠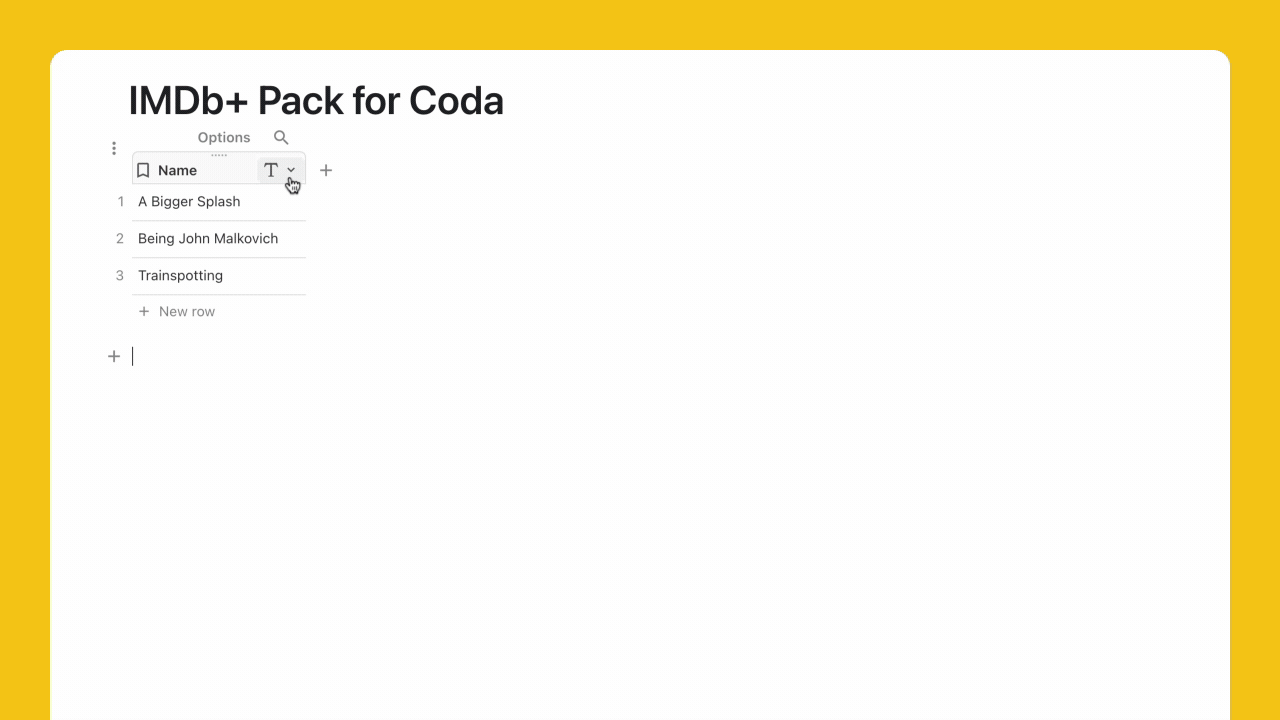 ⁠
⁠
Movie(), Series() & Person() Formulas
You can also access the
Movie()
,
Series()
, or
Person()
formula directly. It does basically the same thing as the column format, so most people will probably use that. However,
Movie()
and
Series()
take a second parameter that's not available in the column format: your 2-letter country code. Use this to customize the streaming service results that are shown to you.