On August 30th 2021 at 8:00 pm CST we released a new version of the
Publishing Solution. Below are the updates and fixes we made to the platform.
Multi-Factor Authentication:
Update:
Admins can enable/disable MFA for their institution.
⁠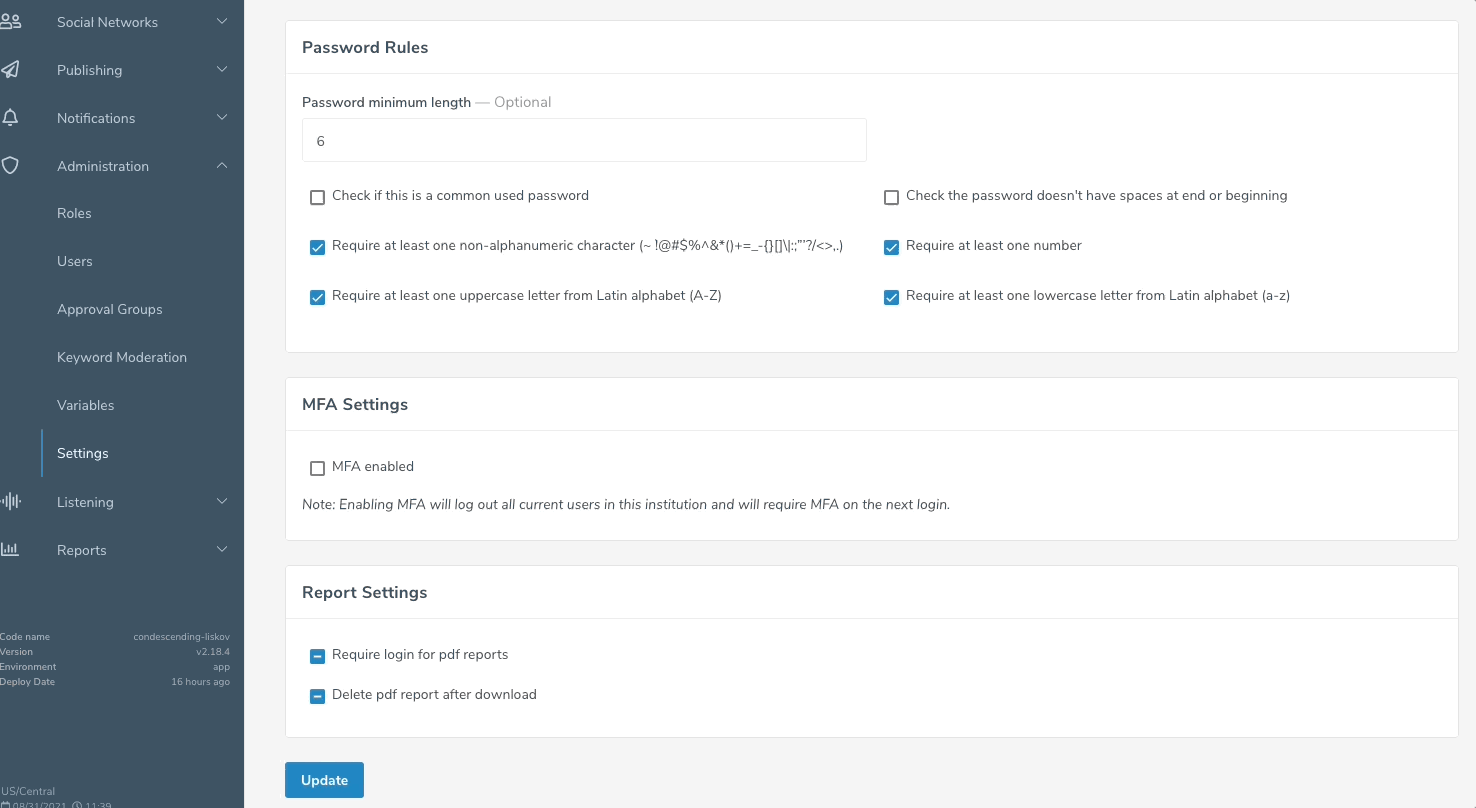 ⁠
⁠
Update:
If MFA is enabled for the organization, all Users will be required to authenticate via email or text with a 6-digit code. If Denim Social possesses both an email address and a phone number for a User, the platform will allow the User to pick which method they would like to authenticate with (email or text).
⁠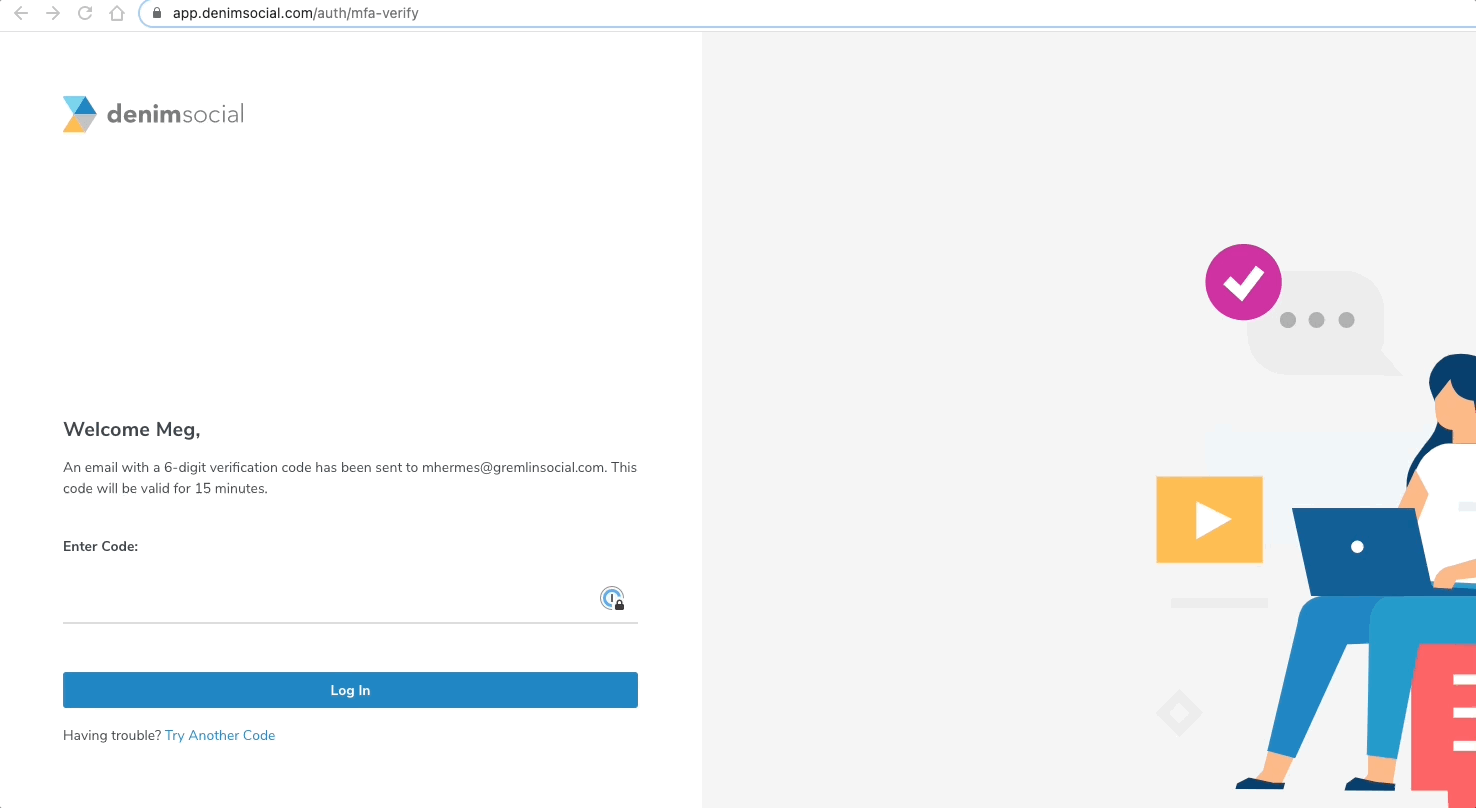 ⁠
⁠
Update:
If MFA is enabled, Users can dictate whether they would like to authenticate with email, text, or both within their User profile.
⁠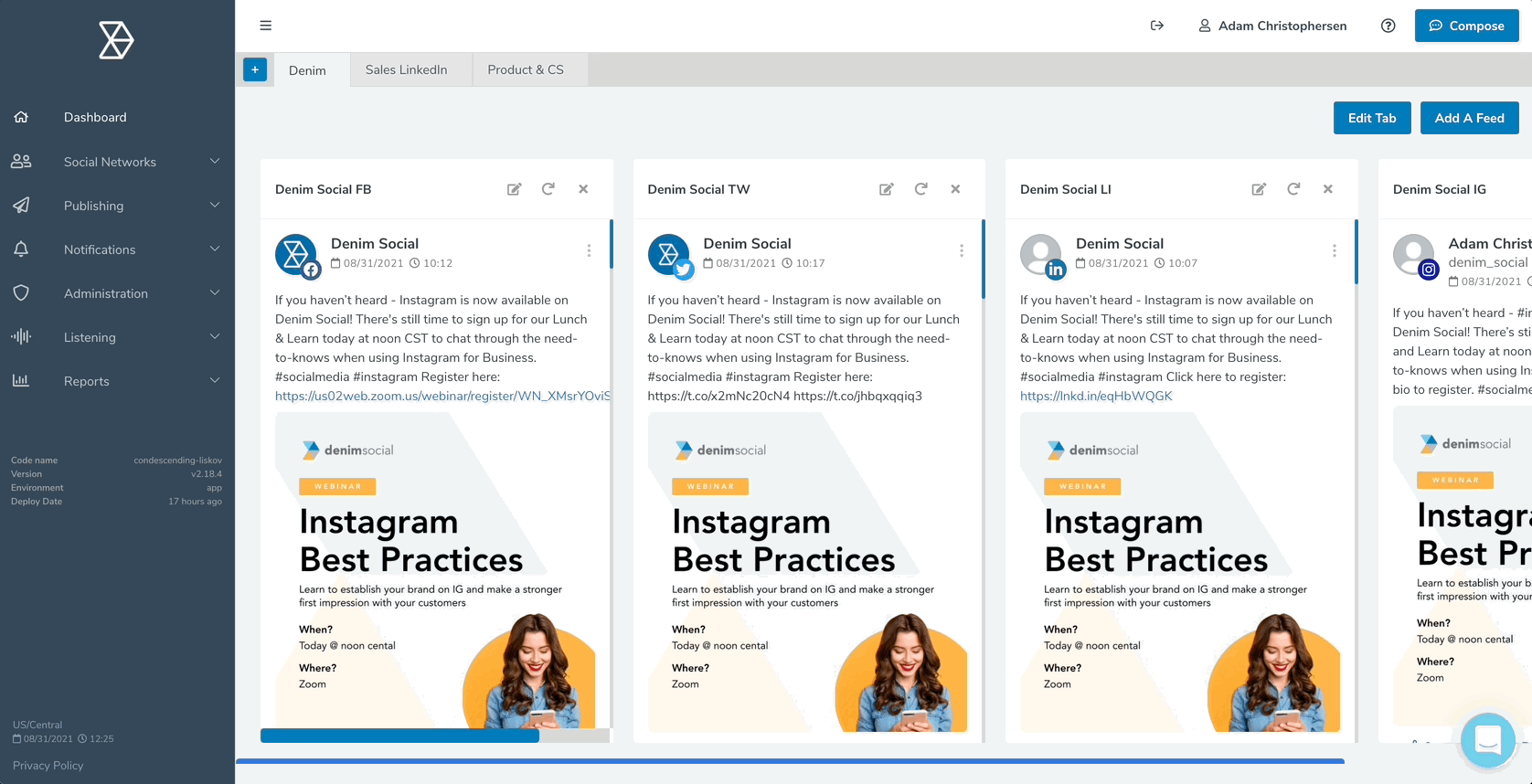 ⁠
⁠
Fix:
Newly added Instagram accounts display Active status.
Fix:
At least one media is required to post to an Instagram Business Account.
Fix:
Aligned post preview for Instagram in Compose page to maintain consistency with all other networks.
Fix:
Video posting failure due to time out has been updated.
Fix:
A post for an Instagram Business Account now enforces image aspect ratios between 4:5 and 1.91:1.
Fix:
Posts details displays only the Instagram Business Account and no parent account.
Fix:
When viewing posts in Publishing, Users are now able to filter to Instagram Business Accounts in the "posted to" filter option.
Fix:
Summary Reports now include Instagram.
Fix:
Social Performance Report now displays Follower Count for Instagram Business Accounts.
Update:
Admin Users can now use Bulk actions for all their pages to delete/deactivate and share social networks.
Fix:
Non Admin Users can view Social Network account owner names.
Fix:
In Facebook Page Tags Feed, users have the ability to view the post on the social network using the "view on network" button.
Fix:
LinkedIn Profiles display updated feeds.
Update:
GIF posts are now supported for Facebook Business Pages.
⁠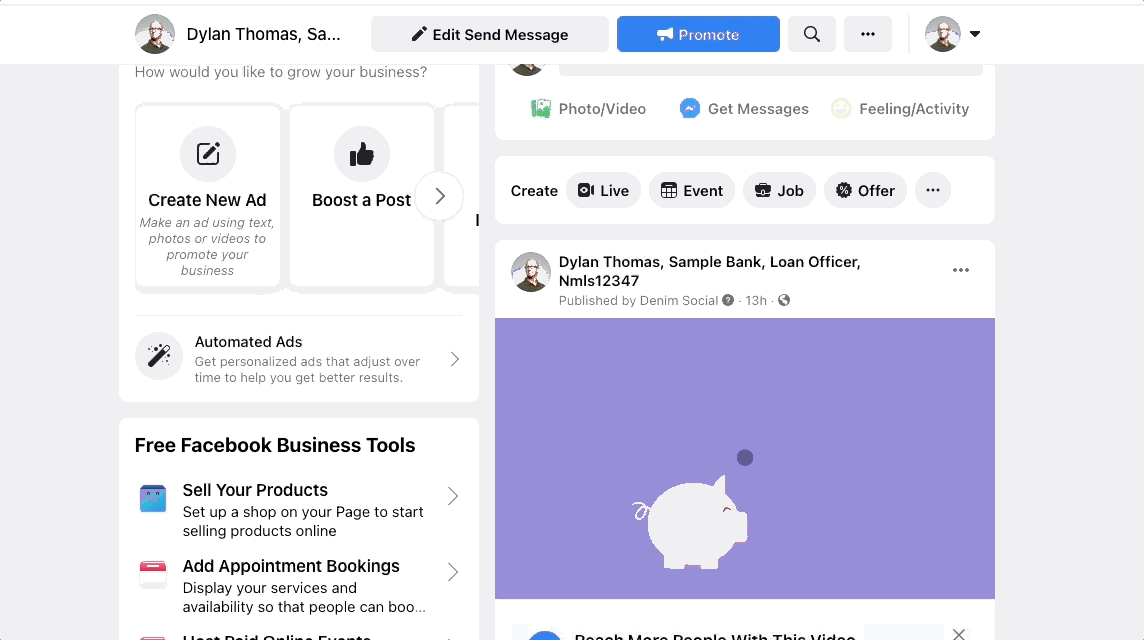 ⁠
⁠
Update:
Approved Posts do not require another approval if the published date/time changes.
Update:
All users can now filter Content Library posts.
Fix:
Link Preview is displayed for all Content Library posts.
Fix:
Content Library posts that have keywords for moderation which have been approved do not require additional approval when selected for publishing.
Fix:
When filtering to specific Social Networks in Publishing, filters will now display LinkedIn Profiles.
Fix:
Posts list view display matching text preview in every page.
Fix:
Posts calendar view displays all the posts.
Update:
Ability to search users in the Users product.
Fix:
All users are able to update their timezone.
Fix:
Ability to update the password for a User without changing the role.
Update:
Users are able to search text in Social Media Post Report.
Fix:
Display of default date range in Reports changed.
Fix:
Login with Chrome Autofill is now supported.
Fix:
Access to Summary reports page.