With its great free plan, Mailchimp is often used by small businesses or startups that don't want to spend money on email marketing or are still in a testing phase.
To offer these businesses a way to connect Coda with Mailchimp, I created the free
. With the Lite Pack you can subscribe users to your lists or keep track of campaigns and lists.
Checkout Mailchimp Lite in the Packs Gallery:
For more advanced requirements like creating and sending campaigns, updating members as well as tags and reporting, I created a regular Mailchimp Pack
⁠
Subscribe Users
SubscribeLite()
List your Audience
AudienceLite
List your Campaigns
CampaignsLite
Test Connection
TestConnection()
The SubscribeLite() action is a quick and easy way to add members to your audience.
⁠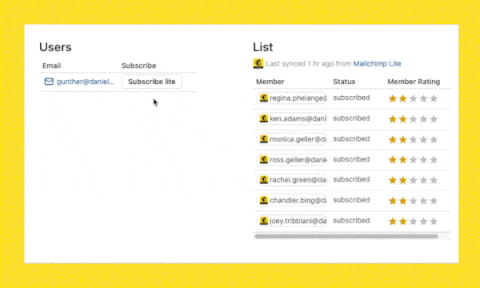 ⁠
⁠
The audience you want to add the user to
The email address of the user
Disable Mailchimps confirmation email
No results from filter
⁠
The Mailchimp Lite Pack only includes the Lite version. To use the Regular Subscribe action, please switch to the Mailchimp Pack.
The Lite version can be set up using the "actions builder" and includes the email address, the list and an option to disable double opt-in.
⁠
⁠
⁠
The regular Mailchimp Pack includes an extended Subscribe action that allows to
The regular version is not available in the actions builder and can only used as a formula.
⁠
⁠
⁠
You also find additional Subscribe actions like "UpdateOrSubscribe" in the regular Mailchimp pack.
⁠
The Mailchimp Lite pack directly interacts with the Mailchimp API. The pack maker has no access to any user data. Use of the pack is at your own risk. The pack user is responsible for the use of data from his Mailchimp or Coda account.
Want to get notified about Pack updates?
Subscribe and get notified about updates on packs and docs.
ℹ️
The Mailchimp Pack
offers a full range of features like managing audiences, tags, campaigns and much more. You can install it from the pack gallery:
Checkout Mailchimp Lite in the Packs Gallery:
Mailchimp Lite in the Packs Gallery: