Interested in learning more about Coda for the enterprise?
See how Coda compares to other tools
Introduction
- what is this guide?
I work on the Coda go-to-market team, and have worked with hundreds of p
roduct managers
, engineers, technical program managers (TPMs), design managers, program managers, and others to evaluate productivity software. Each person I've met with has some sort of project management need. I've seen many patterns of project - from an operations team of 4 launching a small feature, to a huge product organization launching an entire suite of features - and have a good sense of what kind of tooling can work best.
Obviously, I work at Coda, so I'm a proponent of using Coda for many things. However, I've tried my best to remain objective in this guide, which compares Coda with Asana, a productivity tool that's built specifically for project management. There's a brief explanation of the differences below, with more detail on the "pages" at the top.
Coda and Asana Philosophies
Asana is built to help teams run projects. It describes itself as "the easiest way to manage team projects and tasks," and is known as the modern project management tool for distributed teams.
Coda is the new doc for teams that empowers people to build what they need based on their unique situations. While Asana offers an out-of-the-box project management tools,
Coda empowers Makers to customize solutions
using a unique set of building blocks that can be assembled in an interface everyone already knowsーa doc.
What does that mean? At its simplest, it means that Coda is not, strictly speaking, project management software.
It is an all-in-one doc
that does many things well, including project management.
We've built Coda to be endlessly flexible, with
tables
that update everywhere (so you have one source of truth with your data), a rich editor for text and images, and app-like controls like buttons and integrations.
If your team has a unique way of working, or a particular process for their projects, Coda may be a better alternative than Asana, which treats projects fairly uniformly.
If, on the other hand, your team is brand new and doesn't have a specific working style or preference, an out-of-the-box solution like Asana may be preferable.
What else can you do with Coda?
Quite a bit! Teams use Coda to take meeting notes, manage career development, run offsites (when those were a thing - note, this was published during COVID-19), and more. You can see a range of options
(a snapshot is below).
⁠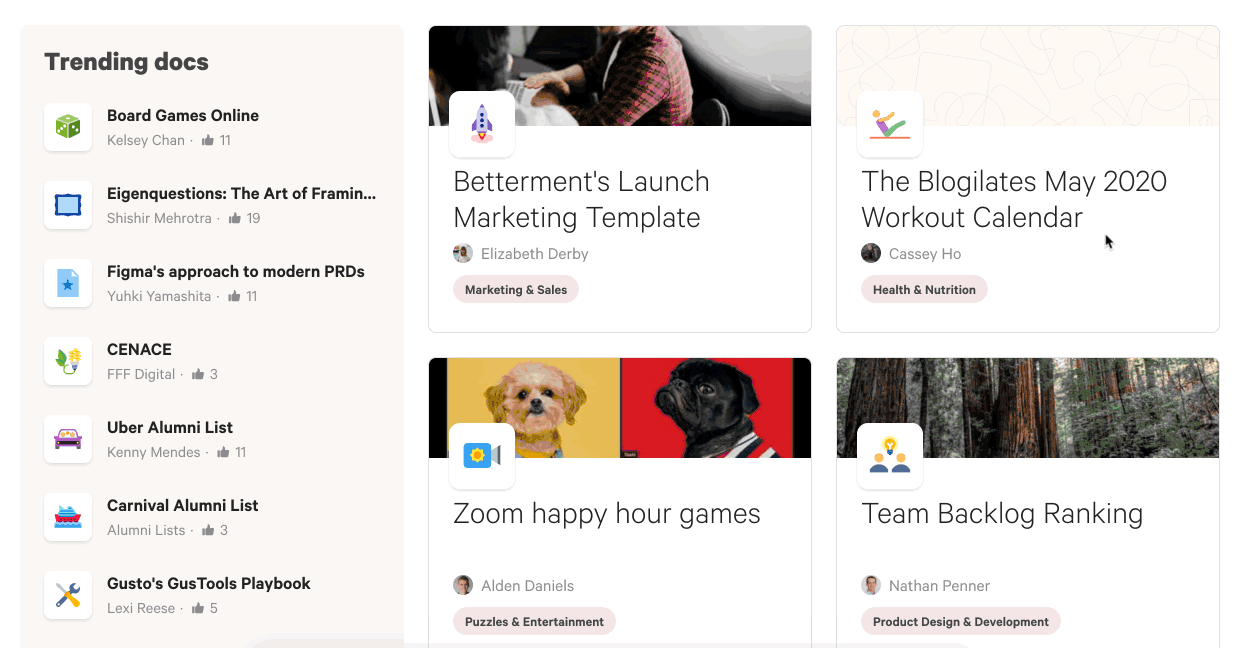 ⁠
⁠
A snapshot of use-cases in Coda - there's a lot of variety.
The biggest example is...what you're reading right now. Coda starts as a doc, and its intuitive, approachable text editor surface is capable of storing rich text, memos, writeups, and ideas in long-form. Asana is a structured project tracker that lets you track to-dos and assigned tasks - it is not a document surface capable of
housing rich text
.
If you are evaluating other tools for other use-cases in addition to Asana, Coda may be a good place to look, given its overall flexibility (and you'll be very excited when you learn
).
Down to the Basics - Comparing Coda and Asana for Project Management
Ok, if you're planning on using either Coda or Asana to run a project, or a series of projects, what does each bit of software do?
At a high level
, both are cloud-based software applications that let multiple users in various locations collaborate in real-time. Both allow hierarchies of data (projects, tasks, sub-tasks), alerts and notifications, and a variety of visualizations (gantt, kanban, calendar). Both integrate with 3rd party apps (Gmail, Google Calendar, JIRA). You can see a full list of feature comparisons in the
page of this doc.
The big difference in
how
these things are available. Asana is built for project management - so it puts you into a specific template or process when building out a project. Coda is built for lots of things, and it has a number of
(
and
that can serve as templates
) specifically for project management, but all of these are totally customizable. While it can take a little effort to learn how to fully customize things in Coda, the end result is endlessly flexible, which is not the case with Asana
.
Coda's doc surface allows for the
early part of a project
- taking notes, brainstorming, dropping in whiteboard photos or post-it-note walls as the project is coalescing.
Then, when the project takes more shape, Coda's structured data can help. One of Coda's most powerful features is
, which are customizable databases which allow a user to input any information they need. These "Views" can be shown as a chart, or a customized list of tasks, and the user has complete control over what to show.
You can see more about what this means in practice in the
page.
Coda and Asana Pricing
So what do these tools actually cost? In short, both charge for users, but in very different ways.
Asana is more typical of collaborative online software - it charges a per-user fee, regardless of how active that user is. For instance, someone who adds all the projects and tasks on a team is the same price as someone who just checks off one task that is assigned to them.
Coda, on the other hand, charges only for doc makers, and all editors and viewers are free. Doc makers are the users who create docs - meaning, the central item of the product itself. What you're reading right now is a single doc, and all the pages on the left are part of it (That means a free editor could add one hundred such pages, with lots of data and additional views, and still be free).
We've seen huge docs spring up in organizations like Uber and the New York times, with hundreds of editors, and dozens of pages on the left side. Each of these docs was created by a single doc maker, even if they had hundreds of "end users."
Here's a breakdown
for how a team might be invoiced differently for
($30/month per doc maker) and
($24.99/month per user):
The result is that Coda can be
significantly
less expensive than Asana to deploy. You can see a custom comparison based on your team size and composition in the
.
A few of the 25,000+ teams that 🏃‍♀️ on Coda.
⁠
⁠
⁠
Coda is an all-in-one doc for your team's unique processes — the rituals that help you succeed. Teams that use Coda get rid of hundreds of documents, spreadsheets, and even bespoke apps, to work quickly and clearly in one place. This template is a Coda doc. Click around to explore.
Find out what Coda can do for your team.
⁠