Soccer Team Tracker
⁠
⁠
⁠
⁠
⁠
Plan your roster with
!
⁠
⁠
Track Goals, Assists, and Saves in the
dashboard!
⁠
⁠
Review
by game, year, or career!
⁠
⁠
See
in full and per game!
⁠
⁠
Keep
handy at all times!
⁠
⁠
⁠
⁠
Field View
The Field View lets you visually plan your starting roster for each game. It tracks which players are already assigned to a position limiting you to the players available. It will also limit you to only adding 11 players, eliminating any 12th player roster mistakes.
Choose the
Position
title for each row to customize your field! You'll also notice the
Substitutes
below the field layout letting you know who is sitting this one out. You'll need to delete, or choose "blank", for a position or player to open up other options if you already have a player assigned or have 11 players on the field.
Specialized Positions
reads each players preferred positions from the main player table and limits the ability to add them outside of those positions. Set this to "No" to have completely open position assignments making every player eligible for every position.
⁠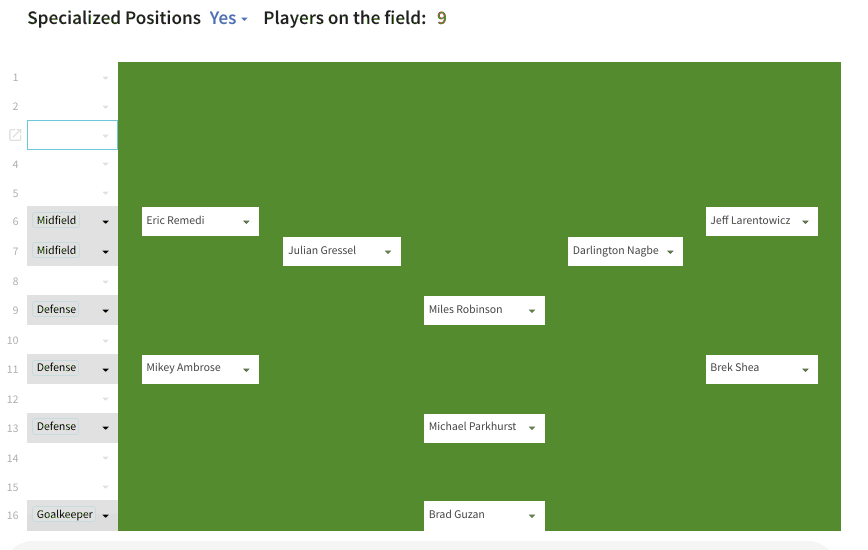 ⁠
⁠
⁠
⁠
Game Day!
This is where all Goals, Assists, Saves, and Substitutes are logged during the game. With easy button access to all features, this is meant to be a quick way to log an action from your phone without missing a second of the game.
Choose the Game that you're about to play. When the Ref blows the whistle, click "Start Game", and you'll notice your team is loaded into the game roster and buttons are available to log each action. If you need to substitute a player, scroll down to the Substitutes list and sub one out and the other in.
At the end of the game, click "End Game" and all stats will be logged.
If you miss something, it's not a worry, all stats can be edited later keeping this a go-to document with accurate information.
⁠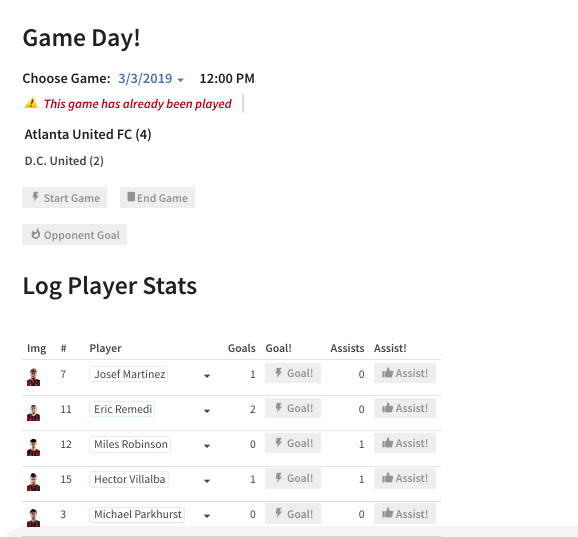 ⁠
⁠
⁠