September 2022 Update
August 2022 Update
Added
,
@

Amex Hilton Honors Business
⁠
,
,
Mar 2022 Update
Dec 2021 Update
Added the
@

Chase Amazon Prime Rewards
⁠
card.
Nov 2021 Update
Added a few new credit cards in
and and their associated rewards in
:
⁠
@

Chase Ink Business Unlimited
⁠
⁠
@

Chase ink Business Preferred
⁠
Travel credit cards took a hit in 2020-2021, but travel is picking back up in 2022. We're starting to see more banks giving out super high signup bonuses. This means it's time to start earning points again on your cards to earn rewards.
The problem: credit card rewards with spend targets are hard to track
You signed up for a credit card because it's offering a hefty signup bonus (e.g. miles, points) and the only condition is that you need to spend X number of dollars in 3 months. Two and a half months go by, and you realize you've only hit 10% of the spend target and you're messaging all your friends and family to see if you can help pay for their stuff to hit the spend target.
I've wanted a
custom notification system
to
remind me
that I need to spend some money on a credit card. This Coda template is the system I wish I had when I first learned about credit card rewards from blogs like
,
,
, and
. Click here to copy this template:
⁠
Know the rules to win every game
I'm not sure if this applies to other countries, but in the United States banks are in a cutthroat competition to win over credit card customers. The result? More benefits, rewards, and perks for consumers. If you click through any of the blogs I mentioned above, you'll see that these rewards are worth thousands of dollars in travel benefits and credits to your bill.
⁠
⁠
⁠
Savvy consumers know that you can sign up for a credit card to get its perks, and then stop using it to take advantage of another credit card's perks. While this hurts the long-term relationship and retention goals of the banks, it's difficult to be a loyal customer when the banks have created this massive game for all of us to play. From overdraft to late payment fees, the banks earn revenue from one simple concept:
Consumers missing or forgetting deadlines to take advantage of the benefits of their bank or credit card
Each credit card has different rules for achieving the signup bonus or getting the 3X points on groceries. By encoding all these reward rules into a
standardized template
, I hope it's easier for you to take advantage of every last benefit the credit card has to offer in terms of signup bonuses, points, and statement credits. If you look at the view of the
table below, you'll see how I've attempted to standardize credit card rewards with an expiration date in one place (this is just for the
):
Solution: Get reminders about when deadlines are approaching
For the
card above, you'll see a variety of dates and rules to remember in order to take advantage of the reward. For those who play the game, you have multiple cards from Chase, Amex, and Citi increasing the complexity of deadlines to remember.
After searching for other systems to remember these dates, I came across Frequent Miler's blog post below on a complex system of Google Calendar events and email notifications to remind yourself when to spend on your credit card:
Instead of setting up reminders in multiple systems, I thought centralizing everything in one template would eliminate some of the repetition you might be doing across different scheduling and reminder apps.
Similar to the Frequent Miler blog post, I prefer checking my email to remind myself when I need to spend on a credit card to hit the spend target. This template automates these email reminders based on your
card signup date
and the
deadlines of the reward
.
How this template works
All the core tables and "rules" of this template are stored in the
page and the email notifications are handled by Automations in Coda (click on the gear icon ⚙️ in the top right and then
Automations
).
The
and
tables show all the credit cards and rewards for those credit cards, respectively. I plan on keeping these two tables updated over time as the banks release new or change benefits on their credit cards.
The key steps for you to customize this template (after you
):
Step 1: Add your cards
Go to
and click
Add a Card
and enter date you signed up for the card in the
Signup date
column:
⁠

⁠
⁠
Step 2: Add the rewards for your cards
Click the
Add rewards
button on that new credit card you added, and you'll see all the associated rewards populate in the table below the credit cards you've added:
⁠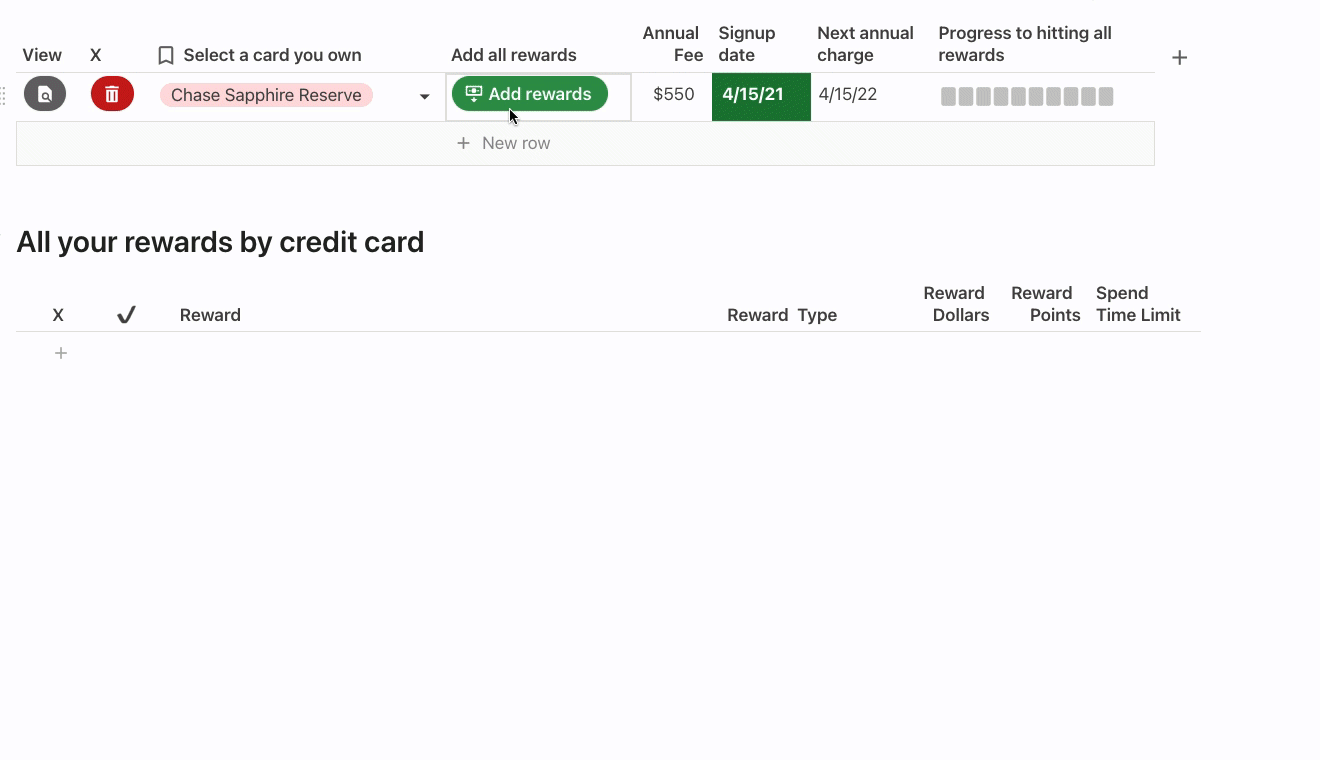 ⁠
⁠
Step 3: View most important spend dates
Go to the
to see a list of rewards and their spend deadlines sorted by the reward with the
nearest approaching deadline
:
⁠
⁠
⁠
Step 4: Turn on email notifications
The most important part of this template is turning email notifications on. You do this by clicking on the gear icon ⚙️ in the top right→Automations→Email notification→
ON
.
⁠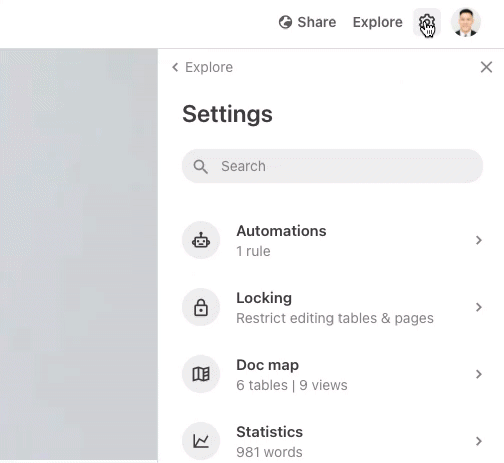 ⁠
⁠
Email notifications
You'll see when you'll get another email notification for one of your credit cards in the
page (the
Next Notification
column). By default, any reward where you have to spend
monthly
will notify you 14 days before the end of the month. For annual rewards, you get a email one month before. You can override these defaults by selecting something in the
Notify me...
column in the
page. The email notification looks like this:
⁠
⁠
⁠
Other parts of the template
Browse through the
,
,
, and
pages to see various views of all your credit cards rewards. I plan on writing a more in-depth tutorial on how I created this template, but feel free to drop me
or
if you have any suggestions on improving the template!
Video tutorial on how to use this template