Why you should run a virtual conference or meetup
Perhaps you don't have a venue or your conference, group, or meetup cannot meet in person. This is when you should consider hosting a virtual conference or meetup using video conference technologies like Zoom, Google Hangouts, Crowdcast, Webex, and more. The benefit of a virtual conference is that your attendees can join from wherever they are based from the comforts of their own home. Most video conference platforms allow you to record the meetup so you can distribute the recording to those who were not able to attend the conference.
How this template works
After you copy this doc and tailor it to your conference needs, the main page you should share with your conference attendees is
(feel free to rename this to the name of your conference or meetup).
There is a
page where you can enter in all the information related to your meetup. This info will show up on
.
To make
look and feel more like a website, you will publish your doc after copying this template. Steps on how to publish are
. What you're looking at now is actually a published doc which you can copy for your own conference!
Crowdsource questions
One of the best parts of this template is that once you publish your own version of the doc, people can add their questions before or during the meetup to the main conference page and people can upvote their favorite questions. See the
Questions
section on
. Here's a gif of how your group can add questions and upvote their favorite ones:
⁠

⁠
⁠
Step-by-step
1)
Copy this doc by clicking the
Copy
button in the top right
⁠
⁠
⁠
2)
Once you're done reading this intro section, go ahead and delete it so your attendees won't see it once you publish the doc live:
⁠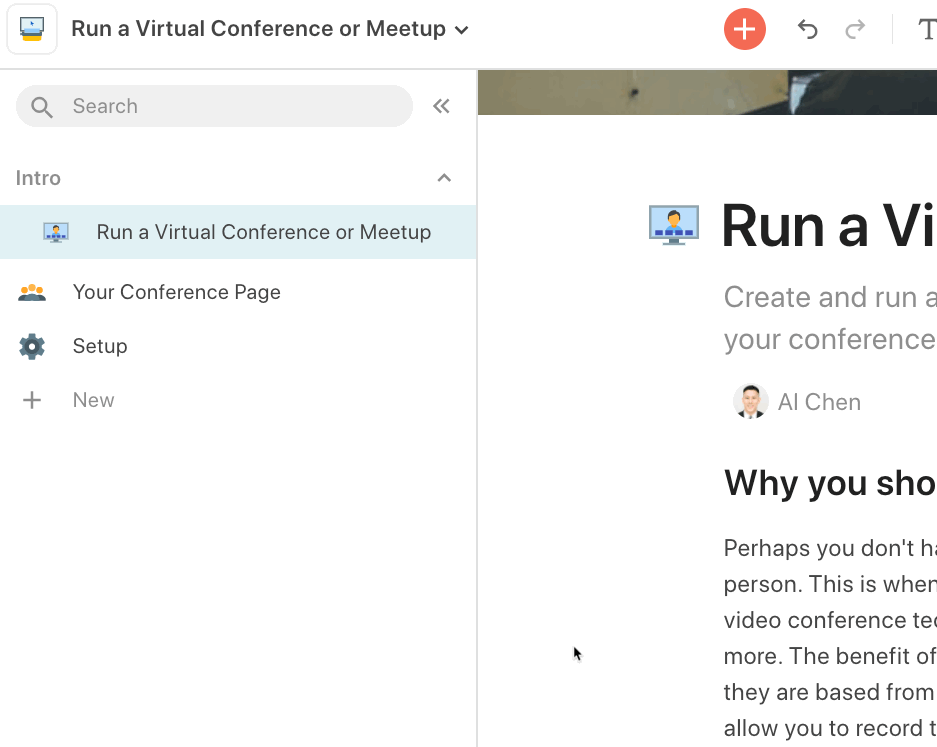 ⁠
⁠
3)
Edit the
page with all the details about your meetup
4)
Publish the doc by clicking
Share
in the top right and click on
Publish
. I would recommend setting the
Doc Interaction
mode to
Edit
so that your conference attendees can add questions to the meetup page and those questions will get saved to the page for everyone to see and upvote (see
).
⁠
⁠
⁠
5)
Set the URL for your doc and share it with your attendees!
Tips for hosting a virtual conference
Find partners/sponsors that appreciate virtual events and email marketing
Promote your event 2-3 weeks before the event
Create a hashtag and get attendees to interact on social media
Live video using Zoom, Crowdcast, or Google Hangouts
Do a "tech check" with the speakers 15-20 minutes before the meetup starts
Check social media and the chat feature on the video conference software you're using to incorporate attendee questions and comments into the content