⁠
> Free daily standup meeting template
⁠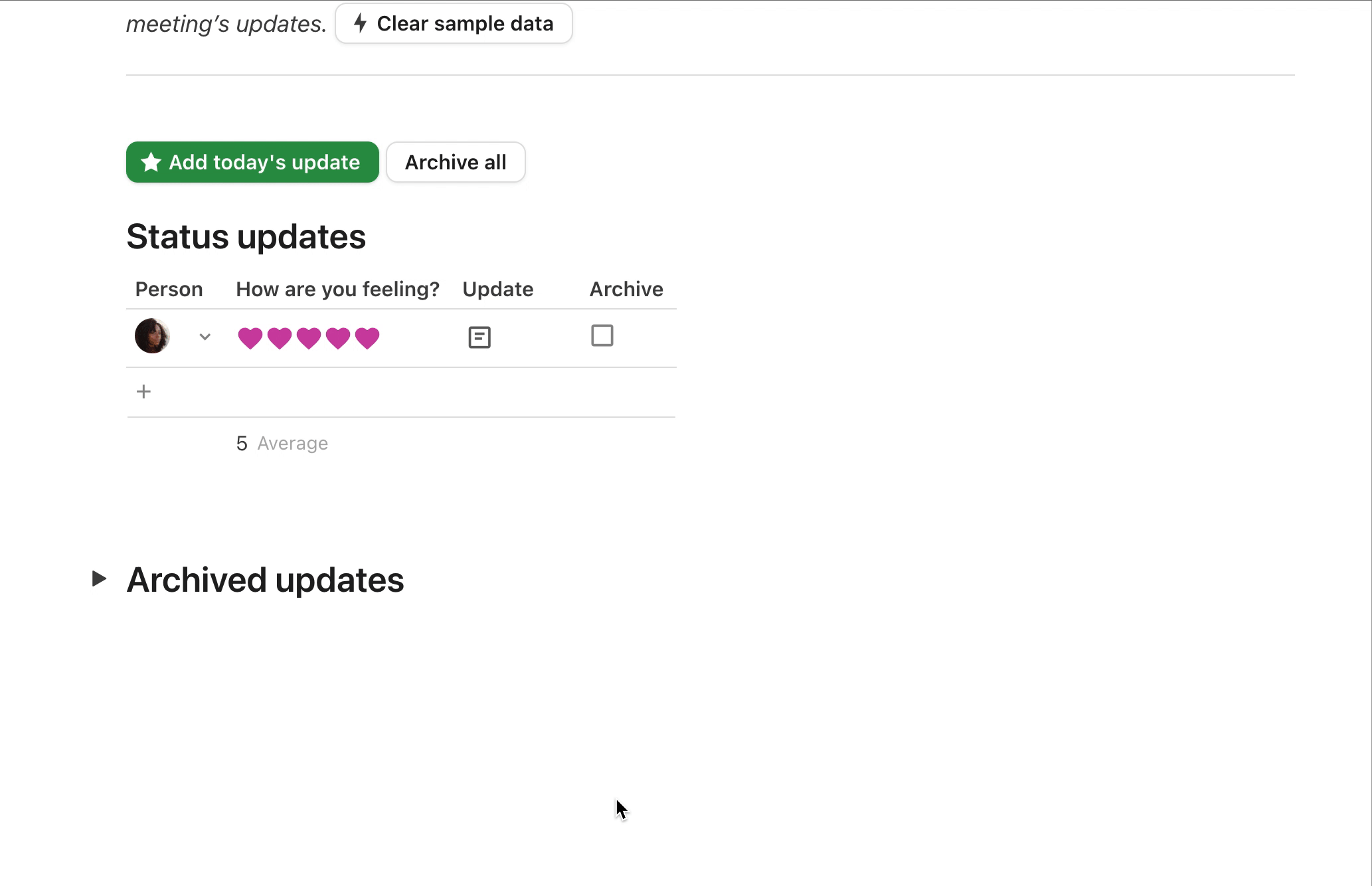 ⁠
⁠
Run an effective standup meeting.
The standup meeting is a daily ritual you do with your team to keep everyone going forward. Because this meeting is typically quick, a tight agenda helps keep everyone in the loop. Start with questions like:
What did you work on yesterday?
What are you working on today?
We built this standup template as a simple, frictionless way for your team to answer those questions. And because answers are automatically stored in an archive, you can monitor your team's progress over time.
Coda is the all-in-one doc that brings words, data, and teams together. Coda comes with a set of building blocksーlike pages for infinite depth, tables that talk to each other, and buttons that take action inside or outside your docーso anyone can make a doc as powerful as an app.
Goals of the daily standup meeting.
Given that more teams are distributed, it's becoming harder to gauge how your colleague's are feeling (about work and their personal life). A pulse check is a simple one to five rating on how each person is feeling that day.
Keep everyone in the loop.
The heart of the standup meeting is the daily update. Everyone should jot down what they did the day before, their plan for today, and any obstacles they are facing. These updates are discussed during the meeting.
Since updates are added every day, your table of updates in this Coda template can get quite long. To keep everyone focused on
today's
updates, teams should get in the habit of archiving previous days' updates.
Step-by-step instructions for using this template.
Create a
on Coda or copy this template.
Share the Coda template with your teammates via e-mail.
At the start of each daily standup meeting, ask each teammate to add their update.
⁠
⁠
⁠
Tips for running an effective daily standup
The team or meeting leader should ensure that the daily standup is short and concise. The standup should be no more than 15 minutes and if people start rambling, it's your job (as the team lead) to get people back on track. This means getting everyone to really focus on the tactical tasks they are working on for the day and any help they might need to get their jobs done.
Purpose of daily standup meetings
Your company has strategic goals to achieve and accomplish. The day-to-day work is the
execution
of that strategy. Daily standup meetings serve as the main way to keep teams executing at their fullest potential. Standup meetings have a strict agenda and format so that team members can start executing towards the company's strategy. That's why the bulk of this meeting should be each person on the team sharing what they are working on for the day.
You may also like these meetings templates: