⁠
> Free retrospective meeting template
⁠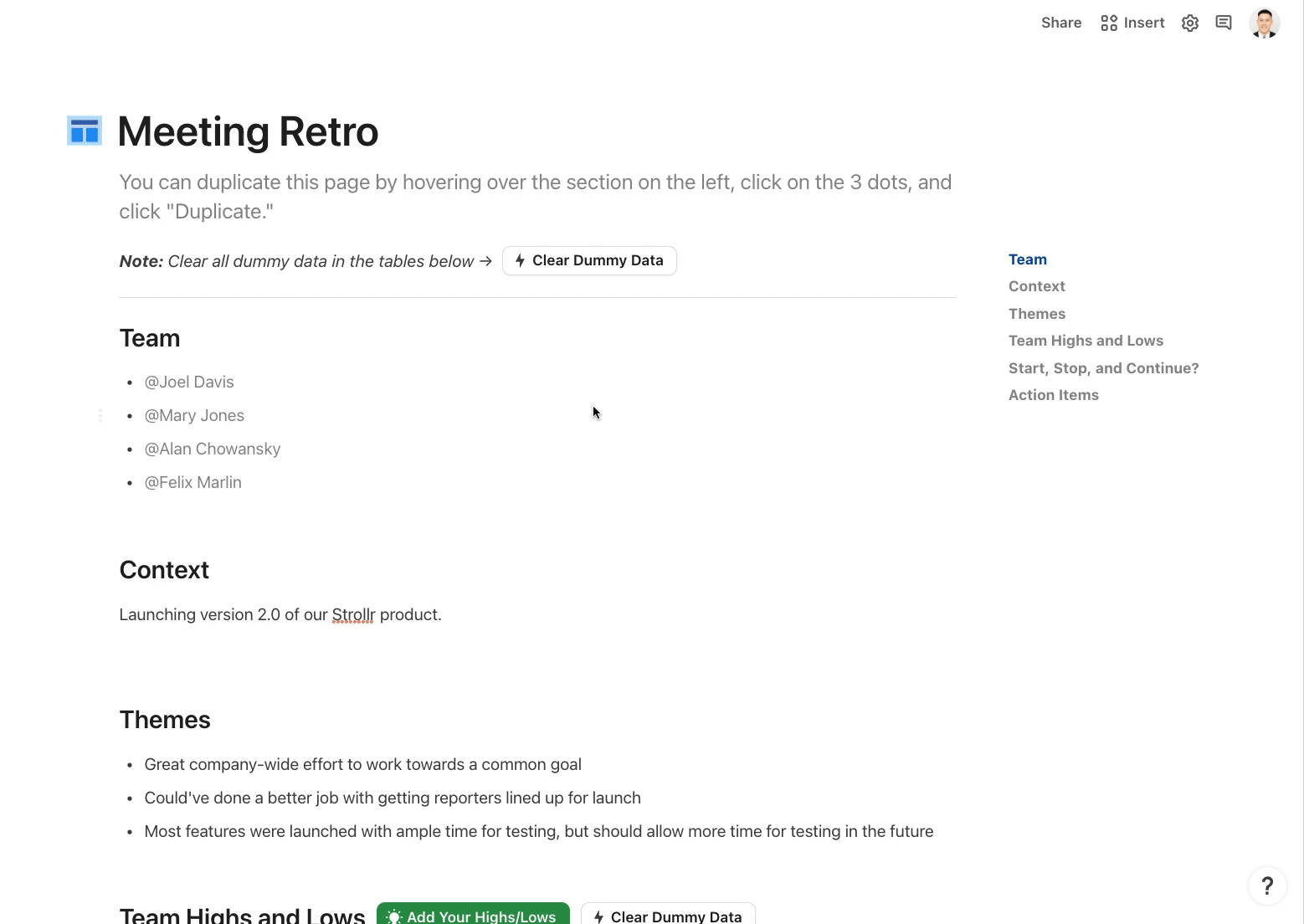 ⁠
⁠
When should you use a sprint retrospective meeting template?
Held at the end of each sprint, the sprint retrospective meeting reflects on what went well and what should be improved for in upcoming sprints. This sprint retrospective meeting template helps track the topics discussed to encourage frequent communication and iteration during ongoing workflows.
Coda is the all-in-one doc that brings words, data, and teams together. Coda comes with a set of building blocksーlike pages for infinite depth, tables that talk to each other, and buttons that take action inside or outside your docーso anyone can make a doc as powerful as an app.
Key components of a team retrospective.
Identify team highs and lows.
This template prompts teams to pinpoint the highs and lows of the sprint. If you're running the retrospective, you can aggregate and summarize highs and lows under the themes header.
Start, stop, and continue.
Now that everyone has an idea of what worked and what didn't, ask your team to apply insights from their highs and lows to what the how the team should proceed in the next sprint.
Want to see real change in the next sprint and beyond? Hold your team accountable by detailing action items
and
assigning directly responsible individuals.
Step-by-step instructions for using this template.
Create a
on Coda or copy this template.
Share the Coda template with your teammates via e-mail.
Ask your teammates to start adding their highs/lows and start/stop/continue items.
Log action items from the feedback in step 4 to follow up on after the meeting.
⁠
⁠
⁠
Retrospective meeting FAQs
What do you discuss in a retrospective meeting?
Whether it be for a project or a sprint, reflection encourages a culture of feedback, creates space to celebrate wins, and holds the team accountable for improvement. The retrospective meeting is a forum to facilitate this reflection.
Who should attend a retrospective meeting?
The scrum master, the product owner, the software development team, and anyone else who participated in the project or sprint attend the retrospective meeting. You may want to limit the attendees to go through all the feedback in a timely manner. Additionally, the more focused the group, the more focused the areas of improvement and action items will be.
How long should a sprint retrospective meeting be?
For a sprint that lasts 1-2 weeks, the sprint retrospective meeting should be 60-90 minutes long. Many variables impact the length of the meeting, such as the number of people attending the meeting and the current meeting load for your team members. The longer the sprint, the longer the sprint retrospective meeting should be.
You may also like this meetings template:
Learn more about Coda