⁠
> Simple meeting notes template
⁠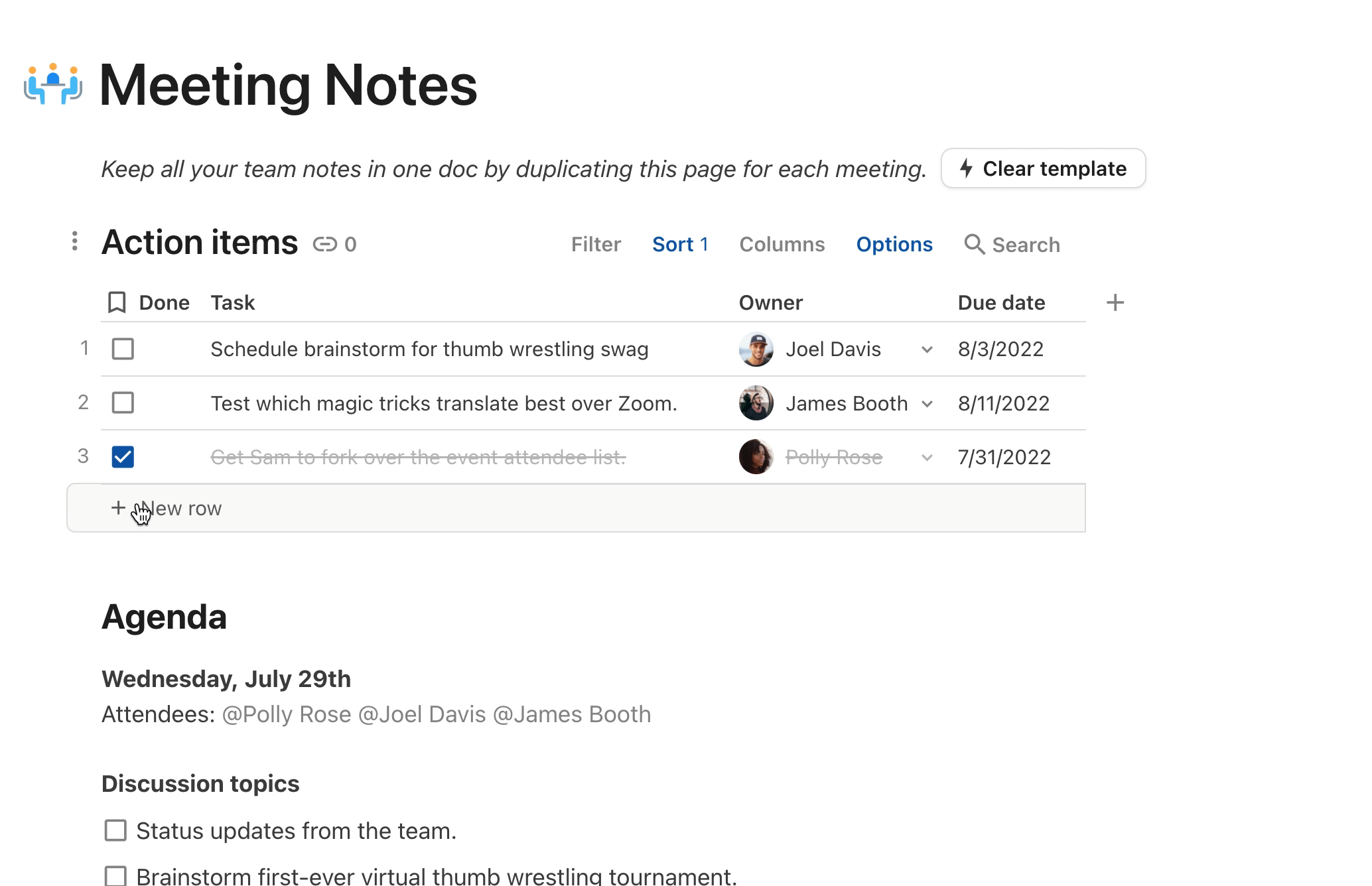 ⁠
⁠
Why do you need meeting notes and meeting minutes
?
While you can record Zoom or Teams calls and transcribe them, meeting notes and meeting minutes provide quick visibility of what was discussed—to attendees as well as stakeholders who couldn't make it. Standardizing your meeting notes format ensures consistency across team members while encouraging a culture of intentionally-designed and productive meetings.
Coda is an all-in-one doc for your team. And because real-time collaboration is a core feature of Coda docs, meeting notes can be edited and seen by multiple people simultaneously.
Key components of a meeting notes template.
The actual meeting notes.
Coda starts with a familiar writing surface, so you can use the bulleted lists, checkboxes, and color formatting you're used to with other writing applications.
Hold your teammates accountable with a table for action item tracking—right in your notes, without having to switch to another tab.
Agenda and discussion topics.
This template contains placeholders for the agenda, date, attendees, and meeting notes. All you need to do is fill them out.
Step-by-step instructions for using this template.
Create a
on Coda or copy this template.
Share the Coda template with your teammates via e-mail.
Ask the meeting leader to draft the agenda and have the notetaker draft notes and action items.
⁠
⁠
⁠
Additional sections you might include in your meeting notes template.
This meeting notes template in Coda is basic—we built it to get you started quickly. As we mentioned above, we've pre-created sections for the agenda, action items, and discussion notes. For larger meetings, you might also want to add another table for decisions made. You could also add a topic voting table to crowdsource your discussions and give attendees an opportunity to prioritize what gets covered.
Coda is built with flexibility in mind, so you can easily customize this template to run better meetings.
You may also like these meetings templates:
Learn more about Coda