Get an overview of the importance of English grammar and methods to enhance your grammar learning.
⁠
⁠
⁠
Uses of Grammar
Grammar holds a significant position in English. Morphology (forms and structures of words) is explained through grammar. Syntax or Sentence structure is based on grammar. It means that grammar guides you on using the language while speaking and writing.
Why is grammar so important in English?
Grammar is what binds the language. Without it, your words would be a pile of gibberish! You are directed by grammar to communicate to be precise and intelligible. Grammar does not just aid you in avoiding mistakes but assists you in impressively building your language abilities.
Also, it is a tool you require not just for writing for English exams or official emails but also for informal communication. Your fluency and confidence while communicating depend on grammar.
And in specific situations, it is of immense value. For example, suppose you are applying to a university in an English-speaking country or going for an interview in one such country. In that case, you will be evaluated for your grammar ability.
Your social communication: online or offline: gets affected by grammar. For example, bad grammar is considered a red flag on dating apps. When you meet new people or go to a new place, there is always a misunderstanding if you cannot manage your grammar. Anything that you speak or write requires structure.
Tips on how to improve English Grammar
The most vital things can be the most difficult to understand. And grammar follows this maxim. But it does not mean that you cannot excel at it. On the contrary, you can become a grammar pro by following the practices below.
⁠
⁠
⁠
Read
Reading helps in the reinforcement of grammar rules. You may not understand a grammar concept until you read how it is used. So reading enables you to visualise the grammar concept. And also builds vocabulary and fluency.
⁠
⁠
⁠
Grammar Books
Many books are written for specific age groups and purposes: Collins Easy Learning Grammar and Punctuation, Oxford Modern English Grammar. Figure out which one suits your learning needs and refer to it frequently. It is always good to have support material handy.
⁠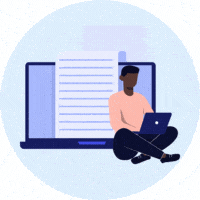 ⁠
⁠
Listen attentively
You know people whose grammar level is a couple of notches higher than yours. Observe their speaking ability. Ask for their feedback regarding yours. If you attend English learning classes, your tutor will have a few suggestions regarding your language usage.
⁠
⁠
⁠
Go back to the basics. Regularly
As you move from one concept to another, getting confused or losing track of what you have learned is easy. Therefore, even native English speakers have to go back to the grammar basics and revise them. Brushing up the concepts helps in retention and a better grasp of the language.
⁠
⁠
⁠
Enroll in English classes
Great learning platforms such as Edulyte can improve your proficiency in the English language through their one-of-a-kind, innovative language courses. With internet-enabled tools, you can learn anywhere, anytime, with customised lessons. Particular emphasis is laid on grammar and its various arenas.
⁠
⁠