T
he streamlined way to plan.
Raise your hand if you're outlining lesson plans and course content across multiple docs, sheets, calendars, and PDFs. With Coda, you have a single, searchable home base for all your projects, making planning and work easier to
manage
.
⁠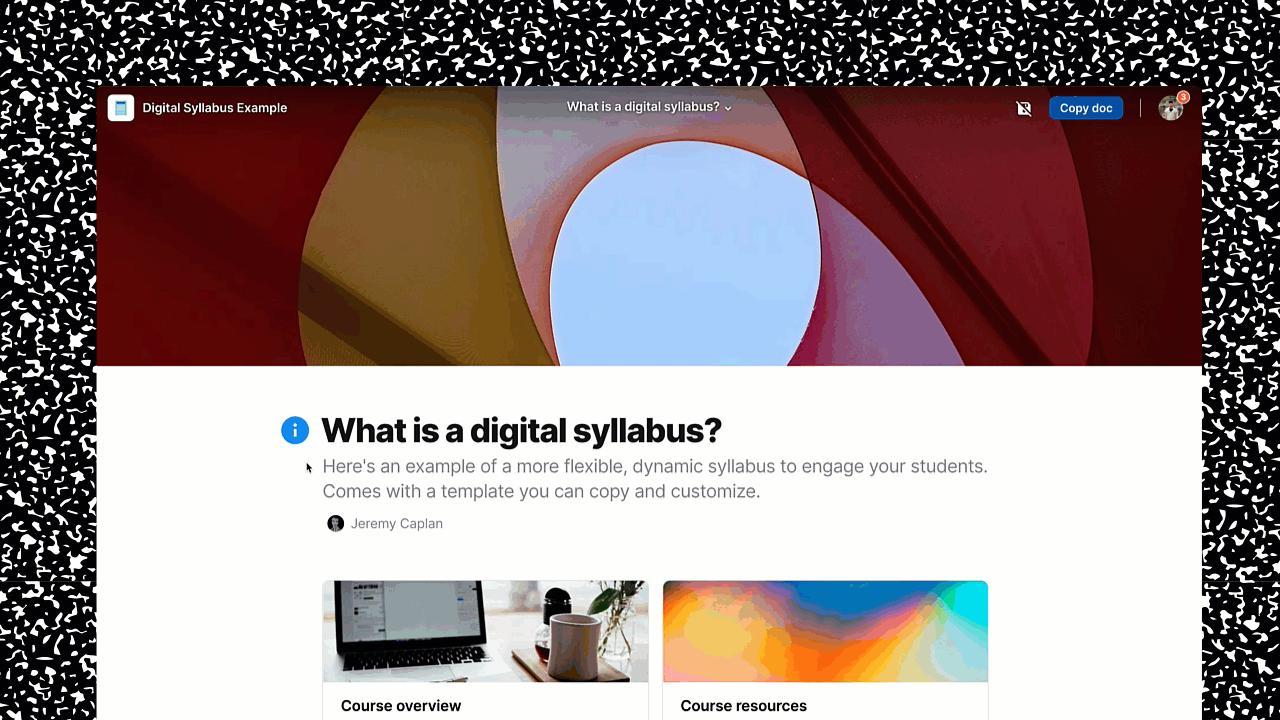 ⁠
⁠
Stay on track all school year long.
Juggling requests from students, teachers, and administrators—on top of your day-to-day responsibilities—is a full-time job on its own. Create a project tracker in Coda to better manage the work that comes your way. Capture dependencies, details, and due dates for all of your to-dos in one place, and prioritize accordingly.
⁠
⁠
⁠
"As an athletic administrator, we have used Coda to track our student-athletes better...It has allowed us to share information on our rosters with other constituencies on campus. The visual helps us to communicate and inform a lot of different stakeholders in our athletic department." - Matthew G., Director of Athletics, SUNY Morrisville
Education is collaborative. So is Coda.
Share docs with educators to jam on research and team teaching. Invite colleagues to provide feedback on proposed curricula and educational standards. Have students review the syllabus and sign up for office hours in one place.
⁠
⁠
⁠
Get started fast with templates.
Our Gallery is a library of inspiring docs that you can copy and make your own.
Your favorite tools work great in Coda.
Bring the tools you love into Coda with Packs, add-ons that supercharge your docs. Use the
to keep legacy work, PDFs, permission slips, etc. in your file storage system of choice,
and
neatly organized in a Coda table. Or add the
to make it easier for students to schedule time with you. With Packs, you can expand the scope of what's possible with each of your docs.
⁠
⁠
⁠
"I still find it surreal how Coda made it possible for us to go from having an idea to helping real students at Long Beach in a matter of weeks, and how it then empowered our team to rapidly iterate on our solution to an incredibly ambitious problem." - Mariah Olson, Head of Community at Schoolhouse
A special discount for educators and administrators.
As an educator, you can qualify for a free annual pro plan for as long as you're teaching. Or, if you are an educator or administrator who needs to collaborate with a few colleagues, you can choose to to apply for a discount of 80% off a pro or team workspace. That means unlimited doc size and access to hidden pages, version history, and powerful integrations for your Coda docs. Just fill out
to request your discount.
If you're an administrator who is interested in adopting Coda for your school or district, please
to learn more about larger-scale plan offerings.
Bring your A-game with Coda.
Set yourself up for success with the all-in-one doc that helps you organize, plan, and get your work done.