⁠
> Free online meeting scheduling tool
⁠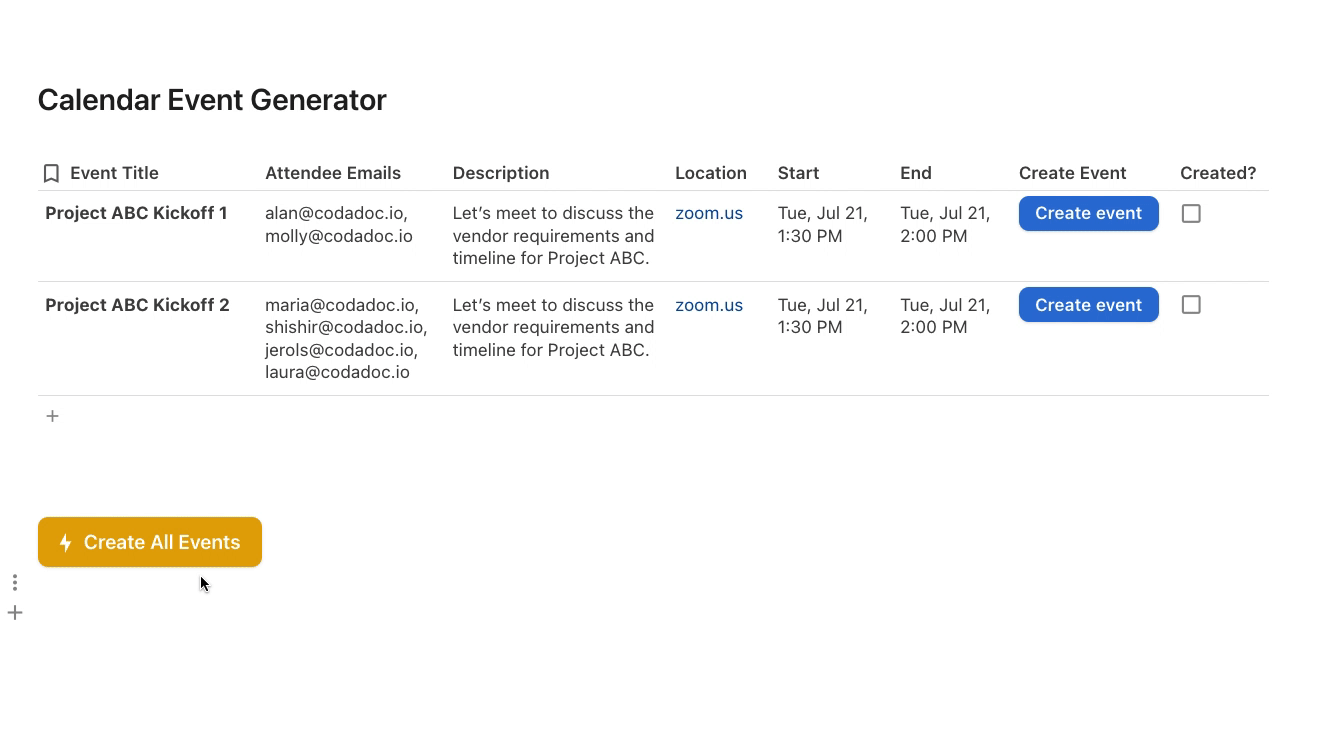 ⁠
⁠
Benefits of a meeting scheduling tool.
We've all felt the pain of scheduling meetings across multiple calendars, time zones, and meeting rooms. Most meeting scheduling tools aim to solve one or a few parts of the meeting scheduling process. This template solves the full problem by adding events to your Google Calendar with the push of a button and surfacing all meeting details in single table.
Coda is an all-in-one doc for your team that mixes the best of spreadsheets and docs. Real-time collaboration is a core feature of Coda docs which means your teammates can see this table of meetings before or after the event is created.
Using the template for scheduling.
Enter all relevant details.
The table of meetings contains important information about the meeting, including the email addresses of attendees, meeting time, and meeting description. Fill out as much as you can.
Integrate with Google Calendar.
Since Coda has a native integration with Google Calendar, you can easily add new events to both Coda and your Google Calendar using the data in the template.
Want to build a shared calendar for your team? This template can act like that shared calendar since all the calendar events are listed in the main table in the template.
Step-by-step instructions for using this template.
Follow the prompt to log in to Google Calendar so Coda can add events to your calendar.
Share the Coda template with your team.
Add your meetings to the main table and click
create event
to add the event to your Google Calendar.
⁠
⁠
⁠
Easily add multiple events with this template.
If you are in a role where you need to schedule many events at once, this template might be useful for you. Each row in the table is a different meeting so you can add all the relevant meeting details like you would in a spreadsheet. This would be time consuming if you had to add each event one by one in Google Calendar. Once the events are added to the table, you can sort and filter the table of meetings like you would any list of data.
Manage attendees for your meetings.
Sometimes you might want to create the same meeting but with different audiences or attendees. This template helps with this problem because there's a column for entering in all the emails of the meeting attendees. When you click the create event button, the Google Calendar event only gets created with the meeting attendees you've listed in the table.
You may also like this meetings template:
Learn more about Coda