⁠
> Free meeting poll template
⁠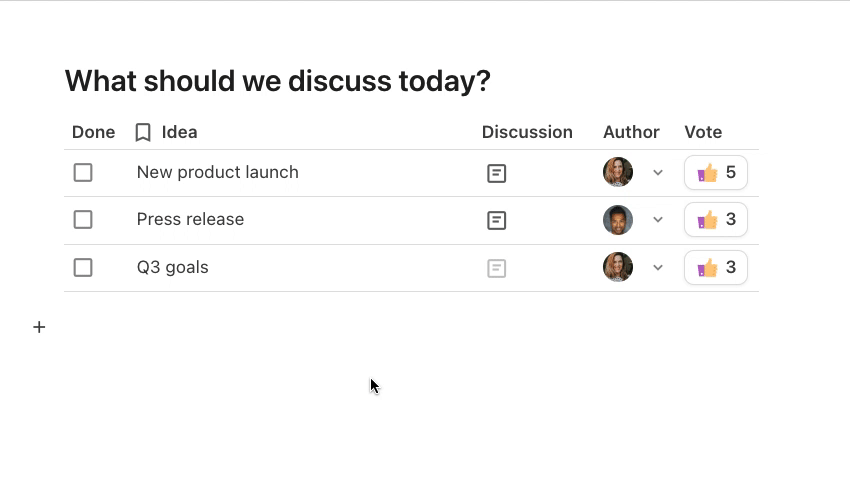 ⁠
⁠
Set up a meeting poll for your team to vote on topics.
Use this meeting poll template to give your meeting attendees an easy way to vote on ideas, topics, or agenda items. The best ideas or topics will rise to the top as people start voting on their favorite ideas. Customize this meeting poll to fit your team's needs, and add more features—like automatic Slack reminders—to keep your team productive.
Coda is the all-in-one doc that brings words, data, and teams together. Coda comes with a set of building blocks ー like pages for infinite depth, tables that talk to each other, and buttons that take action inside or outside your doc ー so anyone can make a doc as powerful as an app.
Dealing with poor productivity during remote meetings.
Unlike other meeting poll apps, you can customize this template to meet your team's needs. Want to add columns for notes or images? Coda tables are more flexible than spreadsheets, so customize away.
Reduce time to decisions.
Keeping meetings on time and productive can be tough when the entire time is remote. To reduce the time it takes to make a decision during a meeting, an online meeting poll can simplify the process.
We've all been in poorly run meetings with derailed discussions. By asking your team to vote on the most important ideas, you can prioritize the most important points that need to be discussed first.
Step-by-step instructions for using this template.
Create a
on Coda and use this free meeting poll template.
Share the Coda doc with your teammates via e-mail.
Ask your teammates to start adding ideas, topics, or agenda items to the poll.
Have meeting attendees vote on the ideas before, during, or after the meeting.
Discuss the most upvoted ideas during the meeting.
⁠
⁠
⁠
Keep meetings on track with a meeting poll.
With an online meeting poll, you can crowdsource the discussion topics and prioritization. And because everyone has access to the Coda doc, all attendees can see the most upvoted topics in real-time.
Keep a record of previous meeting polls.
Since you can store data in a Coda doc, you can see previous meeting polls, including which ideas were upvoted in the past and who is engaged during meetings. Tables in Coda can be filtered, sorted, and turned into charts, so you can visualize the results of your meeting polls in any way you want.
You may also like these meetings templates: