⁠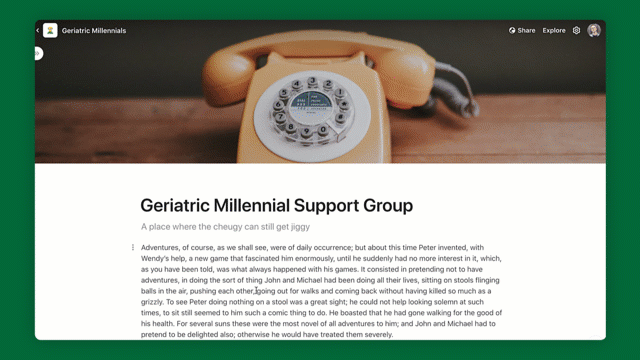 ⁠
⁠
Some of our favorite updates are the ones that make us more invisible. Our new contextual toolbar is smart enough to tuck away for a better view of your content, but is still right there when you need to change that font color on the double.
⁠
⁠
⁠
Load those docs 60% faster.
We'll never stop solving for performance, and this latest roll out is pretty 😍-worthy. From now on,
allowing you to get to work while the rest of the doc's pages load in the background. Less time waiting, more time creating. Yes, please.
⁠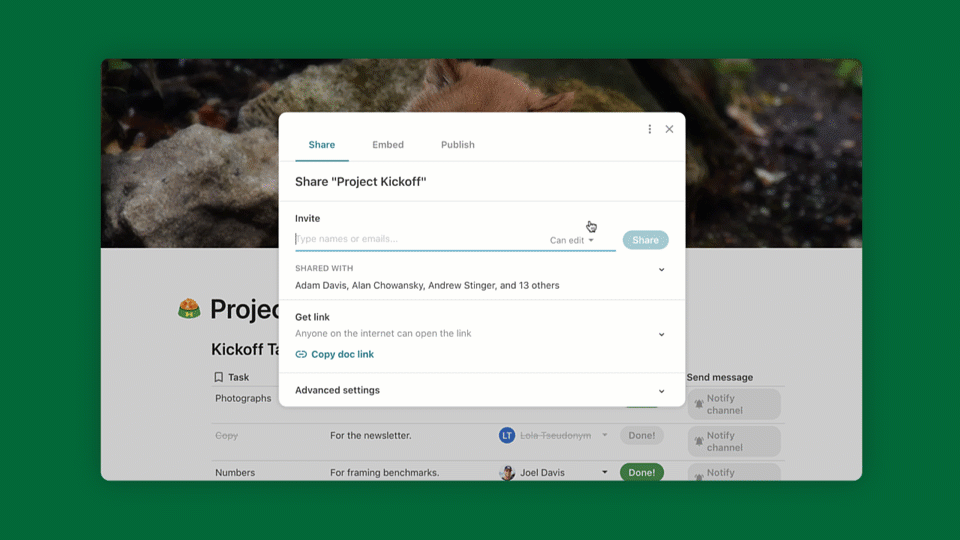 ⁠
⁠
Want to publish a doc without giving it up to the world? Just
via a new setting in the "Share" dialog.
🎉 Copy a table, copy its subtables: If you're pro enough to be creating subtables within your tables, you'll be psyched that now, anytime you duplicate a table, those subtables get duplicated too.
🤗 Share away: Using a keyboard to manage your doc's share settings? We've made it even easier to navigate.
🦊 Drag cards between groups: Firefox users can now drag cards between groups without any hiccups.
🖨 Export with your cover photo: Now your doc's header images will be included when exported to PDF, regardless of your other page settings.
🙌 Dragging images into a table usually worked, but we heard it was hit-or-miss. Now it's a fully-functioning...function.
🔗 Click those hyperlinks: Links derived from formulas are now clickable—like, all of them.
Want to make the kinds of docs that will win friends and influence people? These
can help:
⁠
⁠
⁠
The spreadsheet: An informational powerhouse that can be used to coordinate and accomplish complex feats.