Each student is different, with their unique strengths, weaknesses and interests. Through engaging conversations, we aim to become active participants, collaborating with you and Anoushka to craft her Individual Brand.
Here's a bird's eye view of where Anoushka is and where she can get to!
🙇Key takeaways from our brainstorming (and other) conversations
Anoushka is a sweet girl, and opened up pretty quickly during our initial brainstorming sessions. She is interested in business, fashion, chemistry, and illustration design, so I got the sense that her academic interests are quite varied. During her brainstorming, she mentioned having a hard year in 9th grade, which led to a drop in grades. But she seems keen on improving her grades, and recognises that she needs to be more academically inclined and work harder here on out.
During our time at EdBrand, we have seen Anoushka develop a great interest in Economics. She has worked hard to hone this interest not only through online courses, and applying for summer programs, but her urge to research and learn more about the subject has been quite evident these last few months. We have also seen her grow more compassionate through her community service endeavours, as she works tirelessly to lend a helping during these difficult times
Chemistry Physics Biology Science- 87% Economic Applications- 82% Maths - 88% History Geography Social Studies- 84% English Literature English Language English- 90% Hindi- 83%
English- 88.63% Hindi- 89.5% Social Sciences- 90.25% Mathematics- 97% Science- 90.59% Economics- 97% Overall- 92.16%
There are no rows in this table
📝Writing Assessment
(grammar, style, usage, format)
Anoushka's sentence structure is varied • Format follows appropriate guidelines (includes citation method) • Can reduce usage of some long or unnecessary words that don't fit within context •Subjects and verbs generally agree • Verb tenses are used correctly • Pronoun references and modifiers are clear • Punctuation, spelling, capitalization, etc., are generally correct
(claim/thesis, introduction, body, conclusion, paragraphing, transitions)
• Anoushka clearly articulates her thesis or controlling idea, however, can focus on making this a bit more concise • Paragraphs are coherent, well-developed, and unified around a single topic • Transitions do need some work to make writing flow a bit more coherent.
(analysis, research, content, creativity)
• Controlling idea (claim is supported with evidence, reasons, quotes, etc. • Conclusions follow from the information presented • Anoushka shows ability to think critically • Sources of information are examined critically, though more emphasis can be laid on comparing with other sources, to broaden research.
There are no rows in this table
🎹 Creative Pursuits
Anoushka is passionate about Performing Arts, especially Dance
🖋 Mentors' Feedback
Learning attitude during sessions
Engagement with EdBrand clubs or events
🔑Strengths and Opportunities
Based on our assessment of your engagements thus far, here's a quick snapshot of what we think are your strengths and opportunities:
Creative Pursuits & Extra curriculars
- Anoushka is actively involved in various activities like Dance, Drama, Theatre, Community Service, and Edbrand Clubs and activities. Anoushka's fondness for dance has prompted her to teach dance to underprivileged kids online, and she still enjoys dancing in her free time.
Writing
- Fairly good writer, her sentence and paragraph structures are clear. Her language is coherent, and unnecessary words are omitted. Some more emphasis can be laid on transitions between paragraphs and making her writing more concise.
Community Service
- Anoushka is passionate about service and is constantly looking to get involved.
Academic Performance in School
: Anoushka needs to continue performing well in school especially since she has taken the rigorous ISC science curriculum
Leadership
- Anoushka can work on her leadership skills through opportunities like School Council, School & Edbrand clubs, take initiative with school events.
Skill-building
- Anoushka can build on skills through writing assignments - creative and critical, and compulsory EdBrand Workshops listed below
Intellectual pursuits
(courses & projects)- Anoushka will be working with her project mentors on academic articles, online courses, projects and papers
Anoushka's Self Reflection
Inspired by Ikigai's Venn diagram on 'purpose of life', we asked Anoushka to create one for herself!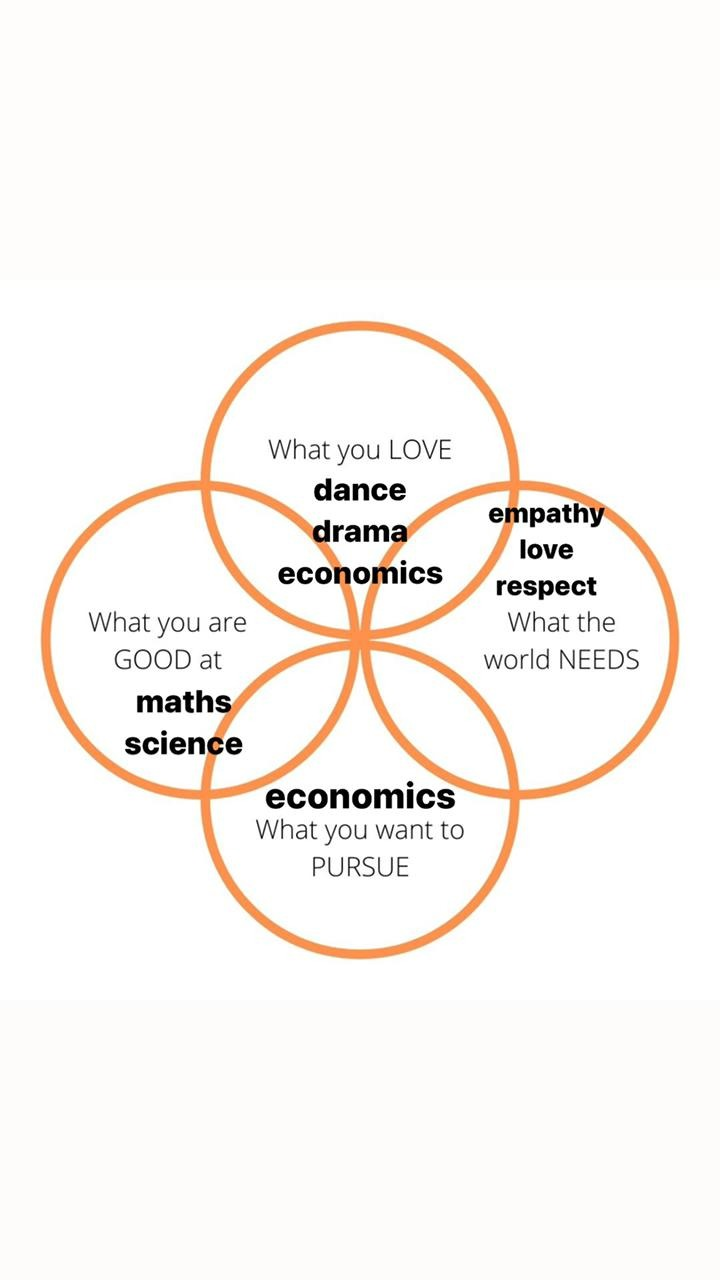 Based on our understanding and Anoushka's aspirations and sense of purpose, here's our recommended strategy for her.
Recommended Strategy June 2021
📚Academics:
Recommended Strategy:

For the next three months she should focus on the following extra curricular and academic activities
Suggestion for School Work
: Anoushka will need to continue performing well in school given the rigorous and academically challenging ISC science subjects she has taken up and her aspirations for top colleges in the US
Testing
: Anoushka needs to challenge herself and perform well in the upcoming SAT exams. She has planned to give her first attempt in October 2021
Intellectual Profile Building
:
(Projects, Online Courses, Competitions, Summer School)
APs
: Anoushka would need to sign up for the AP exams scheduled for summer 2022. The registrations for those will open in oct/nov 2021. The subjects we recommend Anoushka take are Calculus BC, Economics and Chemistry or Statistics.
Online Courses Recommended:
Advanced Level Econ Course - TBD
Summer School
: Anoushka has enrolled into the Brown Pre-College Summer Program and will be completing the Game Theory course there. Next year she aims to apply to YYGS, YLAC and a few more competitive programs for summer.
Project : Social Entrepreneurship :
Anoushka is in the midst of starting her own venture of supplying PP Plastic bags manufactured by family company and selling it locally to malls, shops, supermarkets etc. She will create a business plan, device a marketing strategy and will run the complete business with support from her family.
Edbrand Economics & Business Club :
Anoushka is leading and running the Edbrand Economics and Business Club. This will enhance her leadership skills and also demonstrate her interest in studying economics and social sciences through the activities of this club. Through this club she will be writing high quality Econ articles which will be published in the club's online journal.
Planned Activities for later this year
1) Lumiere Research - Apply for the winter Cohort
2) Application to high selective summer programs like YYGS
👨‍👩‍👦Community Services Initiatives:
Recommended Strategy:

Anoushka is passion about community service activities and is constantly looking for ways to get further involved
1) Volunteer Activities - Anoushka has been involved in community volunteer activities like the Julia Robinson Math Festival and Simbi Foundation's Read-A-Thon
2) Covid Care - Anoushka is working towards distributing food and medicines during the rise of covid cases in the city of Kolkata. She is also raising awareness, providing relief, and skill development to underprivileged workers and their families affected by covid-19 through a project in partnership with her family company
3) Advocate for the Environment : Anoushka is passionate about the environment and is working on environment science related competitions and challenges. She is working on the Tide Turners Challenge and will be participating in the Climate Science Olympiad in early July.
🍽 Skill Building:
Strategy:

At Edbrand, we organize workshops keeping in mind 21st century skills that students must develop to broaden their perspectives and form opinions wisely. We recommend Anoushka attends as many of these as possible.
✍️Creative Writing Workshop:
Learn how to put your imagination into words using a sensory approach. Watch your writing come to life through simple exercises.
🧠Critical Thinking Workshop:
Understand how to consider multiple arguments and perspective while analysing any topic or situation. You will learn how to weigh the strengths and weaknesses, the validity and reasonings of different claims. Additionally, you will explore a few tools that can help you become a better researcher. These skills will eventually help with writing academically when you must present your own arguments and claims.
🌳Sustainability Workshop:
Learn how to find interdisciplinary solutions to various societal problems. You will unpack the topic of "sustainability", explore the interconnections between different parameters of the problems and causes you care about, and discover how to design solutions that create a maximum positive impact.
💻Blog Writing Workshop:
Uncover the nuances of how writing for digital platforms varies from other forms of writing, while learning a little about the medium and its advantages as well!
🍽️Etiquette Workshop:
Prepare yourself to interact professionally and courteously with the world outside. 'Etiquette Workshop' is an interactive online session that will expose you to necessary skills such as positive communication: phone & email etiquette, empathy & developing a work ethic.
📝Research Methodologies Workshop:
Learn how to use various research tools to work with case studies or write research papers.
💭
Design Thinking Workshop:
This workshop will help you understand how to consider multiple perspectives and arguments while looking at any situation or topic.
📝Writing:
Strategy:

At Edbrand, we encourage our Juniors to start honing their writing skills at a young age. Writing assignments help sharpen student's creative writing, their narrative style and analytical thinking. This also helps the student understand how to frame sharper sentences and put together thoughts coherently. These skills will come to their aid once they begin writing their college essays, which are often a fine blend of creative and analytical writing!
Anoushka has been introduced to the writing platform we use at Edbrand, called Editate, and she has familiarised herself with its usage. For the last few months, we have been working on a variety of writing work, which included her application essays for her summer programs and writing work for her community service endeavours (Tide Turners Challenge, WeCare). She has also been given some reading tasks (Pride and Prejudice), and is going to start writing a book report on the same. In a few weeks, she will also start writing articles relating to economics, and we will be brainstorming ideas for the same soon.
Anoushka is a fairly intuitive writer, and her writing style changes according to what the work requires. Her sentences are clear, however, some work can be put into making them more concise. Anoushka is open to feedback, and is largely receptive to the comments and edits that are left on her writing work. Moreover, she shows adaptability, and tries not to include the same mistakes in her writing twice.
Moving forward, we will be working on many more creative prompts to hone Anoushka's creative writing skills. While she writes formal essays and write-ups well, we need to do much work within the creative sphere, and hone her descriptive writing skills as well. This will include short activity essays, essays about leadership, community service and more. Working on these essays formats will get Anoushka accustomed to college level writing, and will prepare her for the college applications process. We do recommend Anoushka attend the Creative Writing Workshop hosted by Edbrand, in order to get a deeper understanding of what creative writing entails, so she can transfer this knowledge into her writing work as well.
Summary of progress made so far
0
*Scoring from 1 to 10, only to measure progress of the student since the time of joining.
Know the
that is consistently working towards Anoushka's progress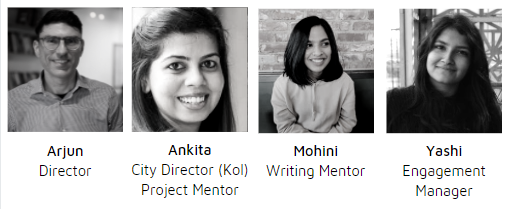 We will be the steady support that
Anoushka
may need on
her
journey and look forward to seeing
her
grow both intellectually and emotionally.
Cheers!
Team Edbrand