As part of ventureLAB's long-term strategy to position itself as Canada's leading community hub for startups focused on hardware and semiconductor technologies, the Innovation Space team is conducting a study to examine the organization's options for relocating the space from IBM's 3600 Steeles Avenue complex. This document summarizes the findings of that study, and it includes:
Considerations and implications regarding IBM's recent decision to sell the 3600 Steeles Avenue building
An analysis of conveniences and inconveniences that will be potentially forfeited should ventureLAB decide to relocate
Floor plan of the existing space
Estimates of the least amount of floor space and ideal amount of floor space should ventureLAB decide to relocate, as well the cost implications of each option
A high-level estimate for moving costs associated with the Innovation Space and HCI lab (in progress)
ventureLAB's long-term vision for the Innovation Space
An important reason why this analysis is timely is due to a notification provided on September 2022 by IBM Canada to ventureLAB regarding their decision to seek the sale of the 3600 Steeles Ave E complex as early as January 2023. Accordingly, there are three possible scenarios that ventureLAB ought to be prepared for:
The building is sold to a company that intends to demolish the site
In this case, we will likely be afforded a generous grace period during which the new owner will likely retain the existing space licensing agreement as they secure the necessary permits for demolition. A key consideration in that scenario will be the extent to which the new owner will continue to finance amenities, maintenance and security for the innovation space (if at all).
The building is sold to a company that retains the terms of the existing licensing agreement with ventureLAB or renegotiates on favorable terms
As above, the consideration in that case will be the quality of maintenance and security the new owner will provide ventureLAB.
The building is sold to a company that renegotiates the licensing agreement with ventureLAB on unfavorable terms or exercises the clause to terminate the licensing contract
In this case, as the sale may take place as early as December 2022, we may be forced to relocate by December 2023
Conveniences Lost As a Result of Relocation
If or when ventureLAB will be required to relocate the innovation space, we will possibly forfeit the following benefits:
A very low cost-per-square-foot outlay compared to any existing commercial property
ventureLAB currently spends $99,378 (FY2021) in annual licensing fees to IBM, in addition to $368,000, which constitute 80% of the sublicensing fees paid to ventureLAB by its tenants and dedicated desk members.
ventureLAB is not billed for unoccupied offices in the space
CBRE maintains the facilities at little additional cost to ventureLAB and IBM maintains security at no cost to the space
ventureLAB is not required to pay for utilities
Full service mail room and loading dock
Startups cite the "IBM Headquarters" as a powerful reason to join the space
Inconveniences Spared As a Result of Relocation
Conversely, if we are required to move, we will no longer have to contend with the following hurdles:
Dated offices & meeting rooms
Challenges and responsiveness issues with both CBRE and IBM Security
A non-existent relationship with IBM despite our presence in their space
Based on conversations the Innovation Space team has had with a number of tenants in the space, we have found that the most common desirable facets for a new space include:
Offices with windows windows and a variety of square footages
Loading dock and smooth logistics for inbound and outbound oversized equipment
Offices suitable for hybrid or rotating teams
A moderately sized, open-concept co-working zone
Proximity to innovative entities (tech companies or universities)
Space to showcase their prototypes/products
An auditorium or events hall suitable for demo events
What ventureLAB Staff Want
A space suitable for hybrid work and therefore not necessarily sized for all 50+ staff concurrently on a daily basis
An auditorium or events hall suitable for townhalls
⁠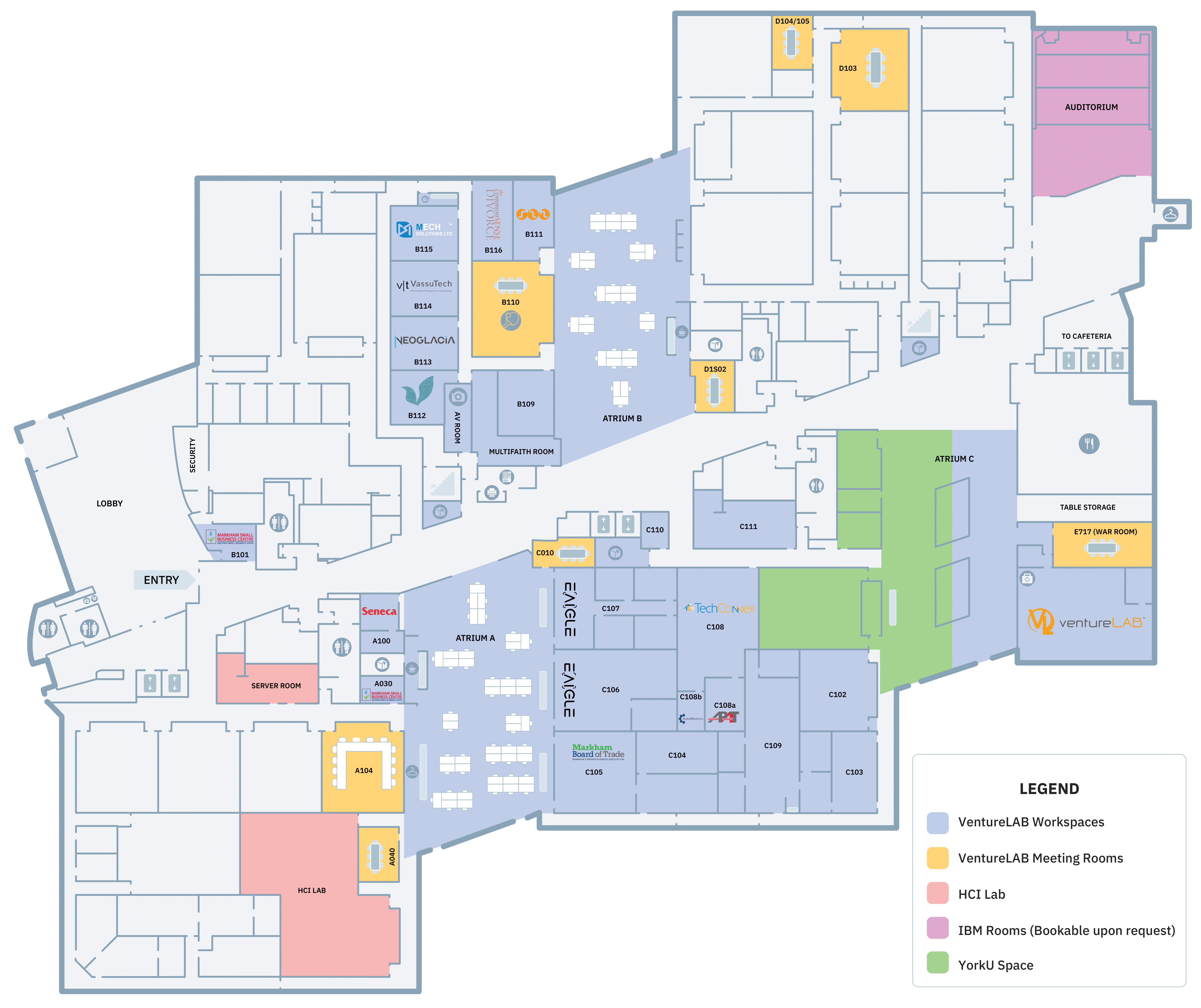 ⁠
⁠
Space Requirement and Cost Estimate
Below is a detailed breakdown of:
ventureLAB's existing Innovation Space assets, their sizes, numbers, and P&L
An estimate of the minimum amount of space ventureLAB will require should we relocated based on the current utilization rates
An best case scenario estimate of the space ventureLAB would like to have in the future and the P&L associated for that option
Space Requirements for ventureLAB
0
⁠
Estimate based on Skedda utilization statistics. Methodology: Calculate the minimum number of rooms such that total utilization of all meeting rooms is <70% to account for growth in usage.
** Represents the multifaith and wellness room
***Note the following regarding square footage terminology:
Gross Square Footage
is the measurement from the outside wall of the building to the opposite outside wall of the building.
Rentable Square Footage
is taken to as the area of the floors from inside wall to inside wall minus any vertical penetrations of the floor. This is the basis for used for rent expenses.
Useable Square Footage
is measured from the inside wall of common corridors to the midpoint of common walls between tenants to the dominant interior surface of the exterior wall.
The number used to convert the useable SF to rentable SF is called a
load factor and is typically 15%, which is the factor used in the above calculation.
****The median rental rate for commercial property in Markham for a space approximately 20-30,000 sq ft in the Markham region is $30/sqft/year based on statistics from MLS.
All the spaces in the table above
Electrical infrastructure for HCI Lab
HVAC requirements for HCI Lab
HCI Lab & Space in a contiguous space (i.e. not in different buildings)
Adequate facilities support
Within the Markham Business District
Seneca College - Markham Campus
All scores are on a scale of 1-3:
3 is considered excellent
2 is considered good/adequate
For measurable metrics such as size and cost, those numbers are proportionately scaled relative to one another such that they fit the 1-3 scale.SizeCleanlinessAtriumCommunityAuditoriumParkingFacilities ManagerSecurityCostSeneca College13123332?Town of Markham32221222?
Weight
21.51111212
HCI Lab Relocation Considerations
Overview of all Lab Equipment
Need to take inventory with Madura & Avinash about which equipment is owned by vL and which is on loan
Shock & vibration table needs to be on a concrete floor
Must vent either directly outdoors or into the HVAC system
Ideally, we would like both the lab & server room to have a window facing the corridor.
The server room should ideally be separate from the lab
Possible changes before the move:
One of the thermal chambers and shock and vibe table may be removed and replaced with similar units
Features for the new lab:
Would like to have a demo area
Ideally with enough space for a car to drive through (for Automobility)
Private lab for IP protection (at a fee)
Move will take up to 2 months
UPSs in Lab 2 require 220 volt and have a different plug
Equipment to be moved to the Vaughan wetlab:
Move furniture to Connie Court. Set up 1 room with conference call capability
Ship the TV and camera and stand there
Need to consult Matt Skynner
Need to buy a separate UPS
Move the rack (may be earlier than furniture)
Uber has a delivery service
Zeno to provide HVAC requirements for Server Room
Mayavan to chase down CBRE for power requirements for the server room and lab 2
In contact with Dusan @ IBM (ETA EOY)
Mayavan to reach out to AMJ & MACKY moving to get a budgetary quote
4x APC Symmetra LX 16kVA PSUs @ 8kW each | 32 kW
2x APC Smart-UPS On-Line, 8kVA/8kW @ 12.8 kW each | 25.6 kW
3x Cooling Units (see below) @ 2.9 kW each | 8.7 kW
Total Existing Consumption:
66.3 kW
Project Consumption (15% safety margin):
76 kW
Existing Equipment:
3x lnRow® Air-Cooled, Self-Contained Cooling Units | lnRow®SC ACSC100, ACSC101