⁠
⁠
⁠
Input data about the company:
Client name: Mueller, inc.
Number of trucks in the fleet: 84
Drivers needed: 10 drivers at the moment, after positions are filled up - 1-2 drivers per month
Applicant Tracking System: iCIMS
Special requirements: only relevant candidates of high quality needed (there's no capacity to process a bunch of leads daily)
Mueller is a respected company with a rich 85-year history! It would be an honor for us to help you hire drivers.
As far as you need only candidates of high quality who will be most likely to become your employees, in our recruiting strategy for Mueller we focus on quality of candidates and not on quantity. We will develop a marketing & recruiting system that will help you fill all driver positions and then hire 1-2 drivers per month.
Our priority is getting you relevant candidates and saving your recruiter's time.
The marketing & recruiting plan for Mueller includes 2 steps. Implementation time: 1 month.
Step 1: Help you hire 10 drivers as soon as possible (filling your empty trucks).
The goal of this step is to help you fill your current driver positions as fast as possible.
At first, we suggest launching Facebook with a Facebook lead form. We also suggest setting up automated text messages to follow up interested candidates. We see that you're sending automated emails but text messages are also needed to fill your free positions as fast as possible.
While our media buyers will be setting up Facebook ads, our developer will set up smart integration between the Facebook leads center and iCIMS. Thus, interested candidates will fill out a short application on Facebook and go directly to iCIMS automatically.
So, you recruiter will work on iCIMS without the need to use any other software in addition to iCIMS.
⁠
⁠
⁠
Using Facebook geo settings we can bring you drivers from any locations you need.
We've got vast experience of work with this platform and its surely one of the most top-performing and cost-effective channels for driver recruiting today.
Why we can do it better than others?
Our ads is cost-effective. We've conducted a research based on all our communication with 130+ thousand drivers for three years to understand what is really important for drivers while choosing a job.
We're always testing & improving ads.
Check out a couple of examples of ads we've launched for some of our clients:
⁠
⁠
⁠
⁠
⁠
⁠
⁠
⁠
Step 2: Help you hire 1-2 drivers each month
The goal of this step is to build you a stable IT & marketing system that will bring you 1-2 drivers/month (the number of drivers can be regulated)
We'll create a targeted landing page for hiring drivers to drive candidates from Facebook there (instead of a Facebook lead form).
Why is the landing page needed?
If we drive traffic from Facebook to a targeted landing page, we get candidates of higher quality. A good landing page is something like a pre-qualification of a driver. So, in your case a landing page for driver recruiting is the best fit.
Why do our landing pages really work?
As we've mentioned above, we have communicated with 130+ thousand drivers for last 3 years. So, we speak the same language with drivers, understand their needs and challenges.
We're constantly testing and improving our landing pages to get better results.
Check out an example of the landing page we've developed:
⁠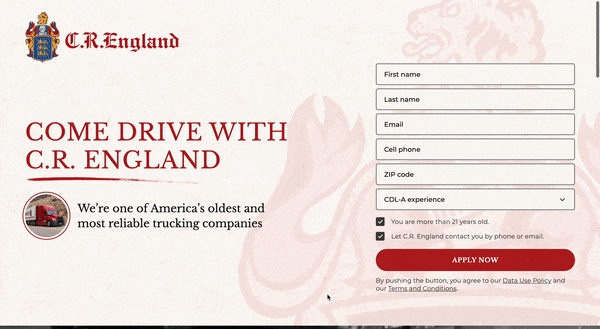 ⁠
⁠
P.S. The IT & marketing system we are going to build is able to generate enough leads to hire 10 drivers during the 1st month. However, we cannot guarantee this result because it depends on your marketing budget and processing leads by your recruiter(s).
You may track our plan implementation process using this Gantt Chart.
Here's the Gantt Chart with a flexible plan of work for the 1st month:
Here you may see the Gantt Chart with our workflow (if we start next Monday as an example). We will update this Gantt Chart so that you track our progress online.
Gantt Chart (updated online):
1
Collection of information
Integration of iCIMS and Facebook
Nov 15
Nov 19
Nov 23
Nov 27
Dec 1
Dec 5
Dec 9
Collection of information
Integration of iCIMS and Facebook
⁠
Here's the table with the tasks for the 1st month. Task statuses will be updated online:
Collection of information
Integration of iCIMS and Facebook
There are no rows in this table
⁠
Specialists Required for the 1st month:
0
There are no rows in this table
⁠
Our plan implementation cost: $3,400
This table doesn't include a landing page development. It costs $2500-3000.
Every task by every specialist will be evaluated in a timely manner and reported to you at the end of the month.
Our services for the first month are paid in advance, and on a "pay-as-you-go" basis monthly thereafter.
After the 1st month we'll just keep the system working
After filling your empty trucks we'll support your recruiting process by controlling Facebook ads and drip campaigns, testing & updating the targeted landing page. Of course, we guarantee being in touch and solving any possible technical issues. It will cost
no more than $500-$1000/monthly.
Facebook Ads is paid separately.
Payments for Facebook ads will be charged from your card for full control of your costs. You'll start Facebook payments only after we set up everything on our side, i.e. after Facebook ADS setup is done.
As you may see, the idea of this proposal is simple:
a) We will help you fill your empty trucks as fast as possible;
b) Build a stable system helping you hire 1-2 drivers monthly ;
c) Keep the system working.
We're looking forward to your response!
⁠
⁠
⁠