⁠
⁠
⁠
Input data about the company:
Number of trucks:
about 250
Monthly goal:
hiring several company drivers and as many owner operators as possible
Number of recruiters:
about 4 recruiters
Applicant Tracking System:
n/a
Google My Business reviews:
5
Indeed reviews:
no account
Glassdoor reviews:
no account
Facebook business page:
low activity
We have conducted an audit of your recruiting activities online found
s
trong growth points for CargoPrime that will allow you to:
a)
Get a constant flow of relevant
candidates
(
As we discussed on the phone, in our campaign we're going to focus mainly on hiring Owner Operators);
b)
Manage your driver contact base effectively;
c)
Reduce your hiring costs.
Important:
we will build an effective IT & marketing system for hiring drivers and train your recruiters to work with it. So, it's important that your recruiters follow our instructions and process leads properly, final results depend on it. If they do everything right, their work will become much more effective with our tools and they will be able to hire more drivers.
Growth points for CargoPrime
1. Facebook ads on a professional level
We see that you haven't got Facebook ads running at the moment. Based on our experience, Facebook provides the cheapest hirings in the trucking industry at the moment and we strongly recommend you launching Facebook ads.
Examples of ads we've launched for some of our clients:
⁠
⁠
⁠
⁠
⁠
⁠
⁠
⁠
We design ads focusing on drivers' core pains and challenges. We have conducted a research based on all our communication with 130+ thousand drivers for three years to understand what is really important for drivers while choosing a job. Our ads is top-performing because we speak the same language with drivers.
Our designers regularly create new ads for our current clients and we're constantly a/b testing them to get better results.
We always fine tune ad campaigns to make them as cost effective as possible. Thus, we avoid typical mistakes: we show ads only to people from relevant locations, don't show ads to your current/terminated/disqualified
drivers
, connect DriverReach/Tenstreet with Facebook that also makes your ads perform better, etc.
2. Applicant Tracking System setup.
We've noticed that you probably don't use any special applicant tracking systems for processing candidates (like Tenstreet, DriverReach, etc). We may setup any ATS for you, train your recruiters to work with it. Proper work with applicant tracking system will automate 50% of your recruiters work and save their time for most relevant candidates.
If you use some other ATS, we may set up integration with Facebook so that leads go to ATS automatically. It will optimize your ads (make it more effective) and hiring process in general by saving your recruiters' time (hence, your money).
⁠
⁠
We'll also connect the lead form on your website with Tenstreet/DriverReach to send leads there automatically too.
3. Improving your response time.
Transactional emails/text messages
We have filled out an application on your website as a driver interested in working at CargoPrime. We noticed that you're not using automated text messages/emails.
W
e suggest setting up them for you
because automated messages/emails help all our clients hire more drivers.
How it works: an interested driver fills out a short application on your website or on Facebook and immediately receives an automated text message and an email with the link to the full application. If the driver doesn't respond to you recruiter's calls, he or she is automatically sent messages like this (several messages during a month):
⁠
⁠
⁠
This is our killer feature. Nobody else in the industry has anything like this. This software tool automatically connects your recruiters with candidates in 40 seconds after filling a job
application.
How it works: an interested driver fills out an application on your website or on Facebook. Your recruiter immediately gets an inbound call and a robotic voice says the information about a candidate who has just filled an online application. Then your recruiter will be connected to the candidate automatically.
The Autocaller is the tool that has optimized all our clients' hiring process a lot. So, we highly recommend you to try it.
4. Optimizing your Facebook page.
You've set up frequently asked questions and that's just great but we would also set up automated answers so that interested candidates can get immediate response even when your recruiters are not online. For example, we asked some questions 2 weeks ago but still haven't received any response.
⁠
⁠
We see that you use your page's cover image to promote your jobs and that's great. Anyway, according to various studies and our own experience, you'd better use pictures with smiling people. Such pictures attract more attention and convert much better.
⁠
⁠
⁠
In the future we may help you promote your page and build a loyal community around your brand. From our previous experience, in 2-3 months your content will start bringing you hires with minimum expenses. We have attracted in total about 50,000 active followers for our clients and a part of these followers has become their drivers.
We see that you create some engagement content for drivers like tips, surveys, etc. and that's really good. Anyway, we might create a content plan for you including dome funny videos, memes because they engage drivers better than any other content.
5. Targeted landing page for hiring drivers.
Your company website is great but we usually develop landing pages focused on hiring drivers for our clients. Such landing pages help to get more applications from drivers than a usual corporate website. In the future we may create one for you.
You may see the examples of our works below:
⁠
(US IP address is needed to see this website)
That's how it looks like:
⁠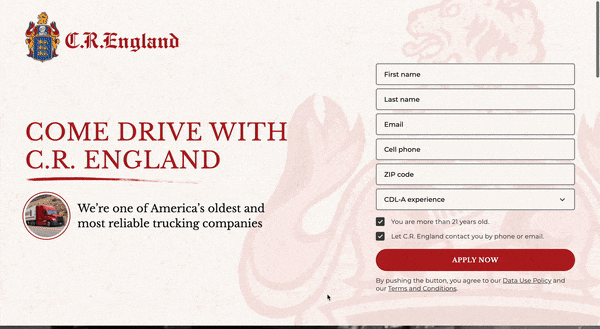 ⁠
⁠
We have prepared a Growth Plan specially for CargoPrime
1. The 1st month. We need the first 30 days to build a foundation of your recruitment system:
set up Tenstreet/DriverReach tags & statuses (depends on which ATS you finally choose);
set up the IT system and develop ads design;
launch an advertising campaign on Facebook;
after finishing setup of our IT & marketing system we will train your recruiters to work with a consistent flow of relevant candidates. We will support/consult your recruiters all the time.
The 1st month costs about $2,575.
If you're satisfied with our work we'll continue and bring you enough driver leads to fill your tucks and add new owner operators to your team. We may bring you as many drivers as you want, it depends on your marketing budget. We, on our part, guarantee spending your budget in the most effective way.
P.S. We work with different carriers: from small ones to 1300 trucks and our clients hire from 5 drivers monthly to 60+.
Important point:
the first 1-2 months are usually the most expensive because we build a foundation of your recruiting system during this time. Next months will cost less.
Our work is transparent and measurable: you will be able to track it online
1. You'll have an access to a dashboard with all the analytics (example below):
You will get access to the number of incoming calls, number of leads, cost per lead, ad design, drip campaigns effectiveness, etc.
⁠
⁠
⁠
2. The plan of work for the 1st month:
Here you may see the Gantt Chart with our workflow (if we start next Monday). If anything changes, we will update this Gantt Chart so that you track our progress online.
Collection of information
Transactional EMAIL setup
Applicant Tracking System setup
Setting up software to answer text messages from the Gmail account
Dec 6
Dec 13
Dec 20
Dec 27
Jan 3
Collection of information
Transactional EMAIL setup
Applicant Tracking System setup
Setting up software to answer text messages from the Gmail account
⁠
3. Here's the table with the tasks for the 1st month. Task statuses will be updated online:
Facebook Ads is paid separately.
Payments for Facebook ads will be charged from your card for full control of your costs. You'll start Facebook payments only after we set up everything on our side, i.e. after Facebook ADS setup is done.
The cost of the 1st month is $2,575. As we've mentioned above, the first 1-2 months are the most expensive because we build a foundation of your recruiting system during this time. Next months will cost less.
Every task by every specialist will be evaluated in a timely manner and reported to you at the end of the month.
Our services for the first month are paid in advance
, and on a "pay-as-you-go" basis monthly thereafter.
P.S. as we've mentioned above, your recruiters should follow our recommendations to process drivers' applications effectively and hire as many drivers as possible.
As you may see, we've made an audit of your CargoPrime recruiting activities (based on the open data), defined the growth points, created a detailed plan of work and are ready to start whenever you're ready.
We're looking forward to your response!
⁠
⁠
⁠