Leaders
of the Pack features stories of Pack makers who use Coda to change the way they work.
It's not unusual to have a career-related personal reckoning. As we acclimated to the routines of remote work during the pandemic, many have spent time reassessing work-life balance and reflecting on work that brought happines
s.
This is the story of how software developer
navigated the post-pandemic world of work by discovering new tools, and ultimately, tapping into a passion for building Packs on Coda. You can watch Leandro's story below and learn how a
m
oment of clarity during college guides his work independence today.
A career-defining moment has the power to alter the trajectory of your professional life—like landing a new job, earning a promotion, or solving an impossible problem. For Leandro Zubrezki, this moment was an epiphany that shaped his career as a software developer.
During his first year of college in Argentina, Leandro realized his true calling was software development, not the degree in computer electronics he originally had planned. The ability to make mistakes and fix them through trial and error with code was far more interesting than burning through components.
"With electronics, you can burn components, but with software, you can just try again and learn from experience."
An independent learner, Leandro left school after a year because he wasn't confident the college was caught up to the frenetic pace of technology advancements. So, he pursued learning software on his own, including JavaScript, HTML, and CSS—languages that helped score his first job as a freelance software developer.
He recalls the feeling he learned exploring JavaScript and seeing the results appear on screen as a stylized, useful creation.
Fr
om freelance to independence.
A keen awareness of the evolving tech landscape put his career on track and set Leandro up for success years later when the pandemic changed work forever. With his newfound software skills, Leandro began a six-year run of freelance work, helping several companies build mobile apps, web pages, and internal applications
.
Leandro classifies work into three categories: work for yourself, a customer, or a big company. He leverages software development to build tools for his customers by choosing to work for himself. Software is the bridge that connects Leandro directly to people with products that improve their lives.
"When you build your own products, you learn so much. And the big advantage that I see is you have direct contact with the customers."
With homes doubling as offices during the pandemic,
of remote professional workers reported working longer hours and weekends. As developers continue to reshape the modern workplace,
continues to rise and companies dipped into the
to keep up.
Leandro felt the pressure in Buenos Aires. When he started to get burned out with multiplying freelance gigs during the quarantine, Leandro rediscovered a love for writing his own code. He picked up a few stalled side projects and spent time reflecting on his career.
⁠
⁠
⁠
He's always been motivated by building his own products. With personal projects, Leandro could use his code as leverage. Success is not always guaranteed, but the act of simply starting
develops the confidence to take on riskier, long-term projects that can be life-changing.
He arrived at a realization that had been marinating for years—he needed to strike out on his own. In late 2020, he pulled the plug on freelance gigs in favor of his
personal projects
. With enough savings and a few years of financial runway, Leandro went all-in to work for himself, and he's never looked back.
Packs automate opportunity.
By 2021, Leandro was fully committed to independent work. He valued the freedom more than money and doing things on his own—no more meetings that wasted time. Instead, he was able to follow his curiosity, which led him on a search to finding the perfect development stack and continuing his mission to connect with customers.
When the
virtual event rolled around in 2021, he saw an opportunity building Packs.
Early in his introduction to Coda, Leandro was inspired by the work of maker
. But, it was Packs that pushed him to learn Coda and surround himself with people who could help him create more intelligent workflows.
With Coda, he found a platform to build on with a community of like-minded developers and users.
"I needed to learn how to build amazing docs and I need to learn how to build amazing Packs. When I started, I integrated myself into the community to learn more about the users and products."
Packs helped solve pain points in Leandro's life—can you automate time-consuming tasks in a centralized place, can you keep your tool stack in sync, can you add missing context to work?
For Leandro, simplicity took the form of prototypes sketched with pen and paper that he transferred to Coda as diagrams. He likened the experience to playing with Legos. The blocks represented Coda's various actions, tables, and formulas that can be configured into something unique.
⁠
is where the Pack-building journey began for Leandro. He wanted to use Coda as a CRM for his existing Gumroad subscribers to get insights into their behaviors with charts and stats. Now, he has a personal dashboard that displays sales, revenue, and other
metrics he couldn't get out-of-the-box from Gumroad.
⁠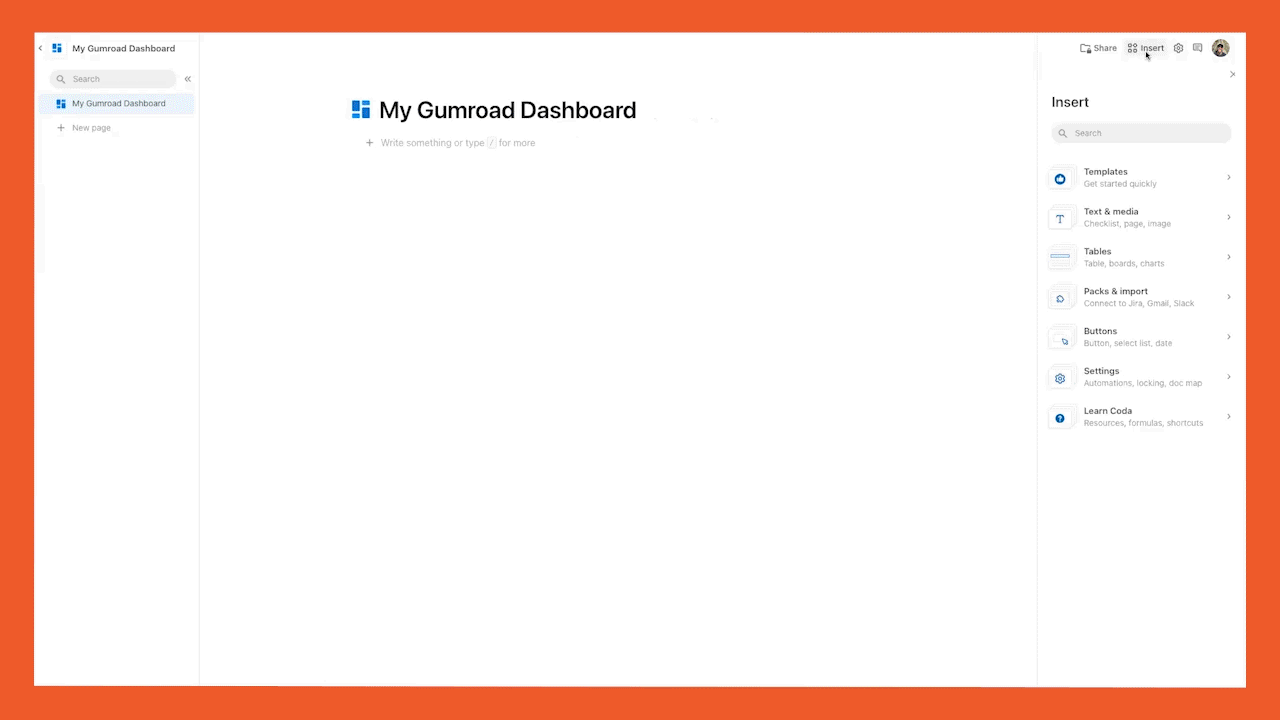 ⁠
⁠
The Pack journey continues.
Leandro has developed a system where he can brainstorm and build many Packs at once. Today, he is one of our most active builders, creating Packs for
,
,
,
,
,
, and many oth
ers.
With an internet connection, a laptop, and mobile device, there are few limitations to what you can create. Pack-making has allowed Leandro to build Packs used by teams around the world. The freedom to follow his curiosity has turned into a fulfilling full-time job.
As Leandro looks to the next chapter of his work, he wants to focus on creating docs in Coda. He is interested in the
to become a specialist, impact his development skills, and continue to build amazing applications powered by documents.
Keep a lookout for all the Packs Leandro builds here on Coda and the other exciting products our makers continue to publish.