Leaders of the Pack is a series featuring stories of Pack makers building interesting things and changing the way they work with Coda
.
There's something unique about endurance athletes. Let's be honest; not everyone is cut out to bike or run for hundreds of miles. It takes grit to sustain the mental and physical fortitude needed to log long distances. T
hese traits not only fuel athletic performance, but they also parallel professional aspirations. The endless drive of an ultra runner or long-distance cyclist can seamlessly transfer to a business environment in a way that fosters success at an enterprise or entrepreneurial level
.
This is the story of how Scott Weir applied the lessons he learned in endurance sports to building Packs — and how he's built a career with Coda. Watch as Scott shares the details of creating his Pack and continue reading to learn more.
Scott's journey: from bikes to dev.
Scott Weir has always been an athlete. He was a competitive endurance runner for 12 years before an injury ended his running career. Today, he quenches his competitive thirst with cycling, where he can accrue long distances and still compete in races without the impact on his feet.
The resilience and fearlessness that helped Scott transition from running to cycling also pushed him to address another, related challenge: a shortage of data analytics to fine-tune his training. In Coda, Scott found a way to experiment and tinker with tools that streamlined data in new and interesting ways.
⁠
⁠
⁠
Scott's Strava Pack powers data for your training.
Data is an essential ingredient that helps make Scott better. The story it tells helps Scott design new workouts and adjust habits. Like many other athletes, Scott finds fitness apps like Strava helpful to log workouts. But he and his athletes friends kept stumbling over the same complaint: it was really hard to extract data from the app. Despite lacking a technical background, that pain-point rallied Scott to learn JavaScript and
to visualize progress, set goals, and track accomplishments.
Now, Scott spends more time smashing PRs instead of fumbling with workout records. And because his Strava Pack aggregates data into a single Coda doc, Scott can focus on asking the important questions that bring him closer to goals:
Compare data over time:
What did I do this January versus last January?
Look at data year-over-year:
It's a new season; how am I getting faster?
Evaluate average distances:
How can I craft the perfect training program without getting hurt or overextending myself?
⁠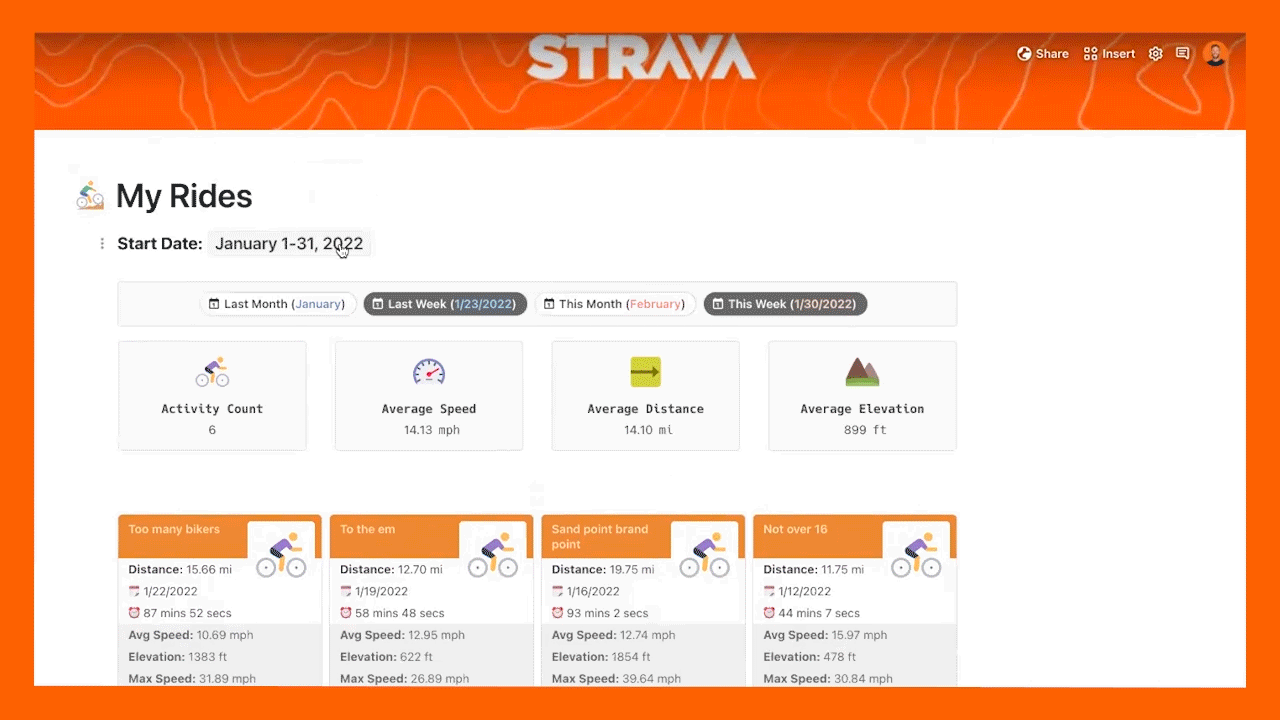 ⁠
⁠
Getting better through building.
Scott's the first to admit that building his Strava Pack was difficult but like trying to push your pedals up daunting hills—it's extremely fun and rewarding. After all, developing these Packs was the first lines of JavaScript he'd ever written. Like any new language, Scott broke through barriers with trial and error.
Scott says that his biggest challenge when developing his Strava Pack was setting authentication and learning about
OAuth
—
the way developers can give apps and websites information without passwords.
When he figured that out, it was the most rewarding feeling.
Being a creator required Scott to tap into his resilience and overcome challenges to build something that brought value to people.
"I think I've always been a creator. I'm a musician, I cook a lot. I just love creating things. I think building this Strava Pack felt like I was creating something out of nothing. And that was a really good feeling and kept me going through the hardest moments."
Throughout the Pack-building process, Scott leaned on the Coda community for support. Whenever a challenge presented itself, he knew he could figure out a solution based on someone else's experience. And whatever question he had, someone in the community was able to provide a lending hand.
Turning Coda into a full-fledged career.
Scott believes that the willingness to pursue the hard things leads to systematic approaches to getting better. That mantra has helped open a new door for his professional career.
Today, he has successfully turned his love of building and tinkering in Coda into a full-time occupation. Scott partners with early-stage startups that are growing rapidly and need help to beef up internal operations. He meets with teams, does discovery, and figures out ways Coda can solve their challenges.
Scott then builds technically-advanced, scalable, and secure solutions to help these companies run smoothly. From his perspective, it's a mixture of consulting, engineering, and building that help evolve his client's biggest pain points into solutions.
⁠
⁠
⁠
Scott has effectively turned the blinking cursor into a place where his career and work have taken shape, building a compelling use case for a new and emerging world of work that can be done virtually anywhere.