It's been an exciting few weeks for as at Coda, and not just because of the
we've launched.
In the past weeks, we've been honored to be recognized by the Coda maker community with reviews that have led to some pretty awesome recognition.
So
me recent highlights
:
Awarded in the Document Creation category for
.
Awarded in the Document Creation category for earning the highest Likely to Recommend rating in the category.
Awarded in the Meeting Management, Idea Management, Task Management, Note-taking Management, and Document Creation categories based on a
.
Awarded in the Idea Management category—join the party!
⁠
As Coda's first Product Marketing Manager, I read all of our reviews vociferously as an incredible goldmine of user feedback. In fact, you don't have to go back too far on any of the above sites to find constructive feedback that we've already converted to product improvements. (And if you visit any of the sites to check me on this, leave a review and I'll read that too!)
In addition to comments on our product, I'm always proud and overjoyed to see some of the other "Coda features" that contribute to overwhelmingly positive experiences for our users. In the spirit of not letting these best kept secrets stay hidden, I've compiled a rundown to help everyone get the most out of Coda.
That little question mark in the bottom right of your docs is a gateway to a world of knowledge and kindness, courtesy of our incredible customer champions.
⁠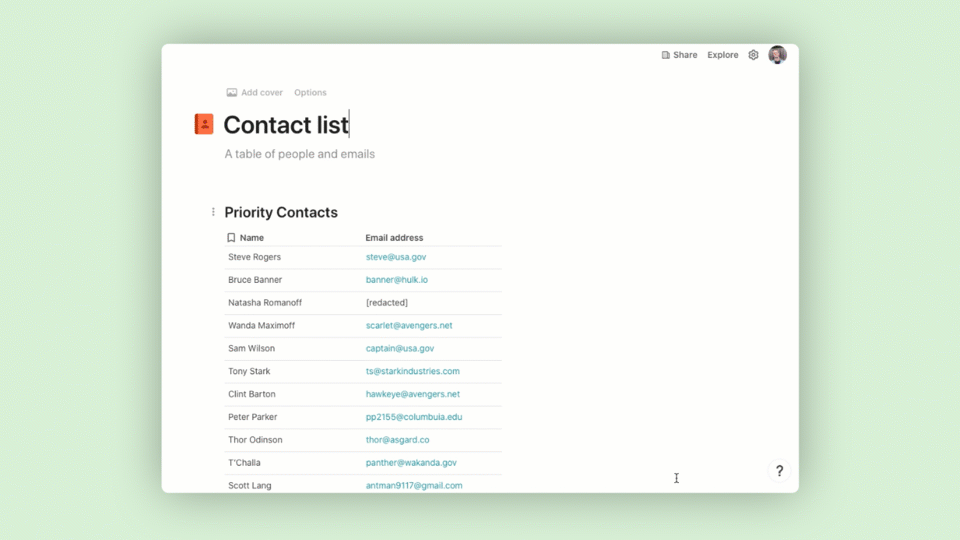 ⁠
⁠
If you've ever interacted with our
dedicated team, it's likely no surprise that we were recognized with the "Best Relationship" achievement on G2.
isn't just
about solving your problem, but making sure any interaction we have is a chance to share new Coda skills and tips so you can
click away
with more than you might've expected. Of course, we're also ready to move quickly when you contact us about potential bugs at
, and share your product feedback and feature requests with our broader team to keep making Coda better for every maker.
Something that blew me away when joining Coda from a larger company was just how hands-on the entire Coda team is in making sure our product helps makers succeed.
It's not uncommon for anyone from our Social Media Manager, to our CTO & co-founder, to a Solutions Architect, or even a friendly PMM to help troubleshoot customer issues. We all learn by making, and very often that means understanding where the fixes need to be made from our users' point-of-view.
The ingenious Coda Community
123Honesty: When I dove headfirst into Coda my first week, I was intimidated by all of the incredible docs my teammates had already built to run our company and our team. Coda's come a long way since then—and so have I. 🥳
But in those early days, I didn't want to bug my colleagues too much with my "how do you do X?" questions, and I needed some inspiration to think about how to make the perfect button (hint: it's usually a button that pushes other buttons). One trip to
was all I needed.
Not only can you browse through a wealth of inventive solutions built
by our power makers
, but you can also collaborate with makers from around the globe and be the first to know about new Coda feature launches. Fair warning: some of the innovative formulas you see from our Community members will blow your mind. 🤯
Whether you're a #NoCode or #LowCode fanatic, #BuildingInPublic, or just love an occasional inside joke or meme, we've also got a great community interacting with Coda on social media. If you
for timely communication, seek the professional solace of the
environment, or want a playlist of
, we've got you covered.
Choose the content and channels you prefer, and give us a follow!
On a related note, we offer a host of on-demand and live learning opportunities to help you and your teams get the most out of Coda. Expert Coda facilitator Maria can teach you everything from how to use key text features, optimize complex tables, or even unpack some of the more advanced Coda formulas. I may be biased since she's my colleague (and we have been known to improvise musicals about our company on the spot), but there's no better Coda Yoda than Maria.
And you don't have to take my word for it!
So, where you can you find this Coda Jedi master?
You can follow Maria's curated curriculum in the Coda learn doc, which includes sequenced videos and exercises to help you
get acquainted with the basic building blocks of Coda at your own pace. Make a copy of the doc to try out what you learn as you go.
Join Maria on
~weekly
basis as she covers topics ranging from core use cases for Coda, interviews with makers behind the building blocks, or for fan-favorite "Formula Fitness" sessions. Whether you join live at
or watch the replay, there's nothing like a classroom session with one of the greats.
If you're ready to take your skills to the next level, apply for the Coda
Doc
torate program. The program is a five-week, asynchronous learning program with live elements. We've built a blend for self-paced learning through video lessons, workbook exercises, weekly virtual office hours, and a full community for conversations and support
C
heck out Coda's YouTube channel where you can see instruction videos, as well as interviews with makers from other companies to learn how they use Coda.
And,
stay tuned for an announcement from Maria on June 15th about a brand new, next-level learning opportunity! Want to be the first to know? Be sure to join the
and follow the
section.
Regular email programming
Looking for the Cliff's notes on what's new in Coda or which docs are on the rise in the
? We send two email digests each month:
The Docket
, an email digest of doc recommendations, hand-picked and enthusiastically endorsed by the Coda team—our version of bookstore staff picks.
New in Coda
, a summary of all of the new features we've launched in the past month, with links to more information and the occasional nugget of fun we find while surfing the web
You can make sure you receive these emails in your
(scroll on down to Email Settings), or you can revisit past installments on
.
While we know the bulk of your time with Coda is likely spent in
your own beautiful docs
, we hope you also take advantage of these other Coda features we've invested in to help you make the most of your Coda experience. And, as always, we can't wait to see what you Coda. 🚀