⁠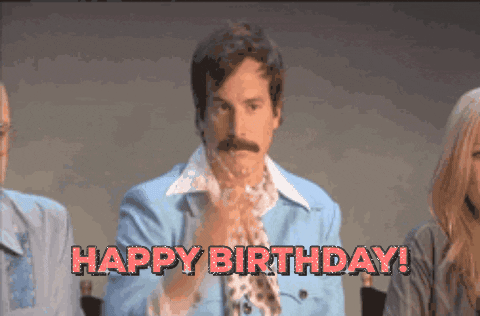 ⁠
⁠
At past jobs, when my colleagues felt compelled to celebrate my birthday, I endured it. The idea of 'office birthday party' conjures images of forlorn sheet cake in the break room and tepid renditions of "Happy Birthday" sung at me while my face presents that expressionless daze that afflicts each one of us every year. Occasionally someone may spring for an ice cream cake or — better yet — alcoholic drinks to ring in the mandatory celebration. As companies grow bigger, these forced celebration find their homes in teams instead of entire companies or divisions, so at least the embarrassment is cordoned off.
At Coda, we do things a little differently. Specifically, we build docs for just about everything —
,
,
— and when it comes to birthdays we're no different. Or at least, that what I discovered when I had a birthday a few weeks ago.
It started innocuously enough — checking Slack while at home and enjoying my morning coffee. #Misc-random — normally home to news items and random invitations lit up, with a @here message, and my name in it:
⁠
⁠
⁠
I realized then I'd been birthday botted — a term that didn't exist until that moment. Or to be precise, until about 15 hours earlier, when my colleague had decided to up the birthday game and create a tradition that many Codans now know and fear. Before I go into the details about some of the personal messages that were shared with all 55 of my colleagues in a public Slack channel, a bit of Coda product context is in order:
As with many good Coda docs, it all started with a table. In this case, a single table called "Table of things we like about [birthday boy/girl]." Then we added on a few other features that were critical:
, which, when clicked by a user, take some pre-programmed action in a doc.
, or Integrations, are connections to other apps — in this case, to our heavily-used messaging application, Slack. And the last one, the most important one in this case, is
, or a programmable rules engine inside a Coda doc. With these three features together, complete with a handful of topics and photos collected from the birthday subject's spouse, we were ready to set up the Birthday Bot Doc.
Check out how we made it in this video, or skip to the setup steps below:
1️⃣ Click this button to clear the example data from the
:
⁠
2️⃣ Add data about your colleague in the table - you just need a fun fact in the "Things we like" column, and an Image URL (we use
to grab those easily).
3️⃣ Connect your Slack Pack - click the Settings icon (
⁠
) in the top right of the toolbar, go to
⁠
Packs, and select Slack. More on authenticating with Slack
. Then rewire the button in the 'Slack It' column to use your account. Don't forget to change the Channel it sends the message to - just type "@[Channel Name]".
4️⃣ Update the Automation (click the Settings icon (
⁠
) in the top right of the toolbar and go to 🤖 Automations.).
. Turn it on when you're ready to go...