⁠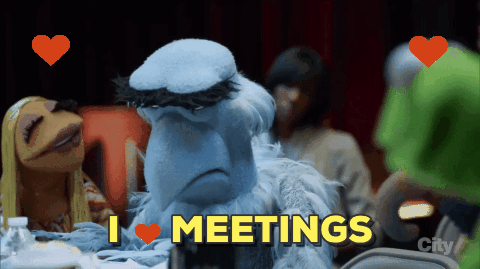 ⁠
⁠
This doc started with an observation - in so many recurring meetings (standups, executive staff meetings, working team standing meetings), there's too much talking, too little actual deliberation and action.
Worse, some of the great ideas, and important next steps, are lost in a sea of meeting notes with no structure, or worse, are never captured at all.
This meeting tracker doc solves for that. To make this template your own, click the buttons in the data sections to delete the existing data in the doc, and customize.
How to Use the Meeting Tracker
1️⃣ What's the point of a standing meeting anyway?
⁠
section should summarize the point of the meeting - who attends, when, what the goals are, who takes notes, agenda items, etc. That way, every day you can remind the group how to keep things on track.
Every meeting should have a meeting agenda. Using an Automation, this document sends an email at a recurring interval (starts as Mondays at 9 a.m.) prompting an audience to enter their items using the 'Add Topics' button. (Be sure to customize this for your meetings.) This seems like a simple step, but it can go a long way for efficient project management!
3️⃣ The group - not the loudest person in it - decides the discussion
All of the weekly updates are then captured in the '
', which the participants use in the meeting itself. Here, each person can upvote items they think merit more discussion in the team meeting. When those items are discussed, the note-taker writes a quick real-time summary in the row, and checks off the column to indicate the topic is archived.
Additionally, freeform notes and meeting minutes for each meeting can be captured below the table of standing topics.
4️⃣ Action Items only matter if they're "Actioned"
Do you have a long doc with bolded action items that you need to
strikethru
to mark as done? Yeah, we used to as well. Now you don't have to.
During the meeting, you can add Action Items (AIs) to the '
' table using a button in the 'Meeting View', for follow-up later.
This table of action items includes an integration with the Gmail pack, so the meeting owner can remind people of their items, with the push of a button. This button drafts an email to the AI owner, asking them about the status, which the email writer can customize before sending. (You can also wire this up to send directly from the doc.)
How do you run a standing meeting?
To run a productive standing meeting you should mutually agree on a meeting cadence with your team members, set a recurring time slot for the meeting, ensure that everyone does their meeting pre-work, offer a clear agenda for the session, and keep the conversation to the and organized. Clear goals and expectations are key to having productive standing meetings.
How do you track action items in meetings?
You can add Action Items in your coda doc during your stand up meetings to keep track of new action steps, review backlogged actions, and ensure that workflows are moving forward smoothly. With a consistent process for your stand up meetings, action items become easy and transparent to track.
What are good tools to track meetings?
Coda docs are an intuitive way to foster collaboration and transparency when tracking standup meetings. Go ahead and use this meeting tracker template and customize it to suit your specific use case and needs!
A few of the 25,000+ teams that 🏃‍♀️ on Coda.
⁠
⁠
⁠
Coda is an all-in-one doc for your team's unique processes — the rituals that help you succeed. Teams that use Coda get rid of hundreds of documents, spreadsheets, and even bespoke apps, to work quickly and clearly in one place. This template is a Coda doc. Click around to explore.
Find out how to Coda-fy your rituals.