TL;DR
Inspired by
, I built a tool that helps me quickly color-code my calendar each day and visualize how productive I am each week. Feel free to copy it and color-code your own calendar!
The tweet that inspired this tool
My calendar is as full as it's ever been, and I've been looking for a way to systematically focus my time to the most valuable activities. So when I saw Sahil's tweet, it immediately resonated with me:
Of course! You can use calendar colors to measure the
quality
of a time block. Genius.
The only problem? It's actually a pain to do directly in Google Calendar:
❌ You have to click into each event one-by-one to change the color.
❌ GCal doesn't have any built in dashboards to measure flow time vs time wasters.
❌ There's no place in GCal to write down changes I want to make in my schedule.
So I set out to build a tool in Coda that would make this process quick, easy, and actionable.
The end result is mind blowing 🤯.
✅ Here's how it works:
This tool is a Coda doc. It syncs in my Google Calendar events automatically and helps me quickly categorize each event as flow, productive, neutral, or time waster.
Every day, I categorize the calendar events of the day. Then, with just a single button click I magically change the
actual
Google Calendar event color. So when I open Google Calendar again, all the event colors match the categories in this doc.
I'm giving away this tool for free in hopes that it helps you turn Sahil's calendar-coloring framework into a daily habit. Here's how to get started.
Step 1: Copy this doc
Ready to get started? You'll want your own copy of this doc — click the button below.
Step 2: Sync your calendar events
Did you copy the doc? Excellent. You should have been prompted to connect with your Google Calendar when you copied. If you missed that for whatever reason, you can manually sync in the events table below.
You're ready to move on to the next step when your calendar events show up in the table below.
Note: if you want your events to automatically sync every day or hour, hover over the table below and click "Edit" underneath the table title. Then click Settings and change the Refresh Data frequency.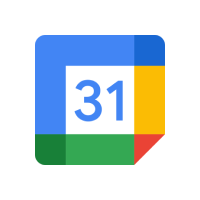 Not synced yet
⁠
Step 3: Build the habit
Did your events sync in the table above? Great work 👏.
Now you're ready to build the habit:
Head to
at the end of every workday. Categorize each event of the day.
At the end of
, analyze your time. What can be improved for next week?
I'd love to know how it goes for you — things you like, dislike, or suggestions on how to improve it. Feel free to reach out to me on Twitter
.
Ready to get started? Head to
.