The Work-Life Balance exercise can help you create a holistic view of your work life.
Use the
Work-life balance evaluation
below to work through each of 13 questions, one by one - reflect on your life as it is now and mark your satisfaction level on a scale of 1-10 for that segment/slice, where:
… a "zero" means you are deeply unhappy and concerned, and spend a lot of time worrying about this topic,
… and a "ten" means you are completely satisfied and spend very little time worrying about this topic.
The
Work-Life Balance Summary
will show your evaluation ratings as you complete them.
When you're done, open your
Work-life balance chart
and consider your work-life balance overall.
Those segments where you scored your satisfaction as a 6 or lower will then also show as "cards" in the
Create Work-Life Balance goals
section.
Use the drop down list to select the one aspect of your work-life that you would like to fix right now - the area of your work-life that can have the most impact on your life balance overall, complete "My '10' for
segment
" and "Goal for
segment
" and submit these.
Use this
Reset workife balance evaluation
⁠
button to reset the satisfaction ratings if necessary.
Note: While you may use this exercise to identify and improve areas of your work-life with your current employment situation, you may also get value from this exercise in cases where you are seeking new employment, to help you understand the work-life environment that suits you best - in those cases, consider and evaluate your previous work environment, and then, when you consider "what a '10' looks like" for each segment, think about all your prior jobs and what you really enjoyed about those jobs as the basis for evaluation.
Note: Refer to the
section below for more details on how to complete this exercise.
Work-life balance evaluation
⁠
Do you have a clear path for career development? Is it aligned with your own personal goals, strengths, values and purpose? Are the multiple paths available for career development that support technical or leadership development tracks?
⁠
⁠
Work-life balance summary
Your work-life balance chart
⁠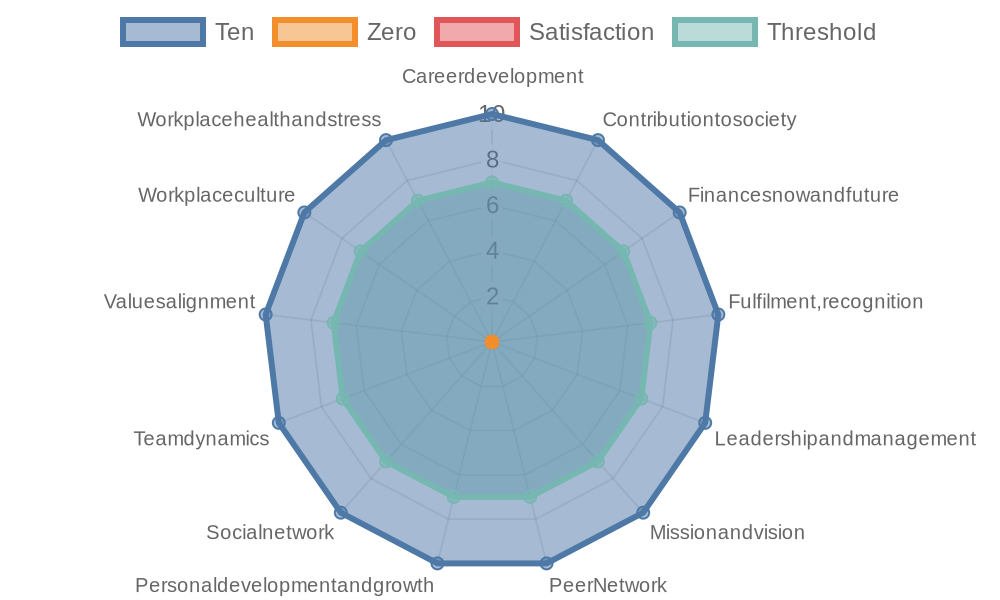 ⁠
⁠
Create work-life balance goals
Each of the cards below represents one of the Work-life Balance segments where you evaluated your satisfaction as a "6" or lower.
In order to create a goal for any card,
use this drop-down list
to select the segment and create a goal for that segment.
You can create multiple goals here BUT, I recommend you focus on just one goal and look for a leverage segment - one that impacts on the score of several others.
Work-life balance cards
Below is a card for each of the 13 work-life balance segments. You can click on a card to open it and check/adjust details.Take a screenshot of these cards as a record of your work-life balance.
Reflection
Take a moment to consider what elements of your work-life are important for you and how your work life impacts on your life overall. If you're considering a change or new venture, what elements of your work life do you want to retain or change as you move forward?
Overview
In his book
, Daniel H. Pink describes "Type X" and "type I" behaviours and associated drivers.
"Type X" people tend to focus mainly on extrinsic drivers, external rewards such as recognition and financial incentives, whereas "Type I" people tend to focus more on intrinsic rewards, autonomy, mastery and purpose. He goes on to state that people who are mainly "Type I" focussed will outperform "Type x" people in the long run.
You can use this exercise to assess your current or past employment experience along 13 dimensions of business life – from this you can:
Consider what changes you would like to make in your work-life to align better with your personal life.
Consider the job characteristics you would desire from a future employment engagement.
Consider the work-life environment and culture you would like to build within your new start-up business.
The research behind this exercise
This work-life balance exercise is loosely based on the principles of Daniel H. Pink in his book
, coupled with the life experiences from working with coaching clients. In his book, Daniel Pink introduces the concept of the "Motivation 3.0 operating system—the upgrade that's needed to meet the new realities of how we organise, think about, and do what we do". He continues by referring to "Type I" behaviour… "fuelled more by intrinsic desires than extrinsic ones." These desires are summarised as "autonomy", "mastery" and "purpose" and are now recognised as the primary drivers for worklife motivation.
Much of this work is founded on the
, a theory of human motivation developed by psychologists Edward Deci and Richard Ryan. Motivation, in this context, is what moves us to act. The theory looks at the inherent, positive human tendency to move towards growth, and outlines three core needs which facilitate that growth. Those needs are Autonomy, Competence and Relatedness (
)
Competence – The need to experience our behaviours as effectively enacted (to feel like we've done a good job).
Autonomy – The need to experience behaviour as voluntary and "…reflectively self-endorsed" (to feel like we have control over what we do).
Relatedness – The need to "…interact, be connected to, and experience caring for others" (to have meaningful relationships and interactions with other people).
How to complete this exercise
Part 1 - Assess your work-life environment.
The Work-Life Balance exercise contains 13 work-life segments that describe the main attributes of work life.
To complete the assessment, consider each of these 13 work life segments and rate your satisfaction level with that aspect of your work life on a scale of 0-10, where 10=completely satisfied. Mark your satisfaction level with an "x" along the scale to the right of the segment description.
These 13 segments are shown below as cards. to conduct the evaluation, click on each card in turn, read the text, reflect on the questions and make your assessment. The results will then show on the graph (also below).
For the sake of this evaluation, satisfaction is a combination of satisfaction (how happy you are concerning this topic) and importance (how significant this topic is for you) - meaning that if one aspect of your work life has no relevance for you right now then you might score it a 10, irrespective of how satisfied you are. But use this sparingly as it can render the exercise useless!
Part 2 (optional) create a work life balance goal.
Once you have completed the Work Life Balance tool, take the time to reflect on how it looks. Consider those segments where you scored a "6" or lower and especially those segments where you scored the lowest.
Imagine you have a "magic wand". If there was one thing you could wish for to make your work life significantly better – what would that be?
If you have also completed the Life Balance Wheel, then consider the topic of congruence – does your work-life fit well with your life balance? What could you do to improve the congruence between your work life and personal life?
Finally, consider what you could do now to move towards your "what a '10' looks like vision. This becomes a goal for you to develop in later exercises.