On February 10th, 2022 at 8:00 pm CST we released a new version of the
Publishing Solution.
Below are the updates and fixes we made to the platform.
External Shared Content Libraries:
With External Shared Content Libraries, partner organizations can make their content available to their customers/members for social sharing purposes within the Denim platform. It allows a content library folder to be shared from one Denim Social organization with other Denim Social organizations programmatically. It is also applicable for organizations that have multiple entities using unique instances of Denim Social, and want to share content libraries from their corporate account with all of their sub-entities who also use Denim Social.
Stay tuned... there's a lot more to come on this!
Partners can create unlimited Shared Content Libraries in their Denim institution and share their engaging content with designated and subscribed member institutions only.
Partners can easily distribute unlimited content from one Denim institution to other Denim institutions by switching the "Publish to Collections" toggle button.
⁠

⁠
⁠
Partners can set content available dates while sharing; upon expiry the content will not be available to their subscribed members.
Partners have the ability to hide specific posts in a shared folder.
Admins from Member Institutions can access the shared content under Collections → "Partner Name" folder.
⁠

⁠
⁠
Member Institutions can be subscribed to multiple sources of Partner content.
Admins from Member Institutions can save the shared Partner content to their own content libraries to allow their Users to post it, or post it directly to their selected social networks in a compliant manner.
Admins from Member Institutions can keep their brand content consistent and compliant by sharing specific or all Partner content with their own institution's users.
Fix:
LinkedIn @mentions can be verified by clicking the links in the in the Search pop up before tagging in the post.
⁠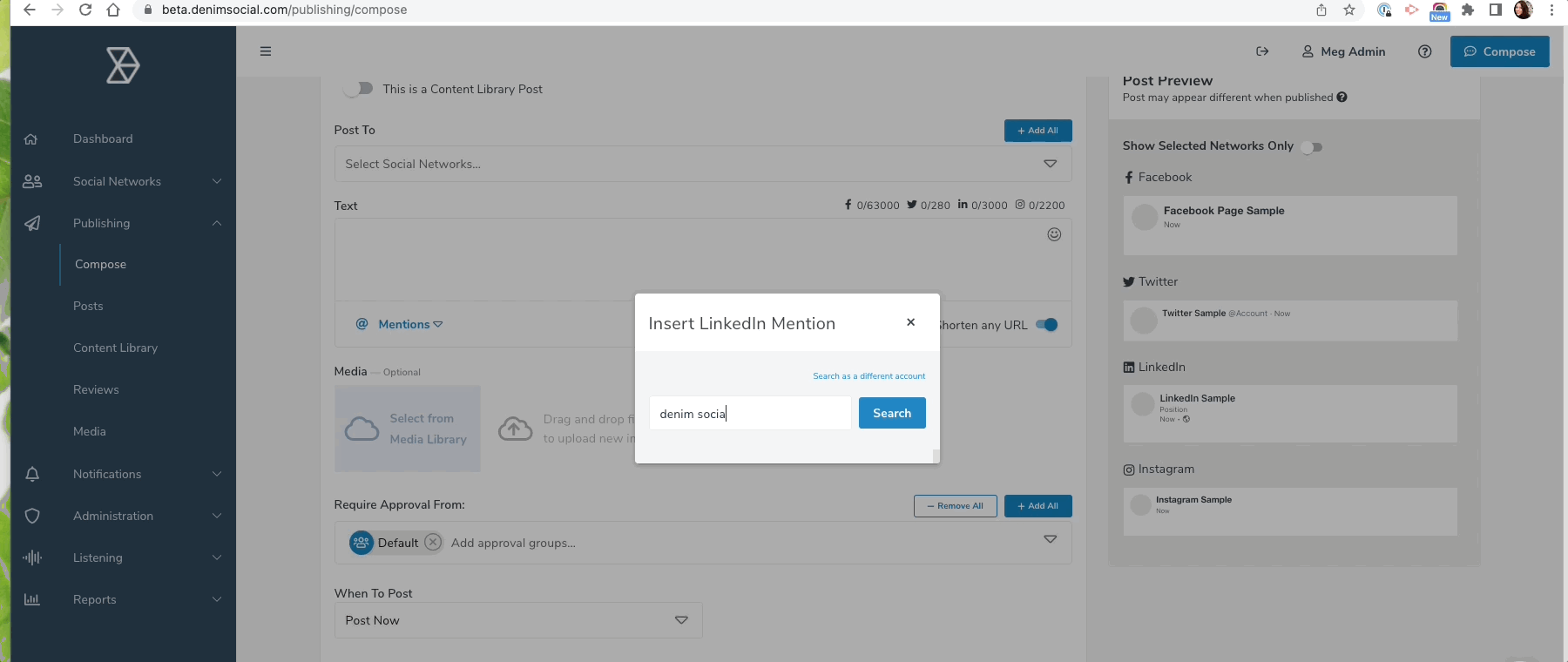 ⁠
⁠
Update:
Denim support will be notified if there are posts stuck in "scheduled" (approved, not in error, and not posted) which will help Denim support to reprocess the posts quickly.
Update:
Publishing Experience.com Reviews: Ability to enable automatic posting within a set specific posting time frame.
⁠
⁠
⁠
Fix:
Experience.com integration recognizes users with lowercase/uppercase email address.
Fix:
Summary Reports set up for Searches are generated and delivered at the selected frequency and date.
Fix:
When MFA is enabled for an institution and the "Remember Me" check
box is checked to balance the added security of MFA with a smoother, more convenient user experience of only having to MFA once every 30 days on your computer.
User Interaction Updates:
Update:
New loading dialogs in Pages
Update:
Filter bars have updated.
Update:
Breadcrumb from content library edit screen navigates back to content library.
Update:
Breadcrumb from Collections post navigates back to Collection streams.
Update:
Content Library Post hamburger menu has been updated. The order of the actions in this menu have been updated to be reflective of the actions most commonly took.